Published on July 5th, 2016 in: Horror, Music, Soundtracks and Scores, Underground/Cult |
By Tim Murr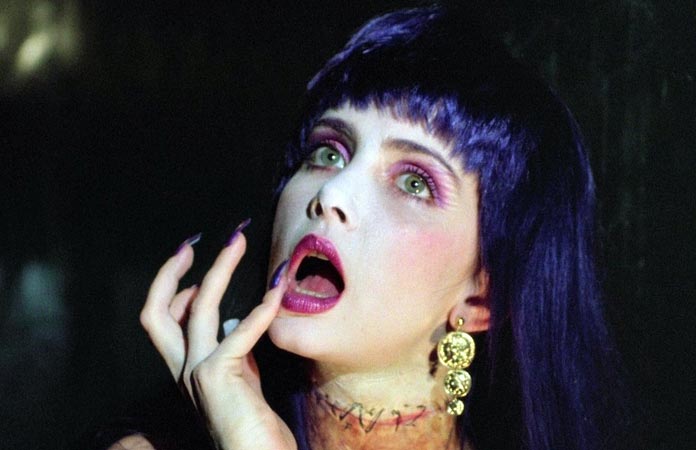 You know, I don't talk enough about Frank Hennenlotter. He made six insanely funny body horror/exploitation films including the cult favorites Basket Case, Frankenhooker, and Brain Damage. If you take the heady, wet horror of David Cronenberg and the gleeful sleaze of John Waters and drag them through the gutters of 1970s 42nd Street, you'll still be surprised at how crazy a Frank Henenlotter movie can get.
I was wholly unprepared for Basket Case when I watched it on the USA channel back in the late '80s. I had no point of reference for a horror movie that took itself so seriously, with such a silly looking monster, out-of-left-field concept, and disturbing as hell violence. I just couldn't get my head around all the conflicting signals the film was throwing off and by the time it was over, I was basically just sitting on the edge of my bed, shaking my head, and saying "wow" to myself.
Henenlotter's other films don't have as much built-in horror as the original Basket Case and that includes the much funnier sequels. But what Frankenhooker and Basket Case 2 lack in horror, they make up for in pure anarchic visual lunacy. These films are a blast to watch and not in the so-bad-they're-good way;they are legitimately good films steeped in pathos and full of heart. I'm sure there's more than a few people who might raise an eyebrow at me, but screw them; these are solid movies!
[TABLE=45]
Ship To Shore Records have released Joe Renzetti's excellent scores for Basket Case 2 and Frankenhooker in a single record set with reversible artwork of each film by artist John G. The album is limited to only 1,000 copies with 500 on opaque purple and 500 on bloody red and black (which is the one I have, and it's beautiful!). The album also includes an insert with information about the scores written by Renzetti himself.
John G's artwork is really cool. It has an underground comix vibe, feeling somewhat reminiscent to the early Teenage Mutant Ninja Turtles comics. The record itself is split between the two films, with a close-up of each film's protagonist in the center to indicate which side you're on.
The album retails for $22 which, compared to other recent vinyl releases going for more than twice that, makes this album a fantastic deal.
You can purchase the Basket Case 2/Frankenhooker soundtrack album on the Ship To Shore website; while you're there, check out some of their other soundtrack releases, including George A. Romero's Martin, Canada's 1961 cult horror flick The Mask, and Manos: The Hands Of Fate.