Published on June 28th, 2016 in: Canadian Content, Current Faves, Music, Post-Punk, Reviews |
Post Plague Record Release Show
June 24, 2016
Toronto, ON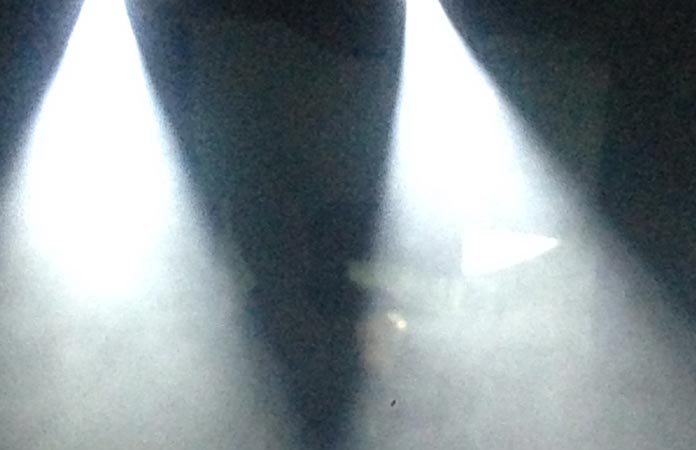 At last year's NXNE, Odonis Odonis played a show with A Place To Bury Strangers and Iceage and despite both of those bands having huge reputations of being incredible live, the Toronto trio more than held their own. This past Friday's show was even better. The band has an impressive light show to accompany their newer material and this time, they weren't plagued with the technical issues that threatened to overpower last year's Opera House performance. In fact, they almost literally blew me away. But more on that in a minute.
The first opener, Scott Hardware, is clearly influenced by early '90s house music and his enthusiasm was infectious. However, there seemed to be something not quite in sync between his synths and the electric piano of the other fellow in the band which made things feel a little awkward, although overall it was a fun performance.
Next was Prince Innocence, another duo, this one consisting of keyboard player Josh McIntyre and exotically named singer Talvi Faustmann Their music was exquisite, a sort of dreamy, soulful synth pop, but to call Faustmann "mesmerizing" falls way short of the mark. Her supermodel stature and Old Hollywood face—think Drew Barrymore crossed with Elle Fanning—are immediately arresting, but her melted gold vocals are what truly hold your attention. Prince Innocence feels like a band on the very cusp of exploding into global consciousness.
Odonis Odonis singer Dean Tzenos did about 30 pushups before the band started their set, which was the entirety of the new Post Plague album in sequence (plus a couple of surprises). It sounded incredible; it's obvious that Odonis Odonis is no longer just Tzenos backed by other musicians, but a fully-fledged band, with equal contributions from bassist Denholm Whale and drummer/synth player Jarod Gibson, who also provides some great vocals. The new songs are even more profoundly wonderful in a live setting and the sound mix was spectacular. It was so loud that during "Betrayal" I could actually feel air blasts from the amps at the front of the stage. Odonis Odonis is a band which requires earplugs and might even give "world's loudest band" APTBS a run for their money.
Halfway through the album performance, the band threw in a great new song ("No Pop") and then for an encore did a rousing cover of Nitzer Ebb's "Join in the Chant." It's exciting to see Odonis Odonis at the peak of their powers; their live show is one that should not be missed.
For a full list of tour dates, check out OdonisOdonis.com.
[tribulant_slideshow gallery_id="2″]