Published on June 23rd, 2016 in: Canadian Content, Current Faves, Feminism, Interviews, Music, Upcoming Releases |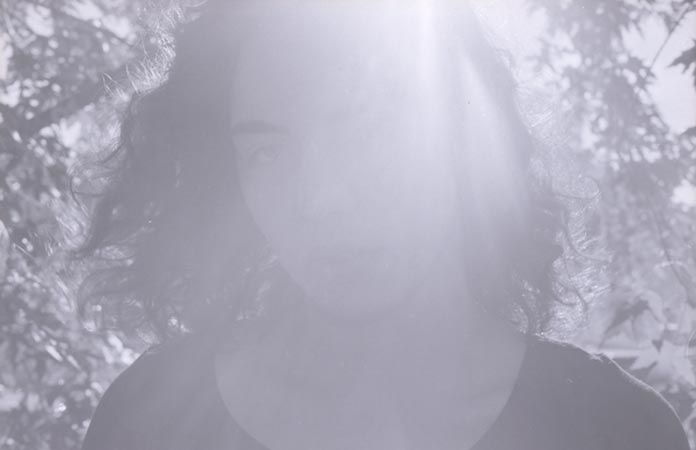 Photo by Shelby Fenlon
We get a lot of music press releases at Popshifter and sometimes it's a slog to sift through them, always hoping to have our ears dazzled by a new band but frequently being disappointed.
This is not the case with Toronto, Ontario's Vallens, the brainchild of guitarist, singer, and songwriter Robyn Phillips. Vallens makes the kind of music that makes you sit up and take notice. The title of Vallens' stunning debut album is Consent, a word with a lot of connotations—especially for women. Thankfully, the songs don't shy away from such emotionally charged issues but explore them. Musically and lyrically, Consent is moody, mysterious, and captivating… and definitely deserves your attention.
In anticipation of Consent being released by Hand Drawn Dracula on Friday June 24, I thought I'd find out more about the talented Ms. Phillips.

1. The name of the band/your alter ego came from Dorothy Vallens in David Lynch's movie Blue Velvet. What is it about her character and the movie that inspired you so much? What is it about her persona that you hope to bring to your music and performance?
The character Dorothy's mix of mystery, darkness, and fear had a simultaneously honest and a surreal quality simultaneous that I still find very lasting and captivating.
2. You've talked about how you perform as a character in a way when you perform as Vallens as well as the difficulty of being a woman in a sexist/misogynist world. Do you think that it's easier for people to take you more seriously—and pay more attention to your lyrics—through that persona than if you just used your real name? Do you ever feel a tension between your onstage persona and your real self? Does that inform your music in any way?
I think at this point the persona and myself have merged into one person, because of a tension I did feel. Originally I created the persona as a vehicle to be more forgiving on myself. I found that anything I'd write at that point in my life, I wouldn't finish because I didn't have enough in me to believe anyone would like what I had to write about musically and lyrically. But once I had the persona rolling for a while, I was able to stop stifling myself and they did start to meld together. I guess I realized Vallens was also just another version of me.
3. For years, I had an androgynous Internet name to avoid getting the kind of sexist abuse that a lot of women writers get online. Do you think that things are getting worse or better for women in the Internet-sphere?
As we climb to uncover issues and are more vocal, little sub-issues surface from those conversations. It is taking longer than all of us would like, but I believe it is getting better. (I also have an androgynous Internet name! It happens to be my nickname, but I understand why someone would prefer it). Recently after a video interview I did with Vice I did get some private messages from men that were really hateful and misogynistic, so this is a topical question for me. But honestly, I do believe that it is slowly getting better—however there will always be trolls.
4. What was it like playing with Speedy Ortiz at NXNE over the weekend? Are there other bands that you admire with whom you'd like to perform? If so, who and why?
It was really great to play with and meet Speedy. It was the last night of a very long tour of theirs, and we were really happy to have them. I'd love to play with Psychic TV as I think Genesis P-Orridge's legacy, music, story, and message is remarkable. I'd love to play with Chelsea Wolfe because I am a huge fan, and think she is unique. I still have yet to play with our pals Weaves, who I look up to a lot and also think are unique.
5. What do you hope people, particularly women and women musicians, will take away when they listen to your new album?
I think it's OK to be angry, and I think women especially have to take back the negative connotation of being an "angry woman." I don't see myself as an intense person; I just think that expressing yourself and standing up for yourself is vital. And somewhere along the lines women standing up for themselves has been dampened by people calling them "angry" or "trendy," or anything really to deflate our conversations.
I hope that everyone takes away similar things from the record. It was predominantly written at a time where my father had just died of addiction, and I had a very close friend dealing with an addiction that I lived with. It seemed like it was also at a time where I was reacting to a lot of women's issues and they had become more real as I was dealing with this other stuff. It seemed like every surface had a hole. So essentially, the album is very personal and hopefully has a rawness that everyone can relate to. It's pretty cheesy I guess, but I hope people take away that ultimately they should just be themselves, and allow themselves to feel and process experiences and take time for themselves.
Follow Vallens on Twitter: @_vallens_