Published on June 22nd, 2016 in: Current Faves, Horror, Pro Wrestling, Science Fiction, TV, TV Reviews, Underground/Cult |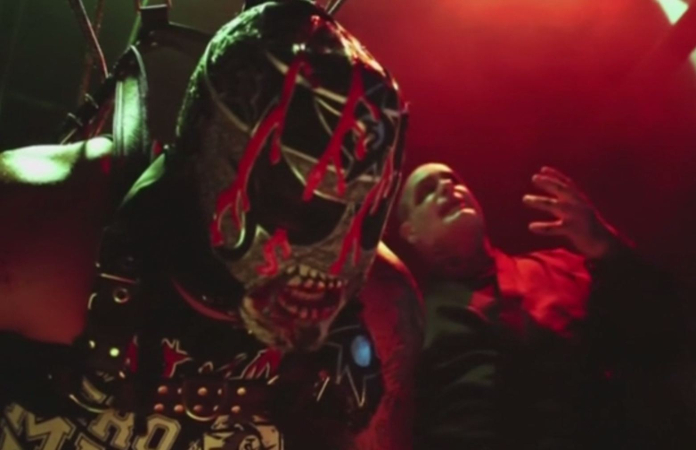 This arc of Lucha Underground is the beginning of the drive to Ultima Lucha Dos, the second season finale of the show. It's where all the established storylines are set to climax and, in some cases, converge. Last year's two-part finale was the best episode of Lucha Underground so far, and did a great job of setting the wheels in motion for Season Two. Ultima Lucha Dos should be at least as explosive, based on the pieces being put into place.

Mil Muertes, Matanza Cueto, and King Cuerno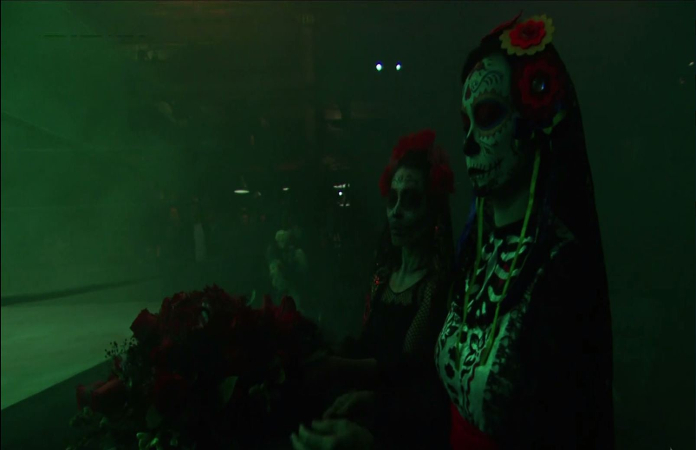 Mil Muertes and Matanza face off in a Graver Consequences match, in which the objective is to toss one's opponent into one of the caskets placed strategically around the ring, and close the lid. Morbid? You bet, especially when these matches kick off with an elaborate and chilling Day Of The Dead-style ceremony, complete with skull-faced mourners paying their respects to the luchadors. Graver Consequences is ostensibly Muertes' signature match, because he's all about death. However, he's batting zero for two in these encounters, losing both to Fenix in Season One and here to Matanza as well. Muertes fought hard though, even using a chainmail glove as a weapon against the Monster, and was left with his mask in tatters after the encounter before being slammed into a casket.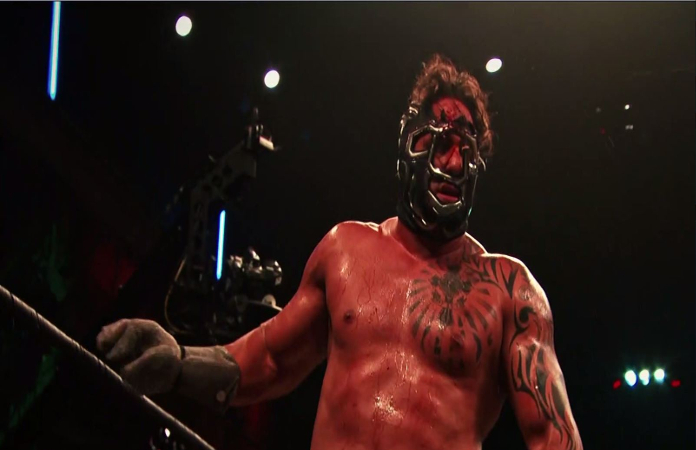 After his burial in a coffin, it was revealed that King Cuerno, the hunter who has some serious beef with Muertes, had disguised himself as a pallbearer and made off with Muertes' body. Later, we saw a horrific scene of Cuerno's hunting lodge living room, where Muertes' still-screaming corpse was mounted against the wall, his ruined mask crudely stitched together. In the most recent episode of Lucha Underground, though, Catrina teleported into Cuerno's lair and reanimated Muertes because that's exactly what you'd do if you were a 197-year-old teleporting witch. Muertes would appear later to exact his revenge on Cuerno in the "Six To Survive" match, costing him a title opportunity and likely setting up a match between Cuerno and himself for Ultima Lucha.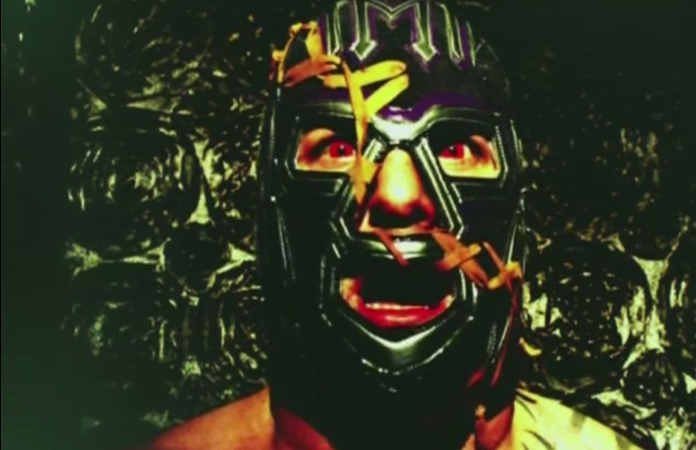 The Gift Of The Gods
Many of the luchadors in Lucha Underground were embroiled in battles to win one of seven Aztec Medallions, which grant access to a match for the valuable Gift Of The Gods Championship. This grants its owner a shot at the Lucha Underground champion whenever they want. The holders of the medallions were Texano, Joey Ryan, The Mack, Sinestro de la Muerte, The Mack, Sexy Star, and Chavo Guerrero. You'll remember that Chavo is a slimeball and actually stole his medallion from Cage, who rightfully won it. This made Cage, um, slightly upset.
In the match for the Gift of the Gods, Chavo managed to come out on top after Cage interfered and, counterintuitively, threw his lifeless body onto Joey Ryan, allowing him to get the pin. A shocked Chavo then learned that Cage, not just a dumb pile of muscles, was scheduled to face him for the Gift of the Gods the following week, allowing Cage to both obtain the Gift of the Gods while also getting the delicious opportunity to ruin Chavo's face. Cage not only wrecked Chavo's shit in that match, but he immediately cashed in the title for a shot at Matanza's Lucha Underground Championship. Things were looking pretty good for the overmuscled Machine.
Cage had an impressive showing against Matanza, and the two monsters had a fantastic match that's worth going back to watch, though Matanza's wrestling style is still a little jarring because of how athletic he is. Imagine if Jason Voorhees did nine backflips before burying a machete in a hapless camper, and you're pretty much there. It works for Matanza though, and despite Cage's heroic fight for the Gift of the Gods and the title shot, he ultimately came up short. The Gift of the Gods, having been cashed in, is now up for grabs again for whomever can collect an Aztec Medallion and win another seven-way match.
The Trios Titles
If it weren't for bad luck, the team of Ivelisse, Son of Havoc, and Angelico wouldn't have any luck at all. Right before their first opportunity to recapture their Trios titles from Rey Mysterio, Prince Puma, and Dragon Azteca, Angelico suffered a legitimate injury that put him on the shelf. As a result, Johnny Mundo was added to their team in a weirdly unexplained move. Of course, Mundo doesn't get along with Ivelisse and Havoc, and the dissention led to them failing in the match after Mundo "accidentally" kicked Ivelisse. Mundo's friend with unspecified benefits, Taya Valkyrie, beat the daylights out of Ivelisse after the match to really rub it in.
A couple of weeks later, Mundo wormed his way onto yet another team, this time beating up Fenix and joining "The Darewolf" PJ Black and "The Dragon Slayer" Jack Evans. Since all three of these guys are insufferable wanks, they got along much better and defeated Puma, Mysterio, and Azteca for the titles. Of course, they did it using all sorts of nefarious tricks, with the biggest gamechanger being Taya's involvement and blatant interference.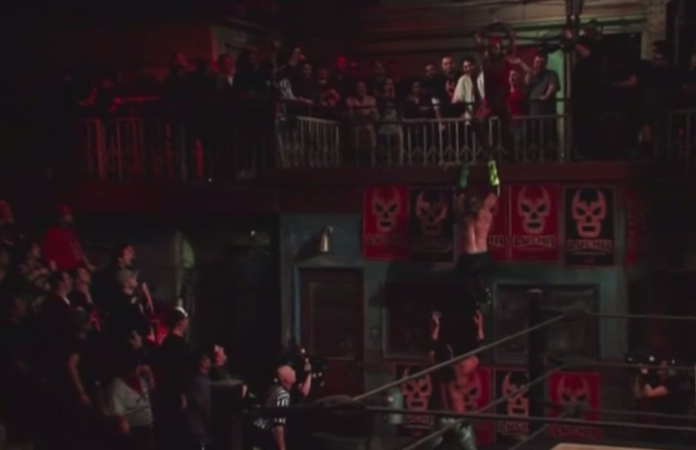 Speaking of Jack Evans, he and PJ Black were still embroiled in a rivalry with Actual Dragon, Drago and Actual Space Robot, Aerostar. For whatever reason, these guys started fighting with nunchucks a lot, which culminated in a Nunchucks Match, where you beat your opponents with nunchucks and… OK, that's all there is to a Nunchucks Match. It was a great match though, with a bunch of crazy spots that involved Jack Evans being thrown off Dario's office, leading to Aerostar and Drago coming out on top. Score one for whatever the team of a robot and a dragon signifies!
Dario Cueto and…Lorenzo Lamas???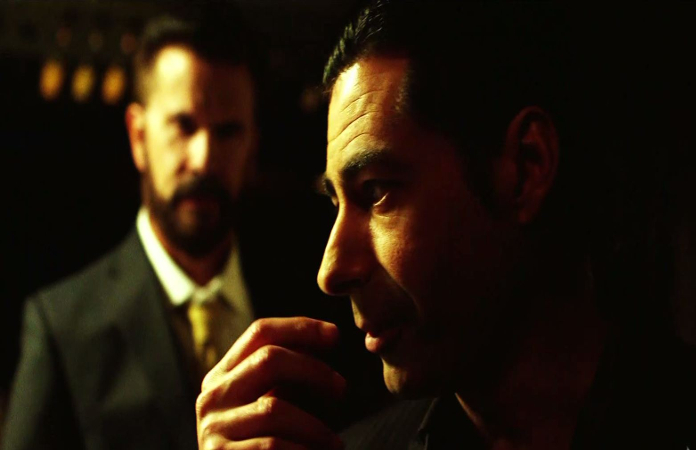 There's some serious intrigue going on with the owner of the Temple, Dario Cueto in a series of vignettes over these last few episodes. As we know, he's being investigated by the LAPD, with Joey Ryan and Ricky Reyes working undercover in the Temple to bring him down. What we didn't expect was that Dario's influence goes right to the top of this corrupt power structure, and is in the pocket of the mayor's aide Councilman Delgado, played by straight-to-video hunkerino Lorenzo Lamas(!) Dario has been making regular payments to Delgado, and in return, the councilman has strongly advised the LAPD to cool it on the investigation.
Captain Vasquez, Ryan and Reyes' superior, is not having it though, and is really trying to get Dario busted. When Ryan and Reyes (wrestling) partner Castro busts them talking about cop business, they arrest him and drag him in for an interrogation, where they, along with Vasquez, persuade him to wear a wire. Vasquez states that Dario's not just involved in drugs or murder (we're certainly privy to his involvement in the latter), but the very end of days.
Later in this run of episodes, we saw Delgado meeting with his superior, who he calls "Lord," in a limo. We never saw this mysterious figure but it adds some intrigue that there's an authority that supersedes Dario's level of influence. Given the casting here, I'm hoping it's Bolo Yeung or Steven Seagal or some other random action star from my childhood.
Pentagon Jr and Vampiro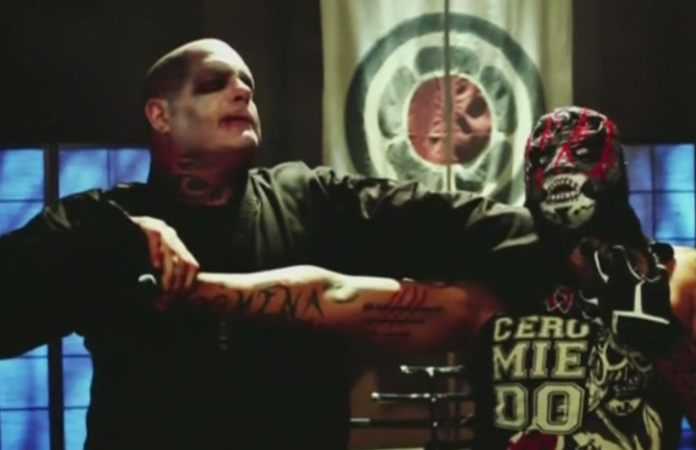 Of course, you're all wondering what's up with your favorite skeleton and mine, Pentagón Jr. Last we saw of the exceptionally bony (and bone-breaking) ninja, he was being carted away in an ambulance after being wrecked by the Monster Matanza. Since then, he's been undergoing, shall we say, unusual training at the feet of his Master, Vampiro. Vampiro has been subjecting Pentagón to brutal torture and pain, even stringing him up and beating him with a barbed wire-covered bat. His stated purpose is to make Pentagón reach a state where pain doesn't affect him, because that's what he needs to defeat Matanza. After weeks of this agony, Pentagón felt that it was time to return to the Temple, though he was warned by Vampiro that he still wasn't ready. But Cero Miedo, baby, because Pentagón has no fear.
Dario Cueto set up a match called "Six To Survive," where two teams of six luchadors each, selected at random, would face off one week. The six winning luchadors would then compete with each other in a chaotic elimination match to determine Matanza's opponent for the title at Ultima Lucha Dos. The winners were; Chavo Guerrero, Johnny Mundo, King Cuerno, Ivelisse, Taya, and Fenix. However, Pentagón showed up and snapped Chavo's arm, taking his spot in the match.
And what a match it was. This was one of Dario Cueto's "All Night Long" (imagine I said that in the smarmiest Spanish accent imaginable) matches, and it spanned an entire insane episode of the show. With elimination rules in effect, the match came down to Pentagón and Fenix. This was as great a match as you'd expect, because these two luchadors are brothers in real life. Fenix and Pentagón are on almost equal footing when Pentagón barely squeaks out a victory with a superkick. And just like that, Pentagón gets his shot at Matanza at Ultima Lucha. But is he ready? I'll let him tell you: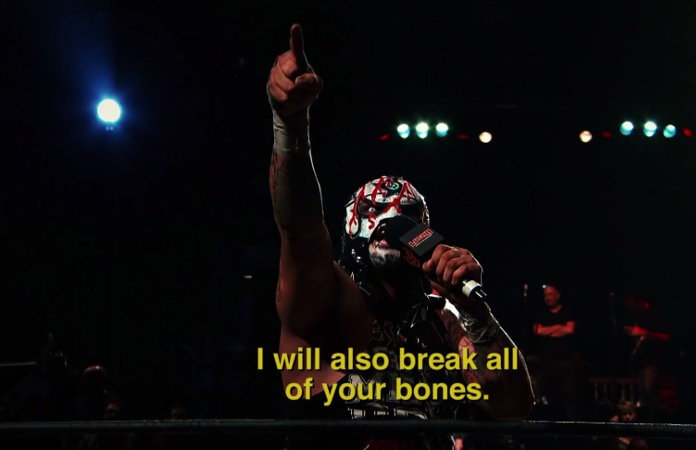 Though mostly moving pieces into place for Ultima Lucha Dos, there's more than enough great wrestling on the show to sustain the action on Lucha Underground. The addition of a few new characters, including Lorenzo freaking Lamas, as well as the opportunity to showcase Dario Cueto in more of a film-like setting while advancing the story of his investigation keeps the show really fresh, despite some setbacks in the actual shooting of the show, like real-life injuries to Ivelisse and Angelico. With the culmination of storylines like Pentagón/Matanza, Muertes/Cuerno, and a possible battle for the Trios and Gift of the Gods titles, Ultima Lucha Dos should be an unmissable couple of episodes of Lucha Underground.