Published on June 20th, 2016 in: Canadian Content, Current Faves, Music, Music Reviews, Post-Punk, Reviews |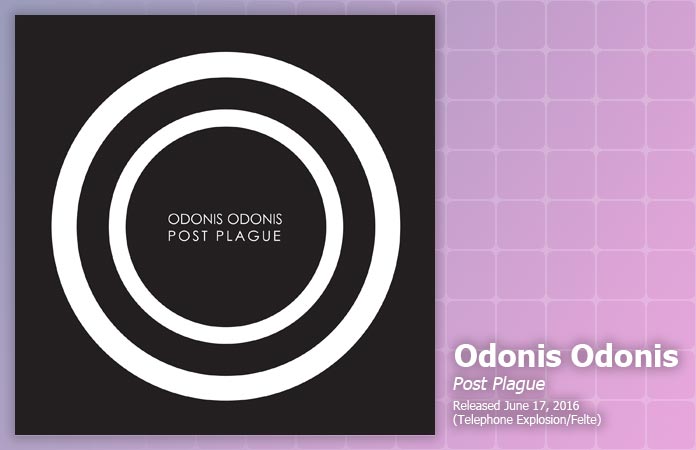 Has there ever been a greater musical misnomer than "industrial"? Initially coined as a response to the music being released by Genesis P-Orridge's Industrial Records and the phrase "industrial music for industrial people" on the first Throbbing Gristle album (at least according to Wikipedia), it's become a catch-all for any dissonant music that uses drum machines. What is great about drum machines, though, is that they provide such a perfectly sterile template for compelling melodies, the kind that you can either thrash or dance to.
While Odonis Odonis's latest album, Post Plague, was inspired by industrial bands like Nitzer Ebb and Front 242, it also owes a debt to films like Ex Machina and Beyond The Black Rainbow, as well as of-the-minute ideas about transhumanism and virtual reality.
This makes the album utterly contemporary yet somehow archaic, inhabiting a kind of retro-futurist space in which Trent Reznor never embarked on a career composing soundtracks and Ministry became the most well-known and popular band on the planet. The lyrics are as basic as they can be, allowing you to project whatever you want upon them; the songs reflect back whatever particular segment of the time/space continuum you wish to inhabit.
On that continuum you'll find the aforementioned bands, but also Depeche Mode ("Needs"), JG Thirlwell ("Vanta Black"), Tones on Tail ("Pencils"), and Jesus and Mary Chain ("Lust"). Because of this, there are probably those who'll accuse Odonis Odonis of ripping off one thing or another, but anyone who has seriously paid attention to the band's trajectory will realize that is just uninspired criticism. (Besides if you're going to borrow, who better to borrow from?)
For all the changes the band has undergone, such as transforming from a Dean Tzenos solo project to a fully-fledged trio including bassist Denholm Whale and drummer Jarod Gibson, some things remain the same. Those beautiful vocals and piercing, haunting melodies we've come to expect from Odonis Odonis—melodies for which they truly have a gift—permeate the songs on Post Plague, but not to the point of being overwhelming. They creep up unexpectedly, like killers in the best horror films. This makes you long for more, grasping onto those sharp edges when you find them lodged in your memory hours later.
Restraint is the defining quality of the album, which opens with the gratingly harsh "Fearless" and closes with the intensely quiet (but no less arresting) "Lust." In between there is a plethora of wide open spaces, some which evoke the cosmic environments we heard on the band's previous work, especially 2014's Hard Boiled Soft Boiled (review). You'll want to fall into these spaces and not climb out.
In a recent interview with The Quietus, Gibson and Tzenos discussed that due to the "short attention spans" of music fans, they are more focused on "pleasing [them]selves, as opposed to trying to please a fictitious crowd." For those music fans that enjoy straddling the line between old and new with an eye to the future, Post Plague is most assuredly a genuine pleasure.
Post Plague was released by Telephone Explosion and Felte on June 17. The band plays a record release show at Toronto's Velvet Underground on June 24 before embarking on a tour of the US West Coast and then Europe. For tour dates, visit OdonisOdonis.com.