Published on June 17th, 2016 in: Action Movies, Current Faves, Documentaries, Movie Reviews, Movies, Retrovirus, Reviews |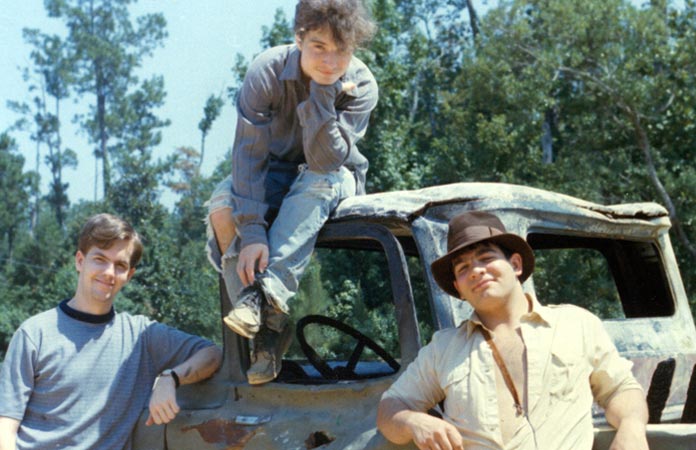 Since childhood, I've wanted to make movies. Last night I got to watch a documentary about a group of kids who were determined to make a shot for shot remake of Raiders Of The Lost Ark. Raiders! The Story Of The Greatest Fan Film Ever Made tells the story of this incredible attempt and the resulting admirable success.
Raiders! gives an in-depth look at the process from the beginning. This project took place over the course of eight years, not including the recent Kickstarter campaign to finance the missing airplane scene. These kids (now adults) never gave up. They never surrendered
It's a story that must be seen in order to actually comprehend the determination of these kids. You would think that after a few months of trying to recreate this film and encountering many obstacles, including being told you couldn't do it by your parents, they would have admitted defeat. Most kids would. Even after a year or so most people would just lose the drive to finish. This project took over their summers and their weekends and they asked for all the help they could get.
Raiders! gracefully pulls together the completed film, the story of their lives, and the actual filming of that notorious airplane scene that has been missing for years. This doc is so well put together that it makes me rethink my assessment of some of the others I've seen. It strikes the perfect balance between parallel stories. We get a look at some of what went on behind the scenes from their home video footage and the outtakes. It's truly perfect.
You don't need to be a movie geek to appreciate the heart behind this film. Raiders! will inspire everyone who sees it because it's not just about making a movie, but also about not giving up. Watching these kids scrape together their last dollars in order to film something over an eight-year period should make everyone rethink their lives and goals.
Even after Raiders! was completed these guys didn't stop because they went back to film the rest. This is the most important part of the film because in doing this, they become kids again. These guys aren't millionaires or big time filmmakers, nor do they have the experience or time to pull off something this major, but that didn't stop them. Passion and heart kept them going and at no point do you even consider that these guys will not complete this movie.
Since they have finished the film in it's entirety I'm hoping it gets the proper release it deserves. There is also a book about their story that goes into even more detail and it's something I will be picking up very shortly. I'd heard of this kid's version of Raiders Of The Lost Ark but I had no idea of the story behind it. I now think it's one of the most important film-related journeys I've ever seen.
Raiders! is a beautiful story about friendship, love for movies, and dedication. There is never a dull moment in the documentary and it will leave you wanting to try to make your own film.
Raiders! The Story Of The Greatest Fan Film Ever Made opens at Cineplex Theatres June 17 in Toronto, Vancouver, and Montreal. This review was originally published on March 27, 2015, as part of our SXSW Coverage.