Published on June 16th, 2016 in: Horror, Listicles, Movies, Trailers, Upcoming Movies, Upcoming Releases |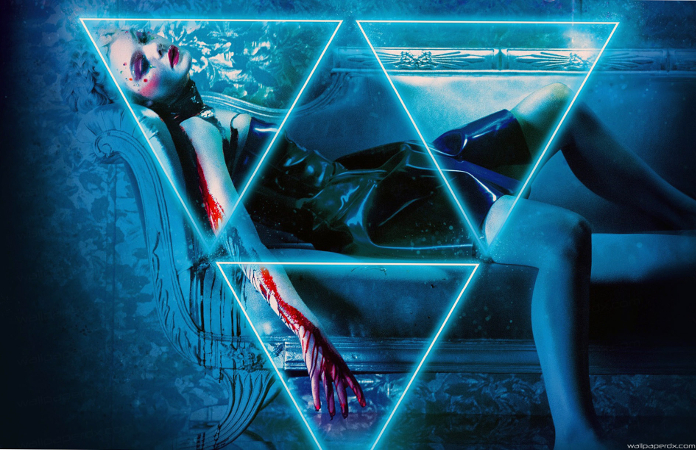 We're halfway through 2016 and it's already been a pretty good year for horror. Films like Robert Eggers' The Witch, Mike Flanagan's Hush, and anthology horror Holidays have already given us our fix to get us through the winter, but the second half of the year has some of the horror releases I'm most excited for.
Horror as a genre seems like it's being pulled in several directions right now. Found footage films, haunted house and ghost stories, anthology films, and the ever-present remakes of horror classics are all vying for our attention. With that in mind, here are a few upcoming horror features that I'm excited for, and I think almost any horror fan will find something to like here:
The Neon Demon: Nicholas Winding-Refn's thriller about Hollywood's vicious and unrelenting appetite for newness has already received high praise, and is the third of Refn's films to compete for the prestigious Palme D'Or at Cannes. A great cast, led by Elle Fanning, Jena Malone, and Keanu Reeves, bring the Tinseltown nightmare to life. Described by Cliff Martinez, Refn's go-to composer (and the creator of the soundtrack to this film) as a combination of "Valley of the Dolls and The Texas Chainsaw Massacre," this is sure to shock even longtime fans of Refn's work, and has style for days. (Release Date: June 24)
Before I Wake: Mike Flanagan's (Absentia, Hush, Oculus) tale of a boy whose dreams and nightmares manifest themselves in reality while he sleeps is scheduled for a September release in North America. As with many of Flanagan's projects, the supernatural story is really a story about loss and mourning. A great cast, led by Jacob Tremblay (Room), Kate Bosworth, and Thomas Jane provide harrowing performances with lots of scares laid on top of some genuinely devastating emotional moments. Flanagan is proving to be one of my favourite voices in horror, and Before I Wake seems to be, in part, a nod to themes Jennifer Kent laid down in The Babadook. (Release Date: September 9)
The Purge: Election Year: This is only a semi-serious pick, because of all the films on this list, this is the only one that's part of a series. A series, I should add, that's of pretty middling quality. What keeps me coming back to the Purge movies (the series has a more compelling title in France, where it's called American Nightmare) is, well, the Purge. I'm enamored with the concept of a night where anything goes, with terrifying effects, but neither Purge: Anarchy nor Purge: Original fully tap into the concept's potential. The first film plays out in a way that's downright offensive and is terribly executed to boot, and the second moves a little too fast for things to truly resonate, though it's a lot more competent than the first. Election Year, as the title suggests, is about an anti-Purge senator who is forced onto the streets on the final Purge night by a government that still has a huge bone for Purging. While I think the Purge concept might be better explored in more of an anthology format or a miniseries like Black Mirror, this one promises some larger-scale set pieces than the series has delivered so far, and a story with bigger implications. (Release Date: July 1)
Lights Out: The James Wan-produced debut of Swedish filmmaker David F. Sandberg has possibly the scariest trailer I've seen this year. Whether or not it's staggeringly simple premise—a supernatural entity that can only be seen in the dark—is enough to sustain it, is the big question. Early reviews suggest that it's highly character-driven, which intrigues me after thrillers like Queen of Earth and The Midnight Swim. Expect lots of jump scares, but some longer-lasting creepy vibes as well. (Release Date: July 22)
The Shallows: Anthony Jaswinski's script for 2010's Vanishing on 7th Street was underrated as heck, and he's back here with a minimal shark tale in the vein of 2003's Open Water. I'll admit that I'm a sucker for the kinds of horror film where a killer force of nature is the one doing the slaying, and this tale of one woman's battle against a massive Great White seems right in my wheelhouse. Blake Lively has a lot of heavy lifting to do in a film where she'll be the only human character onscreen for the most part, but I think the quality of the film will hang heavily on the quality of the script. If Jaswinski's writing chops are as sharp as they've been in the past, this could be an all-time great shark tale. The stunning new trailer, one of my favorites of the year, certainly does a lot to sell it to me. (Release Date: June 24)
Sadako vs. Kayako: This is pretty much Japan's Freddy vs. Jason, as the two biggest horror villains in Japan clash in a crossover movie. Sadako of The Ring (Ringu) and Kayako of The Grudge (Ju-On) franchises are both on their twelfth outing, so it seemed fitting to intersect the two most famous ghost ladies this side of Margaret Thatcher. The trailer is a little tough to parse for me since I don't speak Japanese, but I guess someone gets the brilliant idea to play that videotape in that house? Way to go, geniuses! (Release Date: June 18 in Japan)
The Woods: Writer/director team Simon Barrett and Adam Wingard (You're Next, The Guest) are back—this time with something even more mysterious than their previous releases. Outwardly presenting as your average "teens in the woods" escapade, no one's really sure what to make of The Woods, other than the knowledge that there's no way a Wingard/Barrett project would ever be so conventional. Critics are throwing around "best horror ever" as it relates to The Woods, which I don't have to mention is a lot to live up to. Look for something mind-blowing however, because this duo always delivers. (Release Date: September 16)
Don't Breathe: Home invasion horror is always fun for me, especially when there's a wrench thrown into the traditional formula, like in Mike Flanagan's Hush or Adam Wingard and Simon Barrett's You're Next. Fede Alvarez, who helmed the well-received 2013 Evil Dead remake, tells the story of a group of would-be thieves who break into the home of a blind man (the awesome Stephen Lang) and get far more than they bargained for when he turns the tables. Jane Levy is becoming one of the most bankable leading women in horror (and otherwise) and looks like she has a solid premise, script, and cast to work with here. (Release Date: August 26)
Though they wouldn't necessarily make my list, Rob Zombie's much-anticipated funhouse massacre 31, an origin story for The Texas Chainsaw Massacre's Leatherface, and a high-concept horror about an online game of Truth or Dare from the director of Catfish called Nerve are all set for release later this year. It seems that, to this horror fan, there are a few new twists in our tried-and-true genre exercises to look forward to in the second half of 2016. However you like to be scared, we've got you.
Note: All release dates are from IMDB and as with all things in this life, are subject to change.