Published on June 13th, 2016 in: Current Faves, Documentaries, Feminism, Movie Reviews, Movies, Netflix Reviews, Reviews |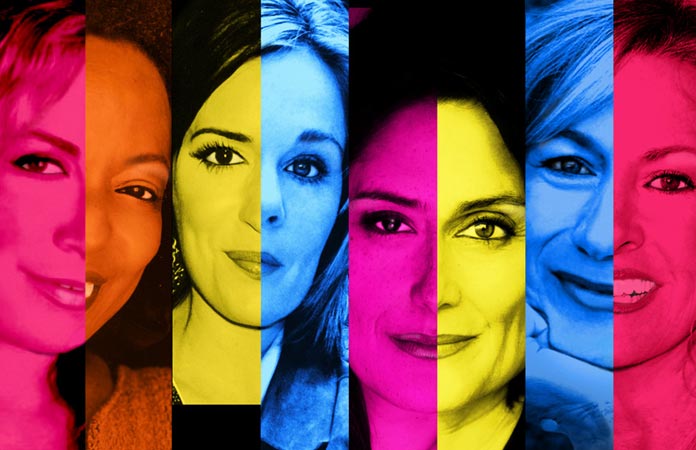 That Gal . . . Who Was in That Thing is the companion to 2012's male-skewed doc of a similar name. While both films focus on what it's like to be a character actor (a.k.a. someone not typically cast in leading roles), That Guy… played chicken with being overlong and repetitive. Gal gives us the opposite, trading personal tales of woe and triumphs for larger and more unsettling subjects.
We spend 80 minutes with our eight women of focus: Jayne Atkinson, Paget Brewster, L. Scott Caldwell, Alicia Coppola, Roxanne Hart, Catherine Hicks, Roma Maffia, and Cristine Rose. It's fun to point and shout at the TV and let all within earshot know that you recognize that person from A, B, and C. "Oh, and I loved her on Nip/Tuck!" It's amusing and interesting to see the breadth of someone's career and realize you don't know their name. That's what worked for Guy, and it's still a great hook with Gal.
But where the former ran out of steam, Gal uses its platform to launch into a serious and relevant discussion surrounding women's roles in Hollywood. They run the gamut of topics, touching on age, race, and sexism in general. Sadly, there aren't many surprises contained in this tight doc, but it's as jarring as it is refreshing to hear such issues spoken about so matter-of-factly. These women live in the world of Hollywood inequality, and for them, it isn't a debate or a thesis, it's their lives.
While it's never comforting to hear the often unspoken realities of women in their 40s getting cast as 50, or the lack of meaty female parts, the most upsetting portion of this film comes courtesy of Paget Brewster.
It's hard to watch, and Brewster is visibly uncomfortable as she recounts her experience on set. While filming a love scene, her male costar kept "trying to put his fingers inside of my body." She actively fought the advance, eventually internalizing her sexual assault, thinking she had "done something wrong." She speaks of guilt and the impact of the encounter is clear. Stories like this make it clear that this film is going places its predecessor did not.
Brewster's gut-wrenching account fades into Cristine Rose imparting these words of wisdom: "There's nothing you should do to get a role." I don't recall anyone featured in That Guy… Who Was in That Thing ever having to articulate a similar sentiment.
The male version of this documentary was a cool, outsider look at what it's like in Hollywood if you're not Brad Pitt or George Clooney. The female-led sequel is compelling, harrowing, and downright enraging. These women are just struggling for work, they are struggling to be treated like people.
That Gal… Who Was in That Thing is streaming on Netflix US, and the women featured can be seen in hundreds of shows and movies, from Child's Play to Lost.