Published on June 10th, 2016 in: Current Faves, Feminism, Music, Music Reviews, Reviews |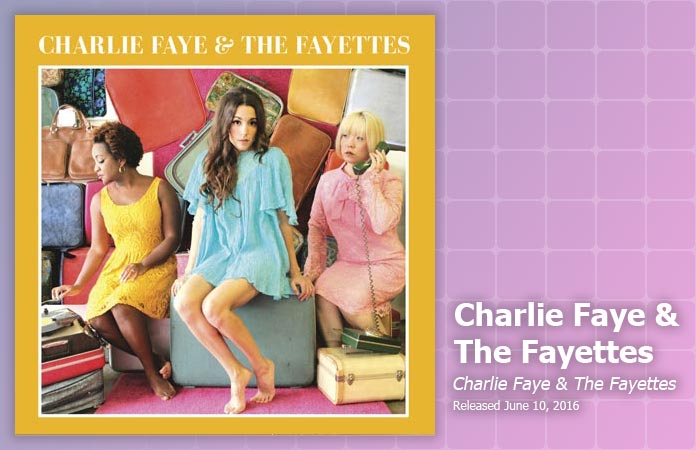 You may be hard pressed this year (or any year) to find an album that is more fun and delightful than Charlie Faye & the Fayettes' self-titled album. It's a tribute to the best groups of all: Girl Groups. It's a love letter to the Shangri-Las, the Shirelles, the Ronettes, and those ladies on the Red Bird label, with sugar crush harmonies from leader Charlie Faye and her Fayettes, BettySoo and Akina Adderly. It's packed to the edges with ear catchy melodies and joyous vocals, even when the lyrics get less-than-light.
Charlie Faye & The Fayettes is immensely likable right out of the gate. "Green Light" has an instantly classic feeling, like a lost Shangri-Las song and a riff that happens for just a heartbeat that sounds like "Here Comes That Rainy Day Feeling Again" (not period appropriate, but it drove this reviewer crazy trying to figure out what it was) (which it may not be) (because it could be something else). It's got fine, period appropriate, Wall of Sound production that hits the ear so perfectly. "Coming Round The Bend" has a "And Then He Kissed Me" vibe, albeit in a different key. With a carbonated beat and velvety harmonies, it touches on the transitory nature of life. The way that Charlie Faye sings "Hold on good and hold on tight" sounds like she's singing it just for you.
Timeless is the watchword for Charlie Faye & The Fayettes. The atmospheric "Loving Names" invites the listener to twist along slowly with its Spaghetti Western guitar, chunky with reverb, and universal truths about love gone wrong. Faye has a glorious, easy voice, that is never overly showy. She blends with The Fayettes so adroitly that the three of them seem to be one entity. Their buttery harmonies of "Sweet Little Messages" are wonderful. It's chuggingly upbeat with bright production that never overpowers the fiercely sweet harmonies. "Heart" has a 1950s, Buddy Holly feeling with added glockenspiel and an elegantly simple guitar solo, a heart-to-heart with her heart with those harmonies. "One More Chance" is pure girl group step-touch, hip sway. Heartache is wrapped in the happiest sadness and soul, and a key change that brightens an already bright song.
Charlie Faye & The Fayettes hits all the right beats. Stax horns and a slinky groove that hides a heavier theme in a sunny funk? "Eastside" has that. It's an enormously relatable song about gentrification that is so engaging, it beckons for another listen. A charming as hell synth solo that sounds pure 8 bit? That's in the perfectly adorable "Delayed Reaction," a delightful ear worm. Lovely, AM radio groove with gorgeous dollops of harmony from the Fayettes? "Carelessly" feels like a Dusty Springfield song and it's melody is painfully beautiful.
Charlie Faye & The Fayettes is sophisticated and warm, but also enormously fun. There's such love and joy in the songwriting, it's palpable. Coupled with exquisite harmonies and sumptuous melodies, it sounds like happiness. Some days, that's all you need.
Charlie Faye and the Fayettes was released on June 10 and is available from the band's website.