Published on May 19th, 2016 in: Americana, Country Music, Current Faves, Feminism, Music, Music Reviews, Reviews |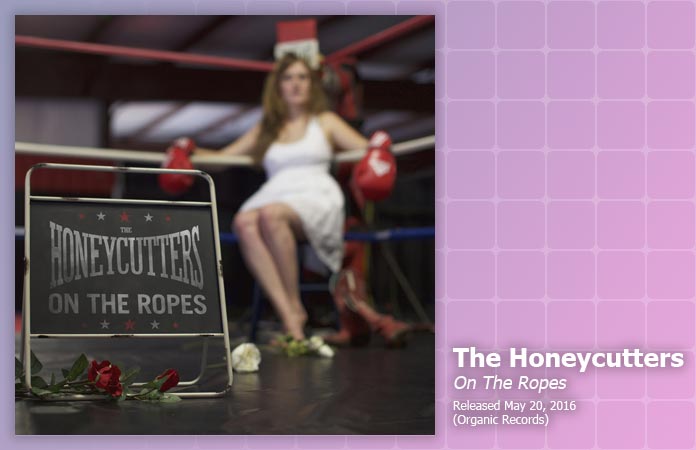 Asheville, North Carolina's The Honeycutters have followed up 2015's sublime Me Oh My with the completely wonderful On The Ropes. It's good to have them back with such strong, satisfying material. Vocalist and songwriter Amanda Anne Platt's voice is a treat: maybe older and wiser (by a year), but still hopeful. Hearts have been broken and mistakes have been made, but she's not giving up. Ever.
The title track is nervy and empowering, Platt singing "I've been making something out of nothing for a long time now." Her voice is bold, offset by Tal Taylor's delicate filigree of mandolin. There's a strain of heartbreak, but resolve. She tells us "go on home, it's not your fight" but how could we? We must know how this round is going to end.
Amanda Anne Platt's voice is even better than before, dripping with sweet ruefulness on "Golden Child." The harmonies with Josh Milligan are lovely and effortless sounding. They sound instinctive on the classic country of "Useless Memories," with its pedal steel and easy sway of sadness. There's the high lonesome of "The Only Eyes" and the emotional nakedness of "Ache," the latter being a showcase for her voice over muted, reverby guitar. It's gorgeously reflective and intimate.
On The Ropes, I suppose, is Americana. Occupying the space where Sturgill Simpson and Jason Isbell and Margo Price dwell, what used to be called country (but what is being called country just isn't). There are such finely realized moments and details here, like this bit of "Back Row": "I was sitting in the church / you were yelling in the street / had blood on your shirt and gravel in your knee." It's a great opening line, and Platt is a fine lyricist ("Breath like cinnamon and death" is also fantastic). It's the details that make it live. That, and the flat-out rocking guitar solo from Matt Smith. The yearning in Amanda Anne Platt's voice only makes the song craft stronger. The quietly ticking "Blue Besides" ruminates on the nature of love with clever turns of phrase.
The Honeycutters, though, aren't just Amanda Anne Pratt. They're a gifted bunch of musicians, with Matt Smith playing weeping pedal steel and Tal Taylor's exquisite mandolin. The rhythm section of Rick Cooper and Josh Milligan is tight. That pedal steel is always a treat, showing up in the jaunty "The Handbook," a sweet, maybe-falling-in-love song. It's a sunny swooner with a catchy hook and pedal steel that sounds straight out of a hula song. The Honeycutters's take on Leonard Cohen's "Hallelujah" is upbeat and countryfied, with loads of pedal steel and organ. It's an interesting version and Platt's voice sounds terrific, like it feels really good to sing. The lively and rollicking "Let's Get Drunk" is witty and charming. There's a quiet take on barrel-house piano and eclectic mandolin. The Honeycutters do "fun" tracks so well ("Criminal Style", their cover of the Todd Grebe song on Me Oh My comes to mind).
On The Ropes is a worthy successor to Me Oh My. It's relatable and heart-breaking, buoyant and hopeful. The Honeycutters just keep getting better and it's thrilling to hear it.
On The Ropes will be released on May 20 by Organic Records.