Published on May 18th, 2016 in: Current Faves, LGBTQ, Music, Music Reviews, Reissues, Retrovirus, Reviews, Underground/Cult |
By Eric Weber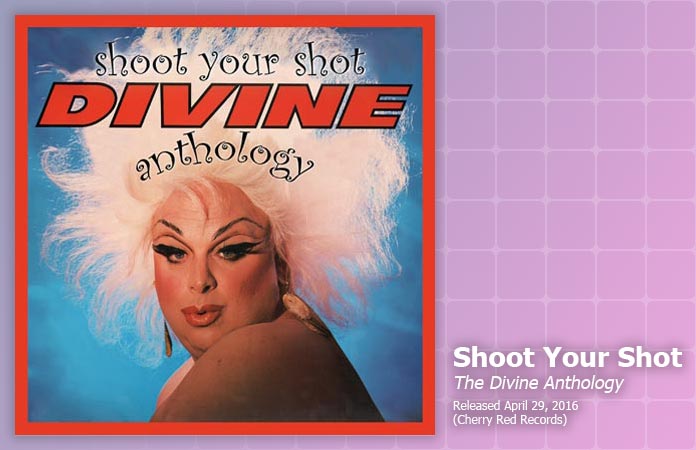 The time was 1991; the place was Wax n Facts in Atlanta, Georgia.
Flipping through the packed cardboard box, my jaw dropped when I saw the huge white letters emblazoned across the top of the record sleeve: DIVINE.
I quickly snatched it up, examining every inch of the album. I couldn't believe it. Divine: Greatest Hits. He had hits?
At the time, I had no idea that Divine had any recordings at all. In his 1981 book, Shock Value, John Waters had mentioned a single called "Cheap" (actually released as "Born to Be Cheap") that Divine recently completed. I also knew that Divine sang the theme song to Female Trouble (1974), but it had never occurred to me to actually search for anything related to his recording career.
Needless to say, I was ecstatic and couldn't wait to get home and listen to it. I remember sitting in the backseat of the car, marveling at each song title: "Native Love," "Shake it Up," "Jungle Jezebel," "Shoot Your Shot," "Love Reaction."
Even the lyrics were printed on the back of the sleeve:
You wimp, you wimp, say who you callin' a blimp
I ain't your Aunt Jemimah and honey you ain't my pimp
Jungle Jezebel Jungle Jezebel
What the hell was this?
Once the record started turning and I began hearing the first few minutes of music, I honestly recall feeling a tinge of disappointment. It was a strange type of music that, even by early '90s standards, was pretty dated. It was a type of dance music from a bygone era. Not quite techno; not really pop. I didn't know what to make of it.
Then a familiar growl and scratchy, distinctive voice kicked in and my heart melted. Was it great music? Not really. But it was definitely FUN. Once I realized what I was listening to, I began warming up to the songs, letting the synthesizers, drum machines, and cowbells take me away to a different world that I had no idea existed. This was played in clubs? Here was a part of Divine's career of which I was completely unaware.
The songs began to stick with me and I would start including them on the mix tapes I made for friends. Shockingly, I began finding even more albums on return visits to Wax n Facts: 12" singles for "Hey You!" "You Think You're a Man," and albums like Divine: The Story So Far… Keep in mind that this was a period pre-eBay, so finding things in actual stores was incredibly rewarding and exciting.
Throughout the rest of the '90s, Divine's music began popping up on countless CD compilations, most of which contained variations of the same group of Hi-NRG songs he completed with producer Bobby Orlando. This most always included the aforementioned "Native Love," Divine's first hit single, a song that is certainly catchy with cute lyrics, but it's a track that always seemed to overshadow the better songs of the catalog like "Shoot Your Shot" and "Shake it Up."
Occasionally, a new collection would appear that contained the songs of producers Stock Aitken Waterman, songs like Divine's popular "You Think You're a Man," "Walk Like a Man," and his signature tune, "I'm So Beautiful." These tracks were significantly better in that they featured denser, more unique compositions as opposed to the interchangeable Bobby "O" numbers. Don't get me wrong, though; that is in no way a complaint. I have a certain fondness for each and every song by Divine, even the ones that drive me nuts—like the atrocious "Kick Your Butt"! There is an inherent quirkiness and sense of fun that elevate them from mere novelty songs to time capsules of, as I mentioned before, a bygone era.
Last month, a brand new collection was released as a two-CD set by Cherry Red Records called Shoot Your Shot: The Divine Anthology. The album combines together the Bobby "O" and Stock Aitken Waterman tracks into an excellent assemblage of Divine's entire body of work. From "Shake it Up" (featured as two remixes) and, yes, "Native Love" (featured as THREE remixes) to lesser-known B-sides like "Show Me Around" and "Give it Up"—it's all here. Even "Kick Your Butt." Some great versions of these songs—previously unavailable on CD—really make this compilation special, especially the single remix for "I'm So Beautiful" and the 12" version of my personal favorite, "Hard Magic."
…and now for the bad news.
Unfortunately, it appears that the early pressings of this album feature random and minor skipping on several tracks. When I contacted Cherry Red, they informed me that these defects will be fixed on the next pressing and that they will be providing replacement discs to retailers.
Shoot Your Shot: The Divine Anthology was released on April 29 by Cherry Red Records.