Published on May 16th, 2016 in: Canadian Content, Current Faves, Music, Music Reviews, Reviews |
By Tyler Hodg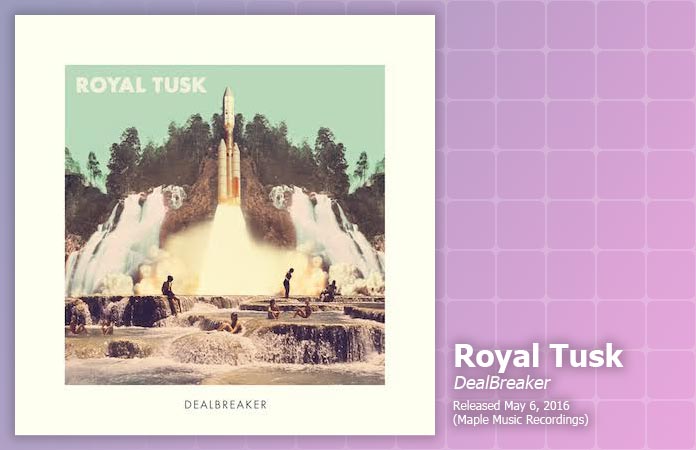 Debut albums are meant to hook to a listener, and make a fan out of them. Royal Tusk, a Canadian rock'n'roll band, is sure to accomplish such a feat with their graceful premiere effort titled DealBreaker.
A mix of classic-sounding anthemic choruses, new-age production, and ingenious riffage makes the record tasty ear candy. Perhaps the only negative that can be attributed to the record, if one considers it as such, is that it seldom steps outside of the "rock" genre. With that said, exploration within the boundaries the band has set themselves is plentiful, and nearly every song has a distinct sound compared to the next; a groove-centric track like "Don't Get Me Wrong" is entirely different in tone from the laid-back "Dynamo" and multifaceted journey that is "Cold On Me."
Royal Tusk deserves huge props for having the courage to incorporate guitar solos into their music. As time passes, bands are generally afraid to attempt leads, possibly for fear that "radio doesn't accept them anymore," but thankfully, these musicians threw the new rulebook out the window of their speeding car that is DealBreaker. Keep an ear out for Ian Thornley of Big Wreck playing a monster solo on "So Long The Build Up."
Additionally, the amount of layers on the songs is quite impressive. Each instrument intertwines to become a whole, but can be picked apart and focused on as a singular. Auxiliary sounds also help create rounded pieces of music, with tambourines and loads of effects being used advantageously.
The band has created a debut album that will not only help garner attention for them, but also spice up the generally stale genre of rock. The album isn't a rehash of old elements, yet isn't too out there that it becomes inaccessible for listeners. A perfect balance of tone has been stuck by Royal Tusk, which means there is a great chance that DealBreaker will stand the test of time.
DealBreaker was released by Maple Music Rcordings on May 6.