Published on May 13th, 2016 in: Americana, Current Faves, Music, Music Reviews, Reissues, Reviews |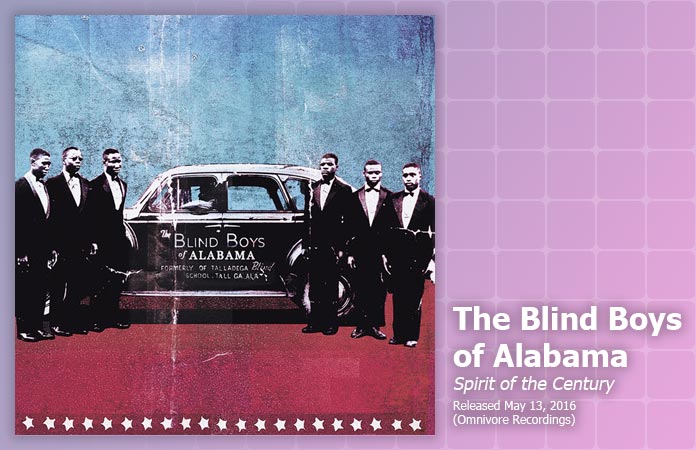 The Blind Boys of Alabama have performed together for nearly seven decades and have recorded over 60 albums. Joining together as glee club singers at the Alabama Institute For the Negro Blind in 1939, founding members Jimmy Carter, George Scott, and Clarence Fountain (with newest member Joey Williams joining in 2001), The Blind Boys of Alabama make honest, American music, rooted deeply in gospel, focusing on the truly glorious way that their voices blend.
In 2001, producers Chris Goldsmith and John Chelew had a novel idea: find a band to play with the Blind Boys, facilitating a conversation between the singers and musicians. Then, choose traditional gospel songs and arrange them in an interesting and fresh way. Then, sprinkle in a handful of tunes by contemporary songwriters that fit perfectly into the album. The result was the Grammy-winning Spirit Of The Century. It's a revelation.
The band (including Charlie Musselwhite on harmonica, Danny Thompson on double bass, drummer Michael Jerome, and guitarists David Lindley and John Hammond) is wonderfully suited to the task. There's magic to the music: it's in the way that the Blind Boys of Alabama's voices blend so stunningly and it's in the way that these musicians support the singers in a subtle, effective way.
Thompson's stand-up bass sets the tone on "Jesus Is Going to Be Here" before Clarence Fountain's ragged voice starts. It's bluesy gospel (written by Tom Waits), with a low-down groove and an appealing spareness to it. Another Tom Waits cover, "Way Down In The Hole" is so inexorably tied to The Wire that one can scarcely listen to it without thinking about the opening credits. It's a spry take (and was utilized on Season 1) with iconic harmonica from Musselwhite. There's a sheen to the music that isn't a usual feature of the earthy Spirit Of The Century, save for on the glossy "Give A Man A Home."
What works the best on Spirit Of The Century are the stripped down, spare tracks. There's an ancient quality to George Scott's voice. On "Run On For A Long Time" he takes the lead. When he's joined on the electrifying chorus by the other singers, goosebumps are inevitable. It's incredibly spare: stand-up bass and drums, and those amazing voices. But that's all you need. The bare "The Last Time" is handclaps and a capella. Each singer sounds like they're singing a solo but they meld together so flawlessly it's incredible. The loose "Good Religion," too, is stripped down to showcase their extraordinary vocals. "Nobody's Fault But Mine" is front porch singing with added dobro from John Hammond. It's perfection in song.
It's a marvelous album, taking bold chances with tracks. "Amazing Grace" is sung to the tune of "House Of The Rising Sun" and it works so very perfectly with rich harmonies and fantastic solo verses from Clarence Fountain and George Scott. Their take on Exile On Main Street's "Just Wanna See His Face" is an easy, hypnotic groove that swells with those gorgeous voices that fuse and grow.
It would be enough, really, to just reissue this long-out-of-print album, but Omnivore Recordings, as always, goes above and beyond "enough." The initial 12 tracks are joined by seven more: previously unissued tracks recorded live at The Bottom Line in New York City in 2001. Joined by the musicians that played on Spirit Of The Century, The Blind Boys of Alabama sound, somehow even better. There's a thrilling spontaneity to the finely produced songs, as well as a simplicity. The voices are there to be showcased, and they are on songs like the soulful "Motherless Child" and a deliciously raw "Give A Man A Home."
Spirit of the Century was reissued by Omnivore Recordings on May 13.