Published on May 13th, 2016 in: Americana, Current Faves, Music, Music Reviews, Reissues, Reviews |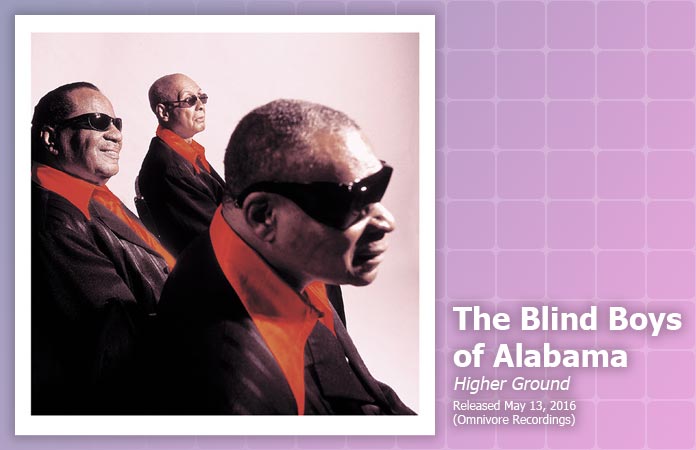 It's difficult to listen to The Blind Boys Of Alabama's Higher Ground (2002) and not compare it to its predecessor, Spirit Of The Century (2001). Both are Grammy-winning collaborations with producers John Chelew and Chris Goldsmith and both feature bold, spiritual covers of songs by contemporary artists, with the Blind Boys Of Alabama being backed by a band in "musical conversation."
On Higher Ground, the Blind Boys Of Alabama are backed by Robert Randolph & The Family Band and, while the collaboration is creative, their music is more obtrusive. The album feels less like a Blind Boys Of Alabama album and more like a Robert Randolph & The Family Band album that TBBOA happen to be on. It's still a good record, but coming immediately after the incredible Spirit Of The Century, it's a little disappointing.
The song choices of Higher Ground are fascinating, though. The title track, the Stevie Wonder classic, is given a funky and a bit of a heavy take, with inspired vocals and the Blind Boys's trademark harmonies on the chorus. It's a rumbly, exciting version with a constant thrum of guitar and bubbling bass that ends in a rather jammy manner. "The Cross," written by Prince, is another interesting choice. It's spare, with organ and quietly throbbing bass that pushes the vocalist's voice to the forefront. There's a stunning moment where he slides up to a note, pulls back and then comes back belting. It's a gorgeous performance that ends before a listener wants it to. Jimmy Cliff's "Many Rivers To Cross" is a particularly inspired choice, with great elegance to the performances and a hushed, subdued quality to the music. Surprisingly effective and completely wonderful is "You And Your Folks/23rd Psalm." A mash-up of the slinky Funkadelic track with the 23rd Psalm spoken over it, it's hypnotic and funky.
The Blind Boys Of Alabama themselves get in on the songwriting on Higher Ground. Clarence Fountain's "Stand By Me" is a rich gospel song with a swing to it, and an excellent bass line from Danyel Morgan. It's simply smashing, a call and response with testifying vocals. "I May Not Can See" is co-written by Blind Boy Eric McKinnie. It has a very contemporary R&B feel, especially in the guitar line. It's funky and buzzy, an autobiographical charmer ("I may not can see, but I got somebody looking out for me") that is completely delightful.
The richness of the vocals and the way that The Blind Boys Of Alabama harmonize is, as always, the reason we listen. The soothing harmonies of the laid back "Freedom Road" or the old-school gospel of the soulful "Wade In The Water" are simply glorious. "I Shall Not Walk Alone" is piano led with sumptuous harmonies, elegant and elegiac. The focus of "Precious Lord" is Clarence Fountain's honest, careworn voice, but the silky harmonies are a treat as well.
This reissue of Higher Ground from Omnivore Recordings comes with bonus material, this time it's seven live tracks recorded on Morning Becomes Eclectic on KCRW. These are wonderful sounding, crisp and nicely blended songs, like "Run On For A Long Time," a stunning a capella "My Lord What A Morning," and a tight, smart version of "Higher Ground." The bonus tracks are worth the purchase alone, but the whole album and those astounding, glorious harmonies will make you feel things in your heart.
Higher Ground was reissued by Omnivore Recordings on May 13.