Published on May 13th, 2016 in: Canadian Content, Current Faves, Metal, Music, Music Reviews, Reviews |
By Tim Murr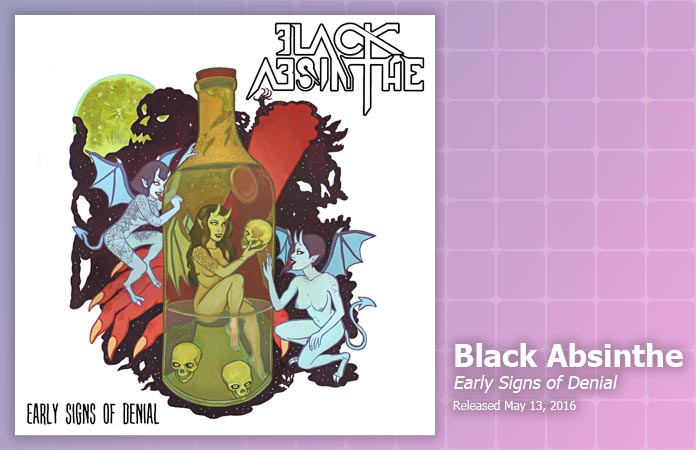 Toronto, Ontario's Black Absinthe demand your attention and they have the songs to keep it! Blending classic and modern metal, Black Absinthe hasn't just done their homework, they've innovated the game. Yes, you can hear Maiden, early Metallica, and Motorhead in their sound, but these influences blend into the band's own flavor, rather than sounding like the source of its parts. As metal albums go, Early Signs Of Denial prove that new life can still be breathed into old monsters.
The trio of Kyle Scarlett on bass, Jack Cerre on vocals and guitar, and Austin Henderson on drums may wind up being one of the most exciting power trios we've seen in some time. Unlike some of the other big contemporary metal acts who can't really crack FM radio because of Cookie Monster vocals, or prohibitive song lengths, Black Absinthe actually sound radio ready without sacrificing integrity and certainly never embracing a poppier or commercial sound. It's a high wire act. Cerre's vocals can veer into Cookie Monster territory, but mostly he sings clean and has a hell of a good voice. In fact, on track one, "The Wild," he sounds like a Samhain-era Danzig fronting a New Wave Of British Heavy Metal band. Scarlett and Henderson as a rhythm section are a force of nature while Cerre rains down riffs like he's taking no prisoners.
Listening to Black Absinthe brings me back to a time of rock and roll heroes, before a certain cynicism set in that made such a notion uncool. Bands like Motorhead, Iron Maiden, Black Sabbath, and AC/DC have enjoyed an amazing staying power because they were able to appeal to a wide swath of rock fans. These days, metal seems so compartmentalized (with truly amazing things going on within those compartments; I mean, this is a golden age of metal!) and we just don't have many bands that have the reach of an AC/DC, but I feel like Black Absinthe could be that band.
Lyrically, too, Black Absinthe bring their A-game, keeping things heavy and smart, without sacrificing listenability. The press release notes of the album's title that "it's a conceptual connection to the themes of fear, corruption, and overcoming disparity, which is explored in the songs." All of the elements are in place; the only thing missing is this album on your turntable, CD player, or MP3 player. Even down to the cover art, this is just one of the coolest releases of the year.
Early Signs Of Denial is out on May 13 and is available via CD release show in Toronto at Coalition T.O. on May 14.