Published on May 11th, 2016 in: Americana, Current Faves, Music, Music Reviews, Reviews |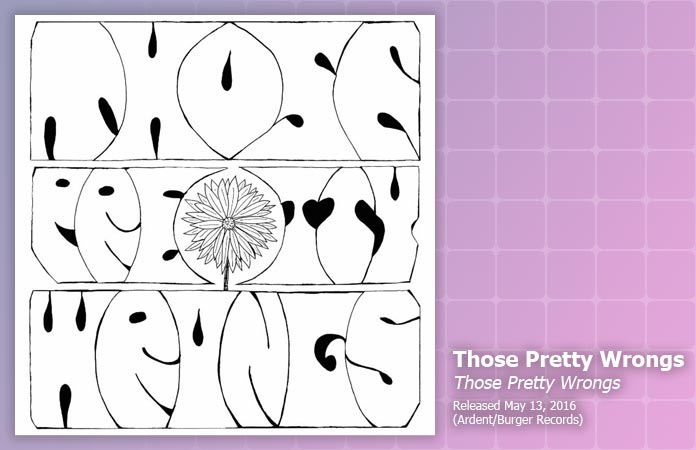 The music that Those Pretty Wrongs makes is familiar in the best of ways. It's sun-dappled melancholy, 1970s AM radio-friendly songs that soar with warm harmony and delicate guitar. It's quiet power pop with heart, which makes sense if one looks at their pedigree.
Those Pretty Wrongs are made up of Jody Stephens, drummer for Big Star (who helped run Ardent Studio in Memphis) and Luther Russell, of the roots-rock band The Freewheelers. When promotional duties for Big Star: Nothing Can Hurt Me necessitated performances, Stephens asked Russell to join him. And lucky for that, too. Their chemistry is undeniable.
Those Pretty Wrongs was recorded on much of Big Star's old equipment, including Stephens's kit from Radio City and Third and Chris Bell's acoustic and electric guitars from #1 Record. The result is delightful.
Jody Stephens handles the lead vocals, and his voice is endearing. The opener, "Ordinary" has a plaintive hopefulness over lightly strummed guitar ("Smile/Stick around/Smile/Stay awhile/There's a chance we could turn into such good friends"), that erupts into shimmery harmony. Its message, "It's okay to be ordinary" but "Together we can be extraordinary," has a sweetness to it and a great deal of heart. It's a surprisingly low-key track to open with, but in context of the album, it works. Stephens's voice certainly grows on the listener; the joyous, upbeat sunshine of "Never Goodbye" is perfectly suited to him. The swoop of harmony is completely excellent, as is the dash of accordion, which is quite effective.
The harmonies steal the show on Those Pretty Wrongs. The classic feeling of "I'm For Love" is enhanced by crystalline harmonies and a tasteful guitar solo. "Lucky Guy," with its delicate guitar and pretty pretty harmony has a decidedly '70s AM radio feel (think America or England Dan and John Ford Coley, which is by no means an insult). It's a subtle, sweet love song that is welcoming and enveloping. "Start Again" is in the same wheelhouse, with swelling strings that are never cloying or too much. It's throwback in a fine way.
There's an edge of melancholy that runs through Those Pretty Wrongs. "Empty City" is piano led with a wonderful sense of atmosphere. "I feel so abandoned here / why did you have to go?" is asked and it's heartrending. But this, "It seems so/sky blue clear/like a John Ford picture show" makes it feel like it just might be okay one day. "The Cube" is an anomaly, but a good one, with a delightful slinky beat and circus-y riffs. It's rich with descriptions of circus performers and a story line that would make a good film, and has that attendant darkness that circuses just seem to draw. "Thrown Away" has a heaviness cloaked in sunny harmonies and jangling guitar, reflecting on the transient nature of relationships. It's pretty and pretty sad.
Those Pretty Wrongs have made a quiet, gentle album with an enormous amount of heart. It's not an edgy, angry record, but it's lovely and easy and warm. Sometimes, you just need to slow down and let harmonies take over. Those Pretty Wrongs is here to help.
Those Pretty Wrongs will be released by Ardent/Burger Records on May 13.