Published on May 10th, 2016 in: Current Faves, Horror, Matshifter, Pro Wrestling, Reviews, Science Fiction, TV, TV Reviews, Underground/Cult |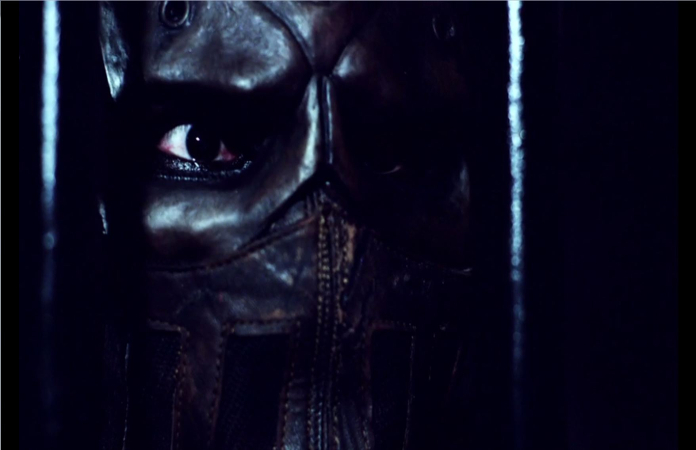 Hey, I just met you,
and this is crazy,
Robert Rodriguez
loves lucha libre!
It's been a few weeks since we've visited the Temple, and with Dario Cueto back in control and his feral brother Matanza as champion, the whole show has a different feel. Gone is Mil Muertes looming over the Temple on his throne and the candles and other spooky touches Catrina put in Dario's office. Instead we're back to having live bands play us into the shows and a general feeling that chaotic violence can erupt at any time. I have to say that I'm glad to have Dario back in the backstage vignettes in particular, because he's a much better actor than Catrina and has his sadistic douchebag character down pat.
Here's a rundown of the major storylines on the show right now:
Matanza's Reign Of Terror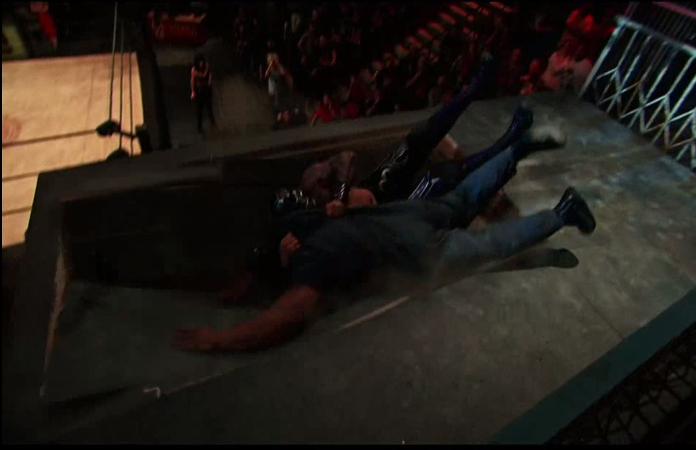 Since defeating Mil Muertes and everyone else on the roster at Aztec Warfare II, Matanza has run roughshod over everyone that's challenged him. In the past few weeks, he's had a violent match with Pentagón that required the skeleton ninja to be taken away in an ambulance, and a match with former titleholder Fenix where he continued attacking Fenix after the match, prompting the unlikeliest of allies, Mil Muertes, to come out to help. Matanza even faced off with Muertes in a War of the Monsters that ended with Muertes slamming Lucha Jason Voorhees right through the roof of Dario Cueto's office.
So though Matanza has successfully defended his title a bunch of times in dominant fashion, Muertes and the other contenders have definitely exposed weaknesses in his game. It seems to me that this is foreshadowing for Muertes, Fenix, and Pentagón having to join forces to finally put Matanza down, which is a really compelling story since these three have been feuding almost constantly since Lucha Underground began. Next week, Mil Muertes is set to face Matanza in a Grave Consequences match, Mil's specialty, where one has to force his opponent into a casket to win. It could be the perfect opportunity for the three rivals to take down the Monster.
Ian Hodgkinson, Vampiro, and Pentagón Jr.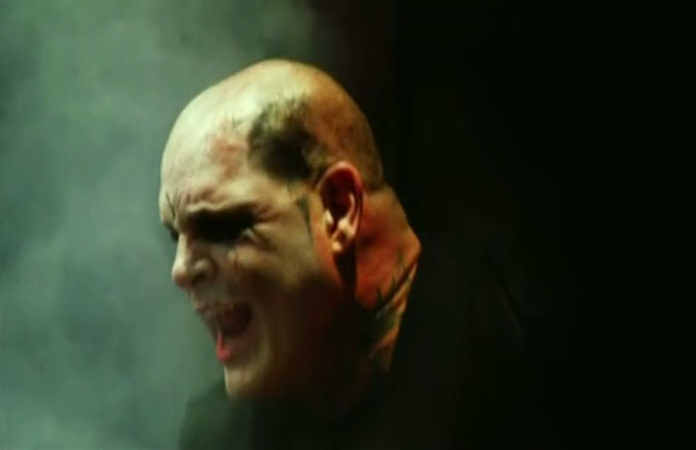 A big tentpole of the post-Aztec Warfare main story is about Vampiro, or rather Ian Hodgkinson, struggling with two seemingly disparate identities. There's Ian himself, who is a more-or-less regular dude who happens to do commentary for Lucha Underground. Vampiro is his long-time alter ego from Ian's career as a wrestler, who acts as an agent of chaos and pushes Hodgkinson to commit violent acts. Vampiro is also a mentor and teacher to the ultraviolent arm-breaking skeleton ninja Pentagón Jr.
Interestingly though, Ian Hodgkinson has been subtly distancing himself from Pentagón on commentary, and has seemed visibly more frustrated each time Pentagón's come up short in a match. In the last episode, Vampiro seemed to turn on Pentagón as well, burning him with a candle and demanding that he get up, despite the fact that he's been in a wheelchair since his match with Matanza. Is this another of Vampiro's tests for Pentagón , or are they breaking up for realsies? It's one of the most compelling "will they/won't they" storylines between a vampire and a skeleton since my unproduced Buffy spec script.
The Trios Championship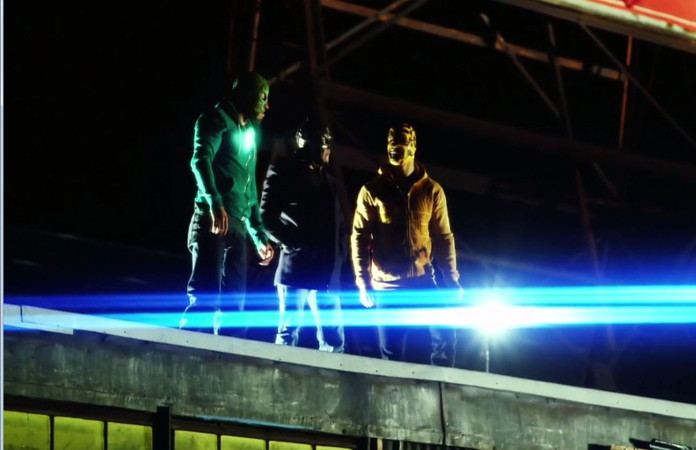 In terms of in-ring action, the show's mostly been focused on the Trios Championship, currently held by Ivelisse, Angelico, and Son of Havoc. Last year, they won these titles in a tournament set up by Dario Cueto and it was both awesome and hilarious. Because Dario is a gigantic jerk and the dictionary definition of "Chaotic Neutral," he put rivals together on teams just to see what hilarity will ensue. This is how the current champions were put together. Ivelisse, Son of Havoc, and Angelico hated each other at the time, and the result was one of the best takes on the "strange bedfellows" story I've seen. The story of how the three learned to coexist, work as a team, and finally win the trios title has been my favorite story of the show so far.
This year, Dario's paired up Marty The Moth and his sister Mariposa with Willie Mack, a guy that's been fighting them the whole season in an attempt to help his friend Sexy Star, so it was interesting to see how that dynamic played out. Similarly, Cueto put Johnny Mundo and Taya Valkyrie with Cage, even though these three have been embroiled in a blood feud for months.
Other teams in the tournament are a Lucha Underground dream team of Dragon Azteca/Rey Mysterio/Prince Puma, Fenix/Jack Evans/"The Darewolf" PJ Black, and the team of undercover cops Joey Ryan/Ricky Reyes and Mr. Sisqo who is still in the dark about the real identities of other two. All three of these teams made the finals of the tournament, in addition to the champions.
The tournament final was a chaotic match where the champions were placed at a disadvantage because Angelico was injured both in storyline and in real life. Being a man short hurt the unit, and allowed the team of Mysterio, Dragon Azteca and Prince Puma to win the Trios titles.
The Gift of the Gods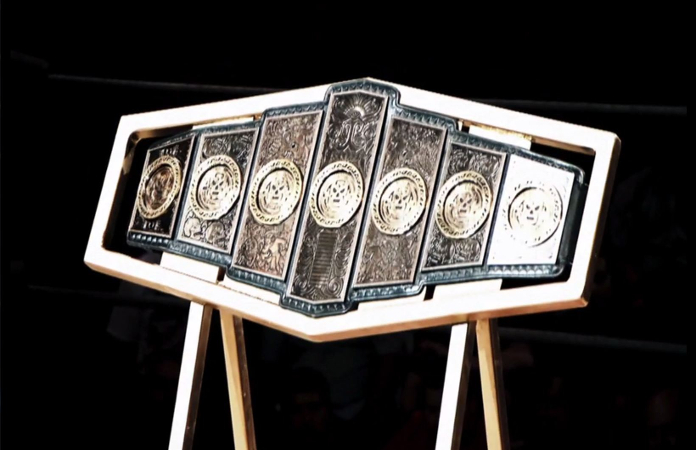 Last year, Dario Cueto introduced the Gift of the Gods title to Lucha Underground. It's a championship that grants its owner the right to face the Lucha Underground champion for the company's biggest prize. The way to obtain the belt is to win one of seven Aztec medallions (each representing one of the seven tribes) in a qualifying match, which grants access to the match for the Gift of the Gods itself.
There have been a bunch of matches for medallions in the last few episodes, with Sexy Star, The Mack, and Sinestro De La Muerte all winning spots in the Gift of the Gods match. Cage (he's a machine!) also won a medallion in a very on-the-nose cage match with Johnny Mundo, but it was stolen by noted slimebucket, Chavo Guerrero. That leaves three spots open for the title match, which should be a fun and chaotic one.
Sexy Star, Marty the Moth, and Mariposa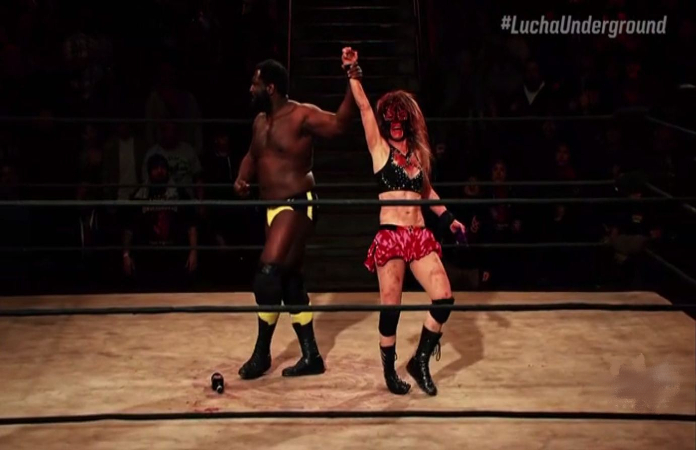 Though they've made several attempts, there has never been a terribly compelling female-centric storyline on Lucha Underground. We've had Ivelisse's brief contendership for Mil Muertes's title and the introduction of some new characters like Kobra Moon, but nothing has really hit home in the way that the storylines with male protagonists have. Part of the issue is that there's a wide gulf of talent between Ivelisse (easily the best women's wrestler on the show) and the rest of the pack, and Ivelisse is usually embroiled in intergender feuds rather than matches with other women.
I was of the mind that the storyline with Sexy Star being kidnapped by Marty the Moth and his sister Mariposa was going to be more of the same—that is, until this week's episode. Star defeated Mariposa in a "No Mas" match, where the goal is, wait for it, to make your opponent utter the words "No Mas" ("No More"). This was a violent, bloody war and one of the most intense women's matches I've ever seen. I don't know if it makes me a hypocrite for enjoying this when I absolutely hated the violent match that Taya Valkyrie had with Cage a couple of months ago, but I think the two competitors being on far more equal footing definitely made it more palatable for me. This match is the most impressive women's match Lucha Underground's put on, and both Star and Mariposa did a great job. When Star held up the Gift of the Gods medallion she won for her efforts, the crowd chanted "you deserve it," and she absolutely does. Hear Star's impassioned rundown of the storyline here:
Still bloody from battle, hear what @SexyStarAAA had to say about her victory over Mariposa! #LuchaUnderground https://t.co/8Q6LpveD1H

— Lucha Underground (@LuchaElRey) May 7, 2016
I'm enjoying the way that Lucha Underground has found ways to make their stories intersect in logical ways in this second half of the season. With so many storylines focused on chasing titles, it allows for a lot of crossover and especially in the case of the Trios titles, unusual combinations of characters. The show has retained its signature style and "dark telenovela" aesthetic, thanks in large part to Robert Rodriguez taking more of a hands-on role in this set of tapings. Despite the sprawling cast and extremely long season, Lucha Underground is still one of the most spellbinding examples of world-building in all of pro wrestling, and perhaps on television as a whole.