Published on May 9th, 2016 in: Cartoons, Current Faves, Gaming, Movie Reviews, Movies, Reviews |
By Tyler Hodg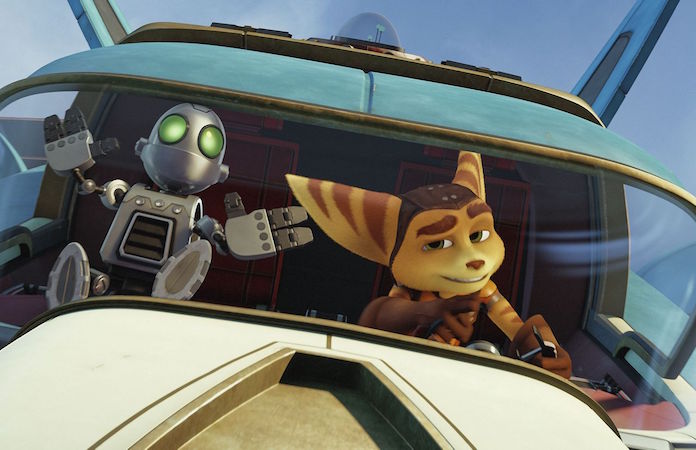 Beloved video game series Ratchet and Clank has made its way to the big screen, and much to fans' delight, embodies the unique attributes that turned the franchise into something of substance in the first place. While the CGI film is bumpy at times, it never feels like a forced project developed strictly for monetary reasons, and celebrates the classic story that many have grown up with.
The switch from game to movie is a no-brainer; cute characters and space-themed lore make the series universally accessible. No matter how old one gets, age rarely diminishes the love for simple and endearing stories.
For those unfamiliar with the series, Ratchet and Clank is a classic underdog tale. Ratchet, a cat-like Lombax, resides on a somewhat forgotten planet, working as a mechanic while idolizing the heroic team of the Galactic Rangers. A chance encounter with a defective robot made by the evil Drek, forms a cooperative team worthy of joining a vacant spot with the celestial crime-fighters—specifically, for a mission to bring down Drek and his plan to destroy certain planets.
Ratchet and Clank features classic voice actors for the title characters and a few others—including the unforgettable leader of the Galactic Rangers Captain Quark—all while bringing in a healthy dose of well-known actors such as John Goodman, Rosario Dawson, Paul Giamatti, and Sylvester Stallone. The addition of household names adds a bit of star power to the movie, but it's returning voice actors James Arnold Taylor and David Kaye that steal the show.
One of the most respectable elements of the film is that although it is based on a video game, it doesn't feel like video game adaptation. If it was to copy the story beat for beat and be littered with throwbacks to the gameplay, there would be no need for it to be made, as the game would be the superior rendition. Instead, the two projects can now stand on their own without the audience having to experience both in tandem.
But as endearing as the characters and story are, the pacing of the film presents an issue. The lack of action sequences lead to long stretches of dialogue, and although the writing is often witty and charming, viewers are left waiting for the next big moment to finally arrive.
Additionally, the animation could have been a little more refined and detailed. The film is occupied with bright and engaging visuals, but characters and environments lacked any sort of graphical innovation.
With juggernauts such as Walt Disney Animation Studios, Pixar, and DreamWorks churning out classic after classic, it's hard to compete and exceed expectations of current-day animated films. With that said, Ratchet and Clank is a great stepping stone for what could be a respectable series filled with even better sequels.