Published on May 6th, 2016 in: Current Faves, DVD, DVD/Blu-Ray Reviews, Horror, Movie Reviews, Movies, Reviews |
By Tim Murr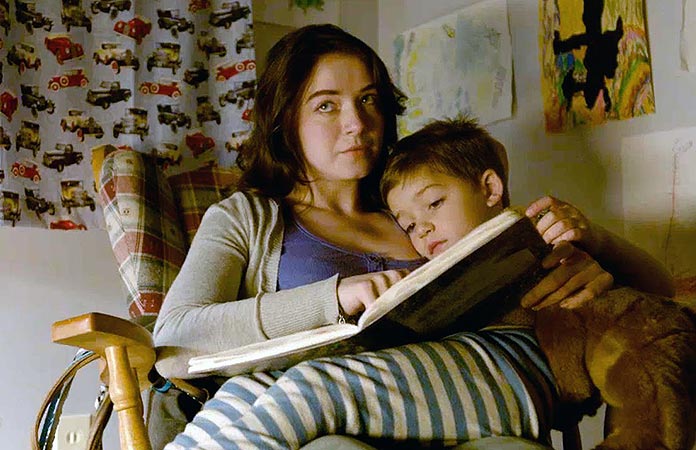 It's mom and dad's anniversary and they hire a new babysitter to watch their three young children. She comes highly recommended and seems like a sweet, smart girl, but the parents aren't gone long before she starts to strangely assert herself over the children, guiding them into the darkest night of their brief lives.
Emelie barely gets started before a tense impending sense of doom is established. Clocking in at a mere 80 minutes, the film wastes no time. I wasn't a half hour into this movie before my stomach was in knots, because when it comes to violence in horror movies my rule is no kids, no animals. Yes, I'm sensitive. Everything else: bring it.
Emelie reminds me a bit of the 1992 thriller, The Hand That Rocks The Cradle, except streamlined and claustrophobic. With Emelie being an indie horror film, there's no guarantee that director Michael Thelin isn't going to go to let something horrible happen to one or more of the kids.
Thelin does a great job of building tension and the film is very well shot. The young cast of kids is all believable and also do a good job, really putting the viewer on edge as they spiral down Emelie's path of madness. Emelie herself is played by Sarah Bolger, who has a great future as a horror villain if she can find that great iconic role (like a Norman Bates or a Pinhead). Bolger is very strong and bold in this role and downright unnerving at times.
For all Emelie's strengths, I felt a bit let down by the third act. Once everything is revealed and the film charges through its climax, what had started as such a strong thriller is found to be teetering on some weak supports. I certainly don't want to give anything away, because there is a lot to like about this movie and my misgivings about the underlying motivations for Emelie likely stem from me simply being a jaded horror fan.
I still recommend Emelie, but for that anniversary dinner you planned, maybe bring the kids and cancel the babysitter.
Emelie was released by Dark Sky Films on May 3.