Published on April 29th, 2016 in: Americana, Current Faves, Music, Music Reviews, Reviews |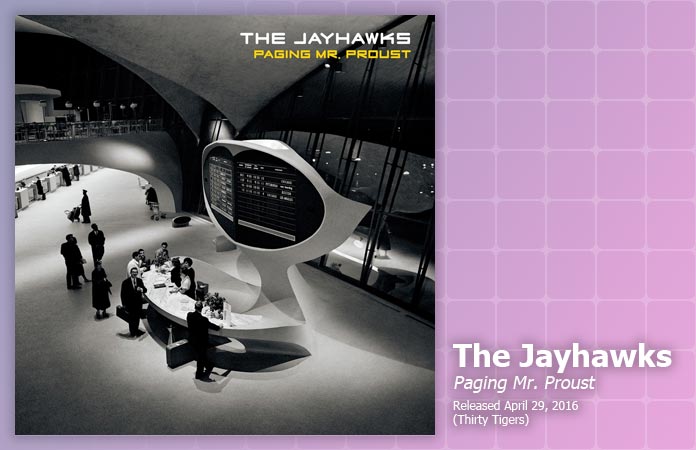 With their welcome return, Paging Mr. Proust, the Jayhawks have made an album that will stand the test of time. Packed with lovely melodies and sumptuously lush harmonies, but lacking the obvious twang of their previous outings, Paging Mr. Proust is essential. Frontman Gary Louris (joined by longtime Jayhawks Karen Grotberg, Marc Perlman, and Tim O'Reagan) has created a very literary, confident album that opens strong and never stops.
The opener, "Quiet Corners & Empty Spaces" has an instantly classic feeling with harmonies so pretty they make your heart hurt. It's stunningly lovely, with that immediately recognizable Jayhawks jangle guitar sound. This is flawless song craft, like it sprung fully formed from the head of Zeus. In fact, so many tracks on Paging Mr. Proust have an instant classic-ness to them, like the dreamy "Lovers Of The Sun." There's a lovely ease to the song with a finely-boned guitar line. "Lies In Black And White," too, has a certain ineffable timelessness and a Laurel Canyon feeling.
Paging Mr. Proust is a varied album showcasing a broader side of the Jayhawks's sound. "Ace" sounds like nothing else, a fascinating kraut rock track. It's a slinkier and funkier with warning lights of kinetic piano chords and cautionary clashes of guitar. The atmosphere is cranked up and it's a sonic departure from the more pastoral outings on the album. The band is brilliant here; they take their time and song unspools unhurriedly. "Lost The Summer" is heavy and edgier feeling. The guitar sound is appealingly dirty. It's swagger with humility. "The Dust Of Long Dead Stars" is a driving burner with thinky lyrics. Moments of time are caught in "Comeback Kids," evocative with a hit of darkness.
But the harmonies. Oh the harmonies on Paging Mr. Proust. They are gorgeous velvet on "Pretty Roses In Your Hair," that swoon and swell. It's quiet intimacy and beauty. The glorious Beatles-like delicacy of "I'll Be Your Key" is stunning, with its elegant simplicity and open-heartedness. They have nothing to hide. The melody of "Isobel's Daughter" is exquisite. Louris's voice is nimble, but never showboat-y and the harmonies are marvelous to get lost in.
This is what it's like when a band has reached maturity and full-flower. it's a stunner of an album. Timeless, pretty damned perfect. Endlessly relistenable. With Paging Mr. Proust, the Jayhawks have made a record for the ages.
Paging Mr. Proust was released April 29 by Thirty Tigers.
Tour Dates:
May 13 – Madison, WI – Barrymore Theatre
May 14 – Indianapolis, IN – The Vogue Theatre
May 15 – Pittsburgh, PA – Mr. Small's
May 17 – Rocky Mount, VA – Harvester Center
May 18/19 – Philadelphia, PA – Non Comm Convention
May 20 – Louisville, KY – Headliner's
May 21 – Bloomington, IL – The Castle Theatre
May 22 – Iowa City, IA – The Englert Theatre