Published on April 28th, 2016 in: Music, Music Reviews, Reviews |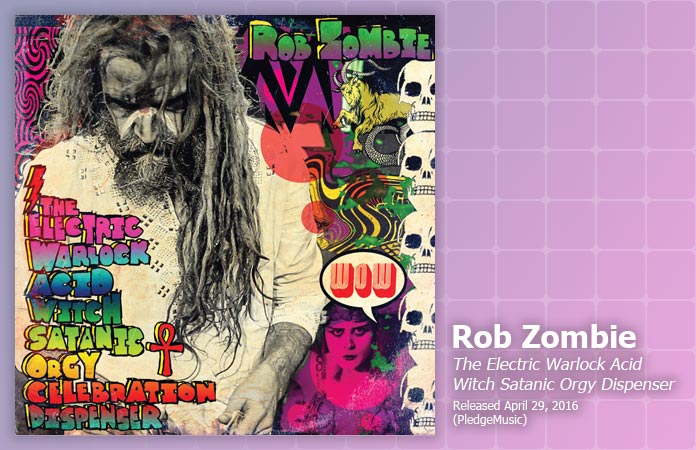 He's a musician. He's an actor. He makes films. But you know what Rob Zombie is really great at?
Titles.
Take his new album, for example. The Electric Warlock Acid Witch Satanic Orgy Celebration Dispenser. Now, you've got to admit it. That's an amazing title! Based on that, this is music they play during Hell parties. It's late 1970s in L.A. and Anton LaVey is DJ'ing before he plays 90 minutes of calliope music. And it's Rob Zombie, so you have some preconceptions. He hasn't cut his hair since 1984 and is prone to painting inverted crosses on his forehead, so this album has to be some kind of hot evil, right?
Right?
Wrong.
The best thing that can be said about this record is it's a Rob Zombie album. It's chock full of sound clips from obscure movies, and lyrics padded out with horror references and urges to go faster, go further, yeah, baby, yeah! Get it! Get it! He's his own trope by now, and this album is full of him.
It's also filled with guitarist John 5, who seems to have taken over as the driving creative force for Zombie's music. While 5 is an accomplished musician, more than proficient as a guitarist, it still feels like he has wrested control over Zombie's career. It's like Zombie sat in a pancake house for two weeks, endlessly drinking coffee and reading Michael Weldon's Psychotronic Encyclopedia of Film, cutting and pasting bits of copy together on a napkin until he thought that was enough for a song.
The first single, "Everybody's Fucking in a UFO," is fun until Zombie opens his mouth and give us the worst Les Claypool impression we've heard since Boomhauer first mumbled his way through an episode of King of the Hill. It's got the same rhythm and cadence as "Wynonna's Big Brown Beaver." Has no one sued yet? Surely I'm not the only one to catch this.
Going back to the amazing titles, take a song like "A Hearse Overturns With The Coffin Bursting Open." That sounds like some old-school Cannibal Corpse action, doesn't it? You think Rob's about to get graphic and nasty with a title like that.
It's an instrumental.
A slow instrumental.
Guess I'll put this boner away.
Of course, it's not all bad. "The Life and Times of a Teenage Rock God" is a good rocker, tongue firmly in cheek, and worth hitting repeat for. Zombie is also known to save the best for last on his albums, and the final track, "Wurdulak," is the best song on this collection. Zombie is always at his finest when he embodies the monster, and "Wurdulak" is no exception.
Every time a new Rob Zombie album comes out, there's always an unspoken hope that he's evolving, mutating, finally embracing his place as the Elder Statesman of the Weird. Instead, The Electric Warlock Acid Witch Satanic Orgy Celebration Dispenser writhes around in the same old Sixties rebel dirt, like a weathered Tura Satana pin-up. There's nothing new here except his heretofore unseen willingness to rip other artists off wholesale.
Still, though.
Hell of a title, huh?
The Electric Warlock Acid Witch Satanic Orgy Celebration Dispenser will be released April 29 via PledgeMusic.
Tour Dates:
4/30 – Fort Myers, FL at Fort Rock†
5/1 – Jacksonville, FL at Welcome to Rockville†
5/3 – Biloxi, MS at Mississippi Coast Coliseum*
5/4 – Pelham, AL at Oak Mountain Amphitheater*
5/6 – Atlanta, GA at Aaron's Amphitheater at Lakewood*
5/7 – Nashville, TN at Ascend Amphitheater*
5/8 – Concord, NC at Carolina Rebellion†
5/10 – Lafayette, LA at Cajundome*
5/11 – Bossier City, LA at CenturyLink Center*
5/13 – Council Bluffs, IA at KIWR Festival†
5/14 – Somerset, WI at Northern Invasion†
5/15 – Fargo, ND at Fargo Civic Center
5/17 – Cedar Rapids, IA at US Cellular Center*
5/18 – Bloomington, IL at U.S. Cellular Coliseum
5/19 – Saginaw, MI at FirstMerit Bank Event Park
5/21 – Columbus, OH at Rock On The Range†
5/22 – Hershey, PA at Giant Center*
5/24 – Grand Rapids, MI at Van Andel Arena*
5/25 – Fort Wayne, IN at Allen County War Memorial Coliseum*
5/27-5/29 – Pryor, OK at Rocklahoma†
7/19 – Englewood, CO at Fiddler's Green Amphitheatre^
7/20 – Salt Lake City, UT at USANA Amphitheater^
7/22 – Albuquerque, NM at Isleta Amphitheater^
7/23 – Phoenix, AZ at Ak-Chin Pavilion^
7/24 – Irvine, CA at Irvine Meadows Amphitheatre^
7/26 – Nampa (Boise), ID at Idaho Center Amphitheater^
7/27 – Auburn, WA at White River Amphitheatre^
7/29 – Mountain View, CA at Shoreline Amphitheatre^
7/30 – Las Vegas, NV at Mandalay Bay Resort & Casino^
8/2 – Austin, TX at Austin 360 Amphitheater^
8/3 – The Woodlands, TX at Cynthia Woods Mitchell Pavilion^
8/4 – Dallas TX at Gexa Energy Pavilion^
8/6 – Noblesville, IN at Klipsch Music Center^
8/7 – Cincinnati, OH at Riverbend Music Center^
8/9 – Maryland Heights, MO at Hollywood Casino Amphitheatre^
8/10 – Kansas City, MO at Sandstone^
8/21 – Clarkston, MI at DTE Energy Music Theatre^
8/23 – West Toronto, ON at Molson Canadian Amphitheatre^
8/24 – Cuyahoga Falls, OH at Blossom Music Center^
8/25 – Burgettstown, PA First Niagara Pavilion^
8/27 – Syracuse, NY at Lakeview Amphitheater^
8/28 – Boston, MA at Xfinity Center^
8/30 – Holmdel, NJ at PNC Bank Arts Center^
9/1 – Hartford, CT at Xfinity Theatre^
9/2 – Camden, NJ at BB&T Pavilion^
9/3 – Bristow, VA at Jiffy Lube Live^
* Co-Headlined with Disturbed
^ Co-Headlined with Korn
† Festival