Published on April 27th, 2016 in: Current Faves, Music, Music Reviews, Reissues, Retrovirus, Reviews, Underground/Cult |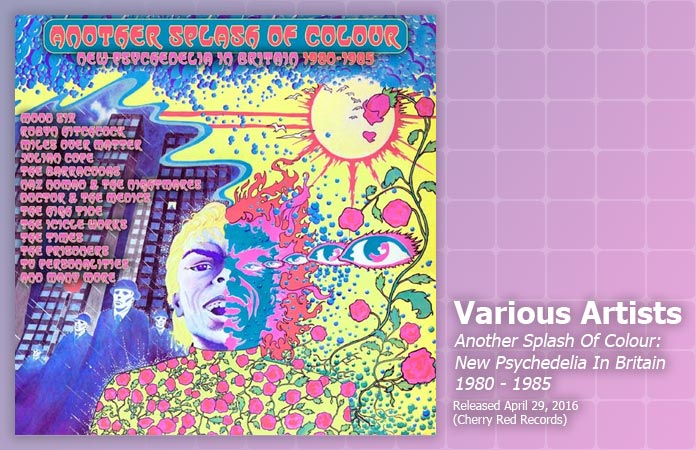 As tends to happen, music cycles back on itself with alarming regularity. In the early 1980s, psychedelia raised its brightly-colored, paisley-swirled head from slumber and awoke to a new wave in Britain (and in the States, but that isn't what this is about). These weren't New Romantics, they weren't post-punks, though you could argue that everything was post-punk at that point. No, they were the New Psychedelics and for a brief glimmer of time, they revived Chelsea boots and Mary Quant skirts and that oh-so-specific sound. To quote New Psychedelic band Firmament and the Elements, "Was it good? Yea, verily."
The always delightful Cherry Red Records is presenting a three-disc set, Another Splash Of Colour: New Psychedelia In Britain 1980-1985, that showcases this all-too-brief resurgence, replete with extensive liner notes that feature ephemera and show posters, 64 tracks (some appearing on CD for the first time) that range from the silly to the sublime, by all kinds of bands—some who made it, some who didn't, and some who pretended to be someone else entirely.
There are loads of completely appealing, timeless tracks on Another Splash Of Colour. Choosing standouts is wildly difficult. Do you like your psychedelia a little grungy or garagey? You'll dig Delmontes "Don't Cry Your Tears," with the languid vocals that are just a little behind the beat, the dirty organ sound, and chiming guitar. Or you might prefer "Inside Mind" by The Barracudas, pretty garage with surfy drums, snotty vocals, and Byrds-ian guitar. Perhaps "Two By Two" by The Green Telescope is your bag. A harmonica-driven lively shuffle, it sounds like their American contemporaries the Chesterfield Kings with that sneering garage attitude. It's wonderfully gritty.
There are tracks that fall more to the novelty side, like "The Festival Of Frosty Muggamen" by Firmament and The Elements (who is actually Bruce Wooley of the Buggles), a more futuristic track with synths. "Raspberry Rainbow" from Pink Umbrellas is both incredibly twee and vivid, but also quite silly. "The Brothel In Rossenstrasse" from Michael Moorcock's Deep Fix isn't a novelty, but it is delightfully weird. A nervy bass line announces itself before agitated guitar joins, then the esoteric vocals, a little Germanic, a little Emo Phillips-ish. Moorcock is a sci-fi author, and the track is arresting.
There are well-known acts on Another Splash Of Colour. The gloriously mad "It's A Mystic Trip" is from Robyn Hitchcock with backwards guitar and his impenetrable lyrics, delivered with the right kind of loucheness. His band, The Soft Boys, show up with the immediately remarkable "Only The Stones Remain," with its edgy guitar. The Attractions—yes, those Attractions—turn in the magnificently atmospheric "Slow Patience." Spacey with harpsichord, a massive drum sound, and really nice hits of harmony, it's wonderful. The Icicle Works' "Nirvana" has a driving beat and guitars like seagulls raiding a beach. Julian Cope has such a distinct voice and perspective and his "Sunspots" is a delight. It's poppy with interesting use of rhythm and instrumentation, like the bass line that is perhaps a tuba and the mallet instrument that sort of caterpillars its way through the channels near the end of the track.
The Damned have their fingerprints in the most unexpected places. On Another Splash Of Colour, they appear as Naz Nomad and the Nomads, a psych band from Sweden who recorded a lost classic soundtrack to an also fictitious horror movie, Give Daddy The Knife, Cindy. Dave Vanian does his best not to sound like himself of their cover of "I Had Too Much To Dream (Last Night)" but still does on the zooming, fun version of the classic. Captain Sensible is always one for a bit of novelty (see also "Wot?") and turns in "The 4 Marys Go Go Dance All Night At The Groovy Cellar," a surfy swinger with the album's longest title. He sings like he's in a rockabilly band with slick lady backup singers and the whole thing is charmingly off-kilter.
There's a wide swath of bands covered here. There's the goth-feeling "No Reflexes" from The Von Trapp Family (that does go on a bit longer than needed) to the Byrds-like "Strawberries Are Growing In My Garden (And It's Wintertime)" from The Dentists, a jangle-pop vibe with pretty harmonies on the ear worm chorus. There's the decided ennui of Future Daze's "Connect," which sounds terribly dramatic and quite English. The Jetset idolized the Monkees and played with jangly guitars and dreamy vocals on "And We Dance On" (perhaps a love letter to the Monkees' "Let's Dance On"). Their Wikipedia page is hilarious and amazing and must be checked out.
Another Splash Of Colour is packed with delightful confections. Knox (of the Vibrators) offers up a bubblegummy and propulsive version of Syd Barrett's "Gigolo Aunt." "Wivenhoe Bells II" from Cleaners From Venus is utterly lovely and idyllic, a slice of pure dream-pop perfection. Scarlet Party's "101 Dam-Nations" sounds like a secret Cait Brennan/late era Rollers track. The lead singer's voice is wonderfully engaging. The guitar on "Pass Myself" from The Third Eye sounds like it was lifted straight out of "Pleasant Valley Sunday" and has a punchy chorus which almost negates the lazy verses. The bassist of The High Tide is working as hard as hell on "Electric Blue." The track becomes quite mystical with whispered vocals and farifsa, building in speed and wildness before becoming a keyboard freakout that is held together impressively by the rock-steady bassist.
Another Splash Of Colour is meant to be explored and savored while poring over liner notes. It's heartening that Cherry Red Records seemingly has an unending well of fascinating sub-genres to explore and explode, and that they tend to do it with such passion and zeal.
Another Splash Of Colour: New Psychedelia In Britain 1980-1985 will be released by Cherry Red Records on April 29.