Published on April 25th, 2016 in: Comedy, Current Faves, Feminism, Reviews, TV, TV Reviews |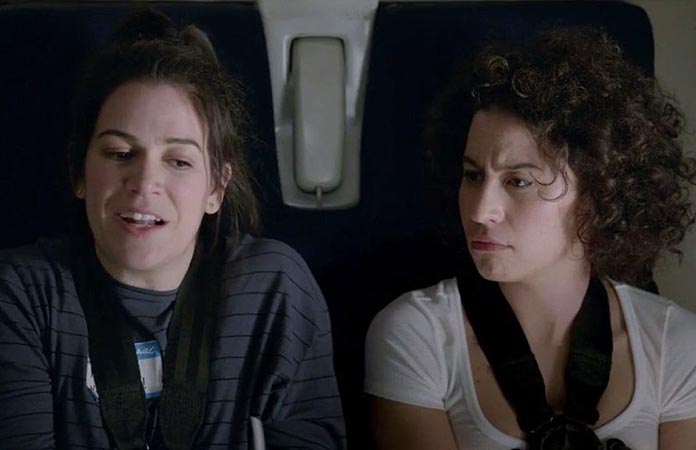 "Shabbat shalom, motherfuckers."—Ilana
When an episode of Broad City, set almost entirely on an airplane, starts with Maroon 5's Adam Levine in an absolute fever dream of an airline safety video, you know it's about to pop off. And pop off it does, because with Abbi and Ilana in the air, en route to Israel, there are no punches left to be pulled in this finale. I can safely say that "Jews on a Plane" is the perfect bookend to a near-flawless season of Broad City and is easily my favorite episode of a comedy show in which a person's homemade tampon is mistaken for a bomb.
Ilana and Abbi are still on their Birthmark tour to Israel, but tragically seated separately. On top of this, we learn that tour leader Jared (Seth Green) is hard-selling his troupe of young Jews on procreation within the tribe. The motivation behind this campaign is revealed when Jared lets slip to Ilana that he's earning a commission for each matched couple (double if it's before they land), and he joking-not-joking tells her not to "fuck with his money". His forceful tone gets Ilana sprung and makes him the ideal candidate for a campaign of her own, which is to join the "Mohel High Club." The gleeful bathroom sex scene with Green and Glazer is adorable because it seems like both actors are just about to break character and explode laughing.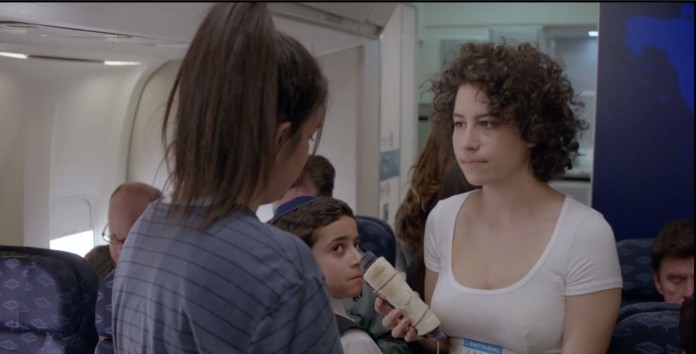 Much of the plot in "Jews on a Plane" centres around Abbi's sudden and urgent need for a tampon, compounded by the frustration of having packed several kinds in her bag, which is stowed under the plane. As Abbi tries to obtain one using more traditional methods (asking), Ilana decides to gather random materials—hair elastics, a pita, etc.—to construct a makeshift tampon. Abbi isn't terribly enamored with this plan, though, and an alternate, much riskier, trip-ruining scheme is concocted.
What's interesting about the tampon storyline is how plainly the ladies speak about their periods, which is unusual on TV, even in tampon commercials. Abbi obtains an extremely narrow tampon from a fellow passenger and is in disbelief at its small size, thinking that a tampon that tiny was "a joke all women shared." She and Ilana discuss the fucked-uppedness of the fact that tampons aren't available free, everywhere, all the time, because "the government hates women." There's also some pretty frank discussions of the texture of the first day of a flow and of menopause thrown in for good measure. This is oddly juxtaposed with a really graphic (and stomach-turning) description of traditional circumcision that prompts Abbi to retch. Bloody genitals all around, I guess!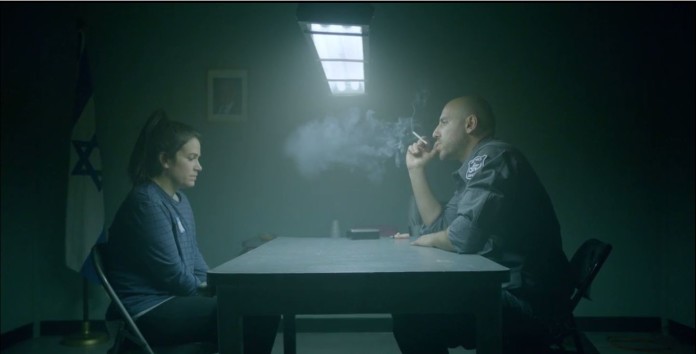 Ultimately, the girls plan to obtain a real tampon causes, you might say, a bit of a situation on the plane. While Abbi distracts the rest of the plane with a rendition of "Hark The Herald Angels Sing," Ilana dives for the tampons and is tackled by Mona the flight attendant. Abbi's taken down by Ilona and both are finally detained in Israel, having to explain why Ilana is trying to cobble together a device out of pitas and hair elastics. Needless to say, it spells the end of the ladies' Birthmark trip, but that's okay, because New York has falafels, too.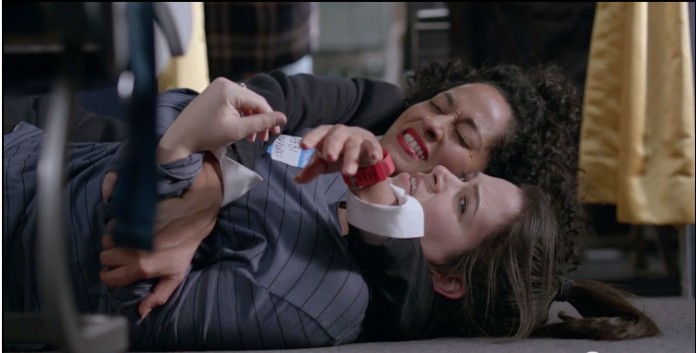 Abbi and Ilana are definitely the stars in "Jews on a Plane" (as you'd expect if you've watched this show, you know, ever) but equally compelling are flight attendants Mona and Winona, played by guest stars Tymberlee Hill and Tracee Ellis-Ross. After seeing these two interact, I'm now convinced they need a spinoff. Mona and Winona get what amounts to a whole separate B-plot and a surprising amount of character development in this episode, almost entirely away from Abbi and Ilana. Their sharp back-and-forth gives us glimpses of amazing, random little snippets of their lives, like Mona's addiction to online poker, that Mona gave Winona a bone marrow transplant (or was it the other way around?), or that Winona was on Extreme Couponing. It's nice to see what amounts to a more mature, alternate universe Abbi and Ilana here, with two top-tier comedians in these roles.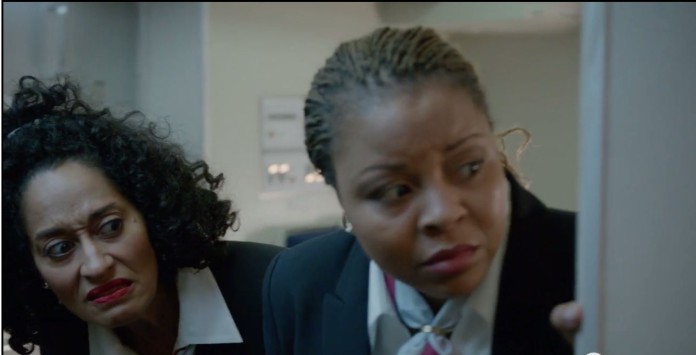 A genuinely touching final scene has Abbi and Ilana, finally sitting together (but strapped to their seats being forcibly returned to America), realize that they already miss New York and it really doesn't matter if this Birthmark detour has gone up in smoke. It's a reminder that taking the city out of the show, even for an episode, can spin Broad City into chaos.
At the same time, it's a perfect farewell to Abbi and Ilana for the year, because it's a last glimpse into the slightly-twisted world they create and inhabit. The world where a cockpit means something far more literal, where a dead man on a plane is barely something at which to bat an eyelash. More than anything, though, it's a place where a friendship as enduring as Abbi and Ilana's can stand up to some of the toughest stresses it's ever faced this season and still come out the other side, even in an Israeli detention facility. We'll miss you, kweens.
Animated GIFs courtesy of Binge Whale