Published on April 15th, 2016 in: Current Faves, Music, Music Reviews, Retrovirus, Reviews |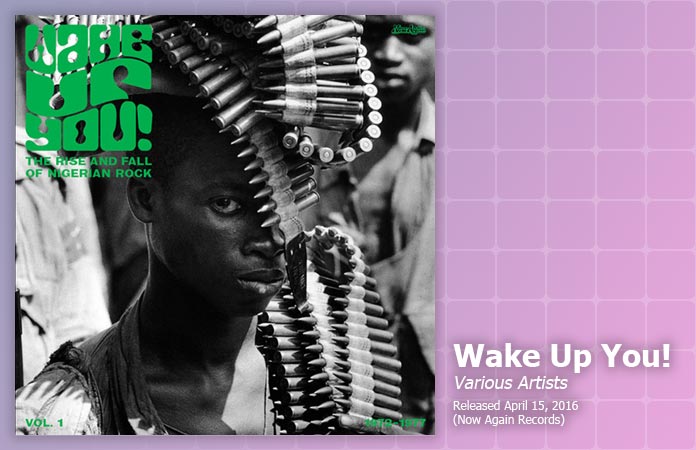 I'd wager that you've not heard music quite like Wake Up You! Volume 1. Culled from Nigerian music from a very specific time, with familiar influences filtered through a decidedly African use of rhythms, the result is arresting, funky, and meant to make you move.
Wake Up You! covers the time period after the 1967-1970 Civil War in Nigeria. After the conflict was over, a thriving rock scene developed. Volume 1 will be released April 15, with Volume 2 following in late May. Both volumes with be available on CD or vinyl with 100-page books that cover the Nigerian rock movement in incredible detail, with photos and writing from Uchenna Ikonne (who helmed 2013's Who Is William Onyeabor?).
The music is incredible: there's a garage/psychedelic feeling to many of the tracks, with organ and grungy guitar always playing an important part. There's great liveliness and excitement to Wake Up You! Volume 1, and from start to finish, it's wonderfully engaging.
The Hygrades stand out with their "Keep On Moving," which has a "Tighten Up" sort of beat. It's flat-out funky and utterly fun, as the bass rambles along and the singer pronounces with his fantastic accent "All right Kenny, can I get some bass back in there" and he pronounces it like the fish and it is so so charming. It's loose-limbed, the kind of song you can dance to and throw your elbows around dangerously. The Hygrades' "In The Jungle (Instrumental)" is hypnotic and richly layered with impressive, fuzzy lead guitar work. "Mother" from the Waves wouldn't be out of place on a Nuggets compilation. It's got a pleasant dirtiness to it, a good rolling beat and testifying vocals.
Aktion really gets to the point with the perfectly titled "Groove The Funk." Perfectly fuzzed, buzzsaw guitar marries excellent bongo playing and has a trance-inducing baby (song). The Hykkers set up a laid-back groove, that, too, is hypnotic and rich, but then throws in some hyperkinetic guitar that thrills. There's a crisp drum sound to Formulars Dance Band's "Never Never Let Me Down" that fits the soulful, scratchy track nicely. It's percolating but completely right for a slow sway. The insistent organ of "Onye Ije" burbles through like a Sanford And Son riff, and the Strangers' bass player is working overtime with that nice wandering line.
It's all a little psychedelic, like Funkees's "Baby I Need You." The varied percussion makes the track stand out and the organ solo has a kind of slapdash feeling. Wrinkar Experience's "Ballad Of A Sad Young Woman" is driving and surprisingly happy, but added piccolo tends to do that to a song. "Graceful Bird" is a curious bird. The singer of War-Head Constriction sings just this side of being in tune. The music begins so peacefully, a little spacey, even, and then it devolves into a scratchy, angry guitar solo. IfyJerry Krusade has an insane amount of charisma on "Everybody Likes Something Good" and the anemic background singers sound even weaker. There's magnificent drum sound and delightful polyrhythms that make the feet want to move.
Wake Up You! Volume 1 is fantastic. It's wonderfully, lovingly researched and presented. The music is frankly astounding and exciting. There's so much to unpack and savor with Volume 1 that I hope to have digested it all before Volume 2 comes out. Don't miss it.
Wake Up You! Volume 1 was released April 15 from Now Again Records.