Published on April 15th, 2016 in: Current Faves, Music, Music Reviews, Reviews |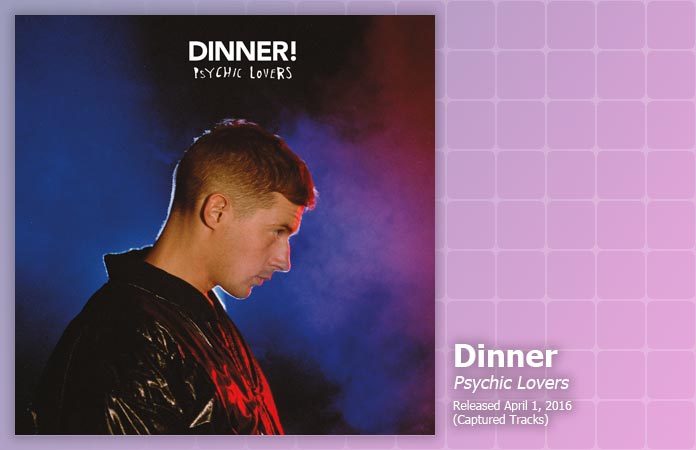 "Dinner's music is about parties. And women. Late nights and early mornings in strange cities. But mainly it's about magic and the communion with spirits," Dinner says. "It's like sexual Christian rock, really. But with out all the Christianity."
–From Dinner's press release for Psychic Lovers
How do you write a review of Dinner? How do you accurately convey the exciting idiosyncrasies of his musical and vocal style?
A producer and musician who splits his time between Copenhagen, Berlin, and L.A., Dinner is the musical pseudonym of one Anders Rhedin. I was introduced to him at a NXNE show last year as part of a showcase featuring Toronto's Doomsquad and Zola Jesus.
His stage set up was exceptionally sparse: just him and a small synth. At first, the audience stood back and stared and judged (like Toronto audiences frequently do when confronted with something outside of their comfort zone). Within minutes, his enthusiastic dancing—along with his amusing banter—won us all over and we were smiling, dancing, clapping, and singing along.
Experiencing Dinner in a live setting is the best way to appreciate and understand him, but for those not lucky enough to do that, his new album Psychic Lovers is the next best thing. Heavy on synths and harmonies, it evokes early Pet Shop Boys as well as current Danish band Lust For Youth (who I think of as Dinner's younger siblings, even though they might not even know each other).
I won't lie: Dinner's odd baritone takes some getting used to. He's not your typical pop singer, reminding me a bit of Falco at times. Yet, in a world where both Leonard Cohen and Tom Waits have legions of rabid fans, it's not a stretch to imagine Dinner experiencing similar levels of devotion.
Lyrically, Dinner seems to traffic in the kind of romantic and sexual politics of a lot of pop singers, but with a slight twist. For example, in the opening song "Cold As Ice," a discussion of the titular character is interrupted by the line "plantlike thoughts" which seems anachronistic yet is totally appropriate. Similarly, "The World" has a lot more going on than its simplistic title might suggest:
When I see you walking down the street
I like the way you move your hips
In every wave of oscillations
All creation starts anew
And it's not just the words; it's the way Dinner sings that sets them apart. There's almost a confrontational sincerity in his vocals that elevates everything above mere catchy tunes. (If "Turn Me On" doesn't stick in your head for weeks after hearing it, I'll be shocked.)
Like all good pop music, Dinner's music truly does make you want to get up and dance. You get this urge on the first three tracks, but if you've been hesitating so far, "Gone" is the one where you won't be able to help it. It's also the one where I can actually picture Dinner himself dancing (which is a unique and wonderful experience, trust me).
The second half of Psychic Lovers is a bit slower in tempo, but still maintains that eerily enjoyable Dinner sound, and the lyrics get even more philosophical, touching on religion (the clever "Holy Fuck!" and soulful album closer "Kali, Take Me Home"). "A.F.Y." verges on Neue Deustche Welle territory, and is the most challenging song on the album, hinting at Dinner's more experimental side.
If you're searching for pop music that has some depth and intrigue, Dinner's Psychic Lovers will feed your hunger.
Psychic Lovers was released on April 1 by Captured Tracks.