Published on April 13th, 2016 in: Canadian Content, Comedy, Netflix Reviews, Reviews, TV, TV Reviews |
By Tyler Hodg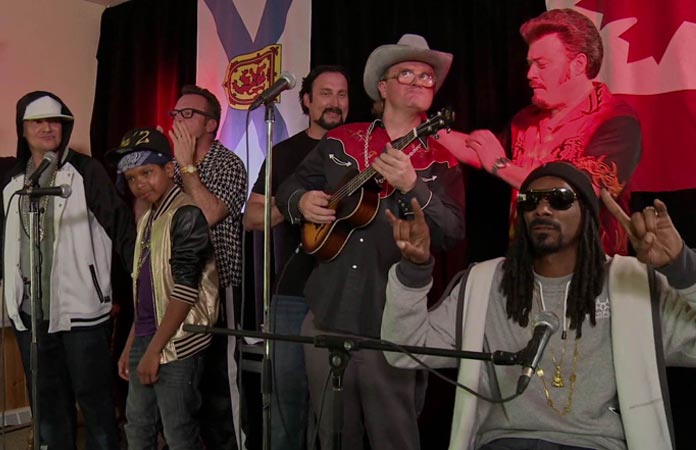 Money for sex, an undeniable appetite for delicious Mexican cuisine, and a star-studded performance at a local legion hall: all brought to you by "The Super Bling Cowboy," the eighth episode of the latest season of Trailer Park Boys.
Unlike Jimmy Kimmel earlier on in the season, Doug Benson, Tom Arnold, and Snoop Dogg have stuck around as supporting characters. Their roles in the show are still nothing of significance, but the presence of the three guest stars is slightly less irritating than in the previous episode. With that said, a lot of the existing cast of residents have been demoted to one-liners, or worse, not being in the show at all (hey T, where are you at?).
The main season-long arc remains Julian's attempt to fully own Sunnyvale and get rid of Barb's lawsuit to regain the property. Although she, Donna, and Candy are missing from the episode, their presence is still felt from Julian's desperation to combat them.
There has been no real progress in this storyline, except for Snoop and Tom expressing interest in buying the park. This addition to the narrative doesn't add much, as it is too predictable; they can't go anywhere with it because that would mean keeping those actors on for possibly another season.
Another tired storyline is the back-and-forth fate of Trinity and Jacob's wedding, with Ricky's funds for it fluctuating. However, there is movement in this story as Tom offers Lucy $10,000 to sleep with him—money that can, of course, be used for the wedding. No official decisions are made, but her and Ricky agree that it may be the best for their family.
The episode concludes with a variety of park residents attending Bubbles' concert at the legion hall. He's joined on stage by his friends, new and old, for an improvised song about weed and "hoes," spearheaded by none other than Snoop. As ridiculous as this sounds, it was actually quite boring, and neither laughs nor narrative and character development came out of the scene.
Keeping in the theme of boring and unnecessary, why is Doug Benson in this show? He didn't have a single word of dialogue in the previous episode, and this time around only tells J-Roc's new wife how enticing her Mexican cooking smells.
There are two episodes left to wrap up stories that could have ended half a season ago. The insignificant arcs have been stretched much too thin, and unless there is an incredible payoff, this may go down as one of the weirdest and most underwhelming seasons of the series.