Published on April 12th, 2016 in: Canadian Content, Comedy, Current Faves, Netflix Reviews, Reviews, TV, TV Reviews |
By Tyler Hodg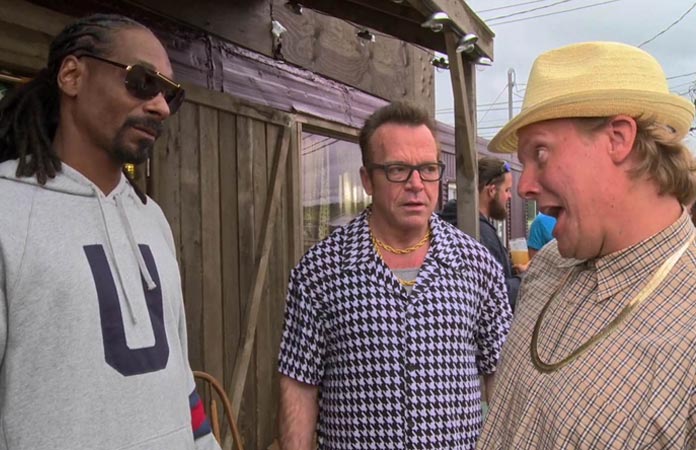 Celebrities pile into Sunnyvale—er, Munnyvale—in the seventh episode of the tenth season, aptly titled "Up In Smoke We Go." Wondering which well-known actors and musicians make an appearance? Hint: you won't be that surprised.
The unresolved argument between Julian and Ricky about whether or not the "all-inclusive" resort and casino they now run includes free access to the former's pot shop quickly becomes a thing of the past after three expensive-looking cars roll into the park and shake things up a bit.
The doors open and through a haze of smoke emerges Doug Benson, Tom Arnold, and none other than Snoop Dogg. All three guest stars are notorious for their smoking habits, so seeing their faces on the show makes total sense—except, for the fact that their entire appeal of Trailer Park Boys is the depiction of small-town Canada.
The episode itself is on par as one of the funniest yet; between J-Roc's obsession with impressing Snoop, Lahey kicking up the liquor limit even higher, and Tom Arnold's awestruck attitude towards whom he believes to be "real celebrities," the laugh-out-loud moments are delivered in abundance.
But the essence of the show is moving away from what makes it special. In a way, the inclusion of the celebrities—Jimmy Kimmel from the previous episode included—is almost a slap in the face to fans who have stuck with the show long before its apparent success. Trailer Park Boys isn't about surprise guests, but an unapologetically niche cast of characters. The special appearances undermine the importance of the fabric of the show.
For a lot of fans, this season leads to conflict: is it best to accept the new direction, or is this the moment the show has died? It may seem melodramatic, but Trailer Park Boys means a great deal to a lot of Canadian people, and the bastardization of the show's nature may be turning a national staple into an commercialized farce.