Published on April 12th, 2016 in: Current Faves, Music, Music Reviews, Reviews |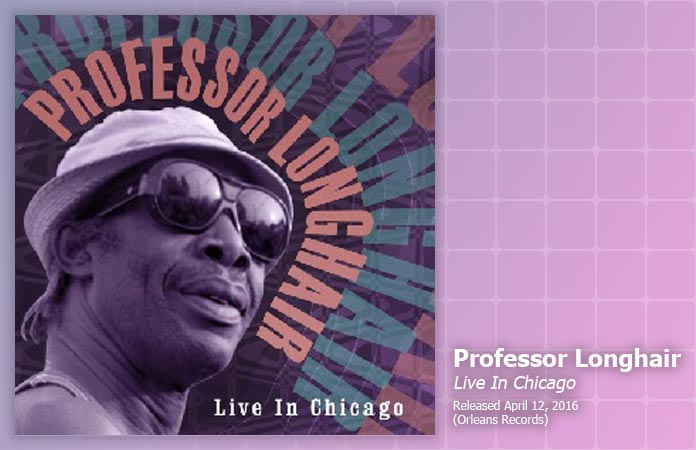 Is the best thing in the world a new Professor Longhair live album? I'm going to go with yes. Orleans Records is releasing Professor Longhair Live In Chicago on CD and vinyl on April 12. Recorded at the Chicago Folk Festival by a local radio station in early 1976, Live In Chicago is thrilling.
The band is tight, featuring Billy Gregory on lead guitar. Gregory, who is still gigging in New Orleans, mixed Live In Chicago. He's clearly a rock guitarist, and a fine one, and his style of playing meshes surprisingly well with that Professor Longhair sound.
What's amazing is that Professor Longhair had left the music business after numerous attempts to make it. Through many recording sessions (cutting the same track under different names for different labels), he failed to make headway on a national scale, and so he quit. But in 1972, Atlantic Records released a compilation of his work from 1949-1952 (New Orleans Piano) and Fess was properly introduced to the record-buying public. Thank heavens. The worst part, though, is that he didn't make his first full-length album until 1979 (Crawfish Fiesta) and he died in 1980, two days before the album was released.
Live In Chicago is a treasure. It's less than 30 minutes long, but what a 30 minutes it is! There are the classics, like "Big Chief" and "Mardi Gras In New Orleans," and interesting choices like "Got My Mojo Working" and "Michigan;" for those of us who never got to see him play, it's a revelation.
Professor Longhair's signature rhumba-boogie is all over Live In Chicago. His mastery of the piano is evident in the seemingly ad-libbed flourishes of "Doin' It." It's a lively stroll with a forceful groove that he (and the band) make sound so easy. "Mess Around" is funked-up rhumba, thrilling and lively. Bass player Julius Farmer is flat-out getting it, and Gregory's solo is all-in. The band is on fire.
There's a loose, jammy feeling to "Everyday I Have The Blues," which, too, strolls. Fess's voice is wonderful here, open throated and majestic, and the way he calls to Billy Gregory for his smart guitar solo ("Whoa Billy!") is charming. While the track is jammy, it doesn't linger past its welcome (though, c'mon. It would still be marvelous if it did).
Is the hook on "Big Chief" the best riff of all time? Well, yes it is. It's instantly recognizable. Professor Longhair's playing is incredibly nimble and he sings with great looseness and charm. The band slips right into the groove, easy as can be. Fess's whistling is delightful here, as it is on "Mardi Gras In New Orleans," the timeless classic. It's a driving, percolating version.
Fess and the band do a ripping version of "Got My Mojo Working," driven by the completely crackerjack drummer, Earl Gordon. The piano is working overtime on the track, but things calm a bit with the encore, "Michigan." It's got that Professor Longhair familiarity: the stroll, the rhumba, and it's easy and fine. And then it's over. And you want more.
Live In Chicago is so delightful. It moves and grooves, and is a tantalizing glimpse into the marvel that was Professor Longhair.
Live In Chicago was released April 12 via Orleans Records.