Published on April 8th, 2016 in: Americana, Music, Music Reviews, New Music, Reviews |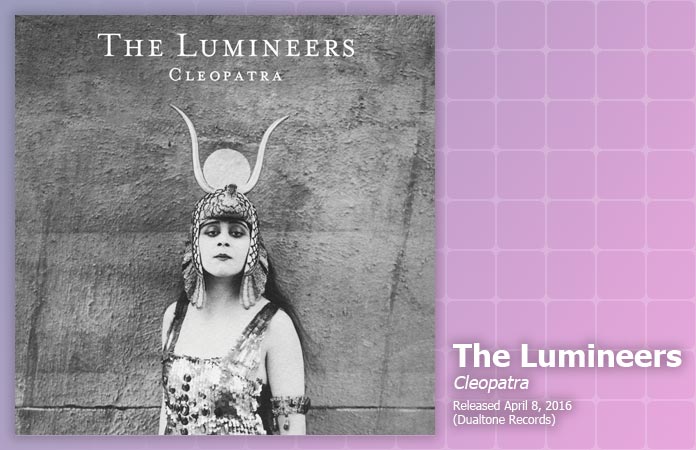 After the runaway success of their self-titled debut, The Lumineers sound a bit disillusioned. Their newest, Cleopatra, is heavy. There are no radio-friendly, hand-clapping sing-alongs; instead there are thoughtful indie folk with songs of leaving those who tear you down, having dreams crushed and dying. Seriously, it's heavy.
The Lumineers are Wesley Shultz (vocals and guitar), Jeremiah Fraites (piano and drums), and Neyla Pekarek (cello and backing vocals). Their music is often spare, with limited instrumentation and incisive lyrics. On Cleopatra, The Lumineers are in no hurry. Songs build slowly and sway gently. Characters struggle to break free of inertia, like on the languid "Sleep On The Floor." "Pack yourself a toothbrush, dear / pack yourself a favorite blouse / take a withdrawal slip, take all your savings out / 'Cause if we don't leave this town /We might never make it out." The song builds to a quiet majesty and Wesley Shultz's voice has an appealing raggedness that really works.
There's a fine subtlety to the melody of "Gun Song." Neyla Pekarek's cello adds flavor. The narrator has a charming naïveté that is also chilling: he wants a gun to hold and make all of the bad men run, as well as "I can't believe what I found in Daddy's sock drawer today / It was a piston, a Smith & Wesson / holy holy shit."
Jeremiah Fraites's piano is often a highlight of Cleopatra. The jauntiness of his piano on "Ophelia" is utterly divine, marrying the handclaps and tambourine perfectly. The rumble of piano on "In The Light" is compelling. It's a sparse song, and Shultz sings like it is the best feeling in the world.
Momentum drags a bit on the second side with a pair of songs that are quite sad. "Long Way From Home" is a folky ballad of the final days of someone's life, and paired with the crushing "Gale Song" it's overwhelming. The impressionistic "Sick In The Head" is eerie with a needling acoustic guitar. The album ends quietly with a brief piano piece, "Patience."
Cleopatra is simply spare. With 11 tracks, and none running longer than four minutes, it's a tidy, short album. That's kind of a relief. It's a weighty album that, though brief, feels much longer. Is that a good thing?
Cleopatra was released April 8 via Dualtone Records.
Tour Dates:
14 Apr: Bristol, UK @ O2 Academy
15 Apr: Glasgow, UK @ Barrowlands
18 Apr: Dublin, Ireland @ Olympia Theatre
19 Apr: Manchester, UK @ Albert Hall
23 Apr: London, UK @ O2 Shepherds Bush Empire
27 Apr: Paris, France @ Le Trianon
28 Apr: Brussels, Belgium @ Ancienne Belgique
29 Apr: Amsterdam, Netherlands @ Melkweg
2 May: Cologne, Germany @ E-Werk
4 May: Hamburg, Germany @ Gross Freiheit 36
6 May: Berlin, Germany @ Admiralspalast
8 May: Stockholm, Sweden @ Berns
9 May: Oslo, Norway @ Rockefeller
10 May: Copenhagen, Denmark @ Vega
21 May: Houston, TX @ White Oak Music Hall
22 May: Dallas, TX @ The Bomb Factory
25 May: Salt Lake City, UT @ Red Butte Garden
27 May: San Diego, CA @ CalCoast Credit Union Open Air Theatre
28 May: Santa Barbara, CA @ Santa Barbara Bowl
29 May: Napa Valley @ Bottle Rock Festival
31 May: Portland, OR @ Arlene Schnitzer Concert Hall
1 Jun: Vancouver, BC @ Orpheum Theatre
3 Jun: Redmond, WA @ Marymoor Amphitheater
7 Jun: Morrison, CO @ Red Rocks Amphitheatre
10 Jun: Kansas City, MO @ KC Live! @ Power & Light District
11 Jun: Indianapolis, IN @ Murat Theatre
12 Jun: St. Louis, MI @ Peabody Opera House
14 Jun: St. Paul, MN @ Myth
15 Jun: Milwaukee, WI @ Riverside Theater
19 Jun: Chicago, IL @ Chicago Theater
20 July: Gardone Riviera, Italy @ Anfiteatro Del Vittoriale
21 July: Sesto al Reghena, Italy @ Sexto 'NPlugged