Published on April 7th, 2016 in: Current Faves, Metal, Music, Music Reviews, Reviews |
By Tim Murr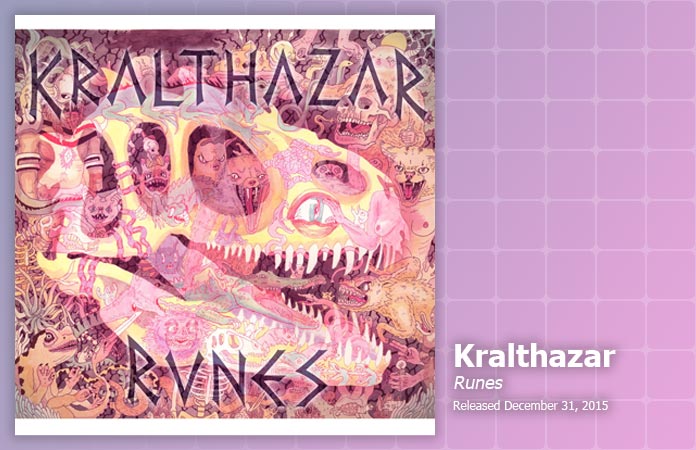 Over the course of the last week I've probably heard just about every sub-genre of metal there is, but I've heard nothing like Kralthazar's Runes. Solo acoustic crooning metal is not a thing I've heard before, but I love it. Now, it's not much of a culture shock for me; I listen to tons of acoustic music, old folk/mountain music, Delta blues, old country, etc. Throughout those styles of music you'll find several tracks that would translate easily to punk, metal, or rock. Kralthazar brings the metal sensibility to folk music and it's really cool!
Lyrically poetic, Runes feels like an epic journey, with all the power and bombast of metal, but with a lonely, wandering storyteller twist. Kralthazar has a dedication to concept and an imagination of execution that I found surprising and refreshing. I've not heard many folk artists break the five-minute mark for many tracks (other than Bob Dylan), but here there are only three songs that come in at less than five, some stretching out past eight or nine minutes. The depth and breadth of the tracks add to that epic quality. As a guitarist, Kralthazar is very adept and builds awesome soundscapes for his words.
My favorite tracks are "Wanderous," "Ambivalence," "Siriusine," "Certain Death," and "Detrimental.. I'd recommend any of those tracks to sample, if you aren't inclined to just let the album play through first. You can download Runes from Bandcamp for just $5. And check out the very cool cover by Kerry Zenter, a kick-ass artist from Toronto! You can check out more artwork on Kerry's website.
I don't know if Kralthazar has any peers in the proggy-acoustic-folk-metal genre, but this is certainly a great early morning album for headbangers that want to ease into the day.
Runes was released on December 31, 2015.