Published on April 6th, 2016 in: Current Faves, Metal, Music, Music Reviews, Reviews |
By Tim Murr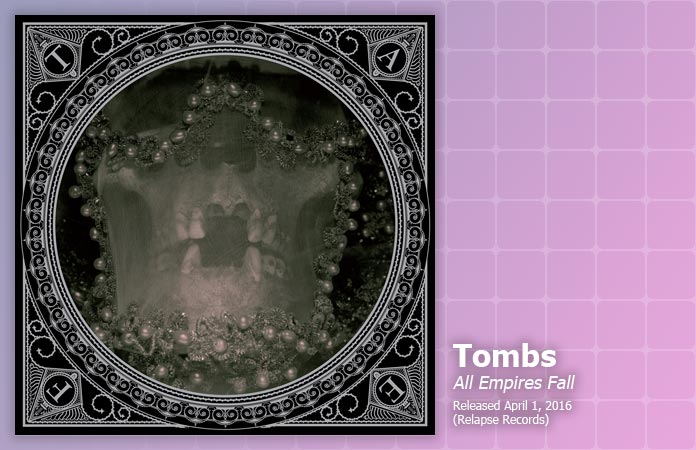 While it may be an EP that's only 24 minutes long, Tombs' All Empires Fall is still one of the better black metal albums I've ever heard.
Black metal is a genre that I've rarely been able to connect with, but does include some bands that are truly innovative and exciting. All Empires Fall is the first Tombs recording with new keyboardist Fade Kainer and while I can't claim any depth of knowledge about earlier recordings from the band, he's a welcome addition here.
All five tracks have their own unique qualities and stand apart from each other while still retaining a cohesive tone. Tombs isn't afraid to experiment. The way the opening track "The World Is Made Of Fear" shifts and mutates in tone and tempo touches on most of the sounds you'll hear across the other tracks, making it an introduction to a larger musical palette that's kind of symphonic. I don't know if that's what the band was going for, but that's what I hear with All Empires Fall: one cohesive statement.
Drummer Charlie Schmid is frantic on "Obsidian," plunging that track down dark corridors of black rock (pun intended) built by Benjamin Brand's bass and the guitars of Mike Hill and Evan Schaefer. Hill also provides vocals and he's as good as any black metal singer I've heard, going from a shriek on "Obsidian" to a croon on the next track "Last Days Of Sunlight."
"Last Days Of Sunlight" slows things way down and invokes more of a goth feel. It's a meditative track, emotionally turning in on itself for just over four minutes and sets the tone for the album's best track, "Deceiver." Rhythmically, the two tracks are closely related, but "Last Days Of Sunlight" is sparse and introspective, while "Deceiver" lashes out with whatever was found inside of "Last Days." Its mid-tempo stomp and chugging guitars provide the album's most accessible moment (to people not already familiar with this form of music).
The same way "The World Is Made Of Fire" felt like an intentional opener for a cohesive piece of music, so too does "V" feel like an intentional end to a journey, not just the last track of an EP. This is where it all comes together, all the band's strengths on display. The interplay between keyboards and guitars are at their strongest, but it's over all too soon.
All Empires Fall was released on April 1. To get your copy, head over to the Relapse Records website. There are a limited number of silver/swamp green colored vinyl editions of the album that are very cool. In addition, the album art is darkly pretty and display worthy.
Tour Dates:
4/29 Brooklyn, NY @ Saint Vitus
5/13 Philadelphia, PA @ Kung Fu Necktie
5/14 Pittsburgh, PA @ Roboto Project
5/15 Detroit, MI @ El Club
5/16 Chicago, IL @ Chop Shop
5/18 Baltimore, MD @ Metro Gallery