Published on April 6th, 2016 in: Current Faves, Feminism, Music, Music Reviews, Reviews |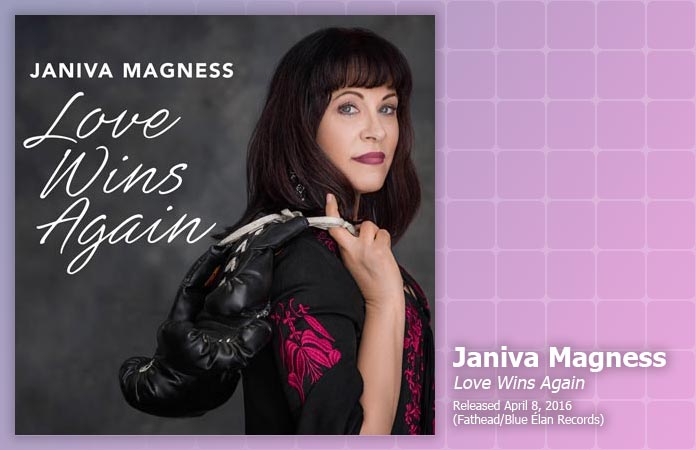 Dear Janiva Magness, thanks for making me cry.
On her follow-up to 2014s Original, Janiva Magness is letting it all out. She's happy (her self-penned liner notes are completely delightful), she's in killer voice, and her continuing collaboration with producer Dave Darling is positively fecund. Love Wins Again is a worthy successor to Original, with heartfelt songs of love and hope, and songs of heartbreak.
Janiva Magness has an amazing, versatile voice. It can be pleasingly husky or firm and strong, but it is always, always elegant. She's incredibly soulful, and her emotions are right on the surface of what she sings.
The tears I mentioned in the first paragraph were prompted by "Doorway," a heartfelt ballad of absolution. It's a bit of a departure for Magness, a closer move toward Americana (mostly in Darling's guitar line)  than the blues and soul that she excels at. It's stunningly lovely and the last verse is wrenching. "Say You Will" is emotion laid bare. Magness is revealing in her vulnerability (there's an a capella moment that is just blistering). There's a dash of Hammond organ and rich backing vocals, but the music is never overcooked. It's all there to showcase her marvelous voice.
You know how some artists lose their edge when they fall in love? Janiva Magness has honed hers. The funky and soulful opener radiates joy. You can hear the happiness in her voice and her repeated call to "bring it on" through the impassioned ending. Collaborator and producer Dave Darling plays some tidy, funky guitar. The old school slow jam of "When You Hold Me" boasts a masterful performance and joy radiating from Magness's vocals.
"Just Another Lesson" is beautifully produced. With acoustic guitar and that voice, she cuts to the bone with honesty: "And I know, I should know by now / Sometimes that thing that you fight for / Is gone when you turn around." It's crushing. "Your House Is Burnin'" is an instant classic. Funky and swinging, it feels like classic Motown (serious shades of James Brown) and Janiva Magness is entirely believable with her ripping vocals and handclaps. Her performance of "Rain Down" sounds a bit like Dusty Springfield. It's a sinuous track with a world-weary groove, and a goosebumps-inducing run. Magness's cover of Creedence Clearwater Revival's "Long As I Can See The Light" is stellar. There's charming percussion and an admirable looseness. Arlan Schierbaum is an MVP on piano and Magness stuns with her incredibly versatile voice.
Janiva Magness has, once again, made an album that transcends genres. Love Wins Again is music for grown-ups; these are heart-on-the-sleeve, lump-in-the-throat sort of songs that are sung with passion and vibrancy. It's wonderful to hear someone with such outsize talent as Janiva Magness coming to a point in her career where she can bare her soul with such honesty and grace. Love Wins Again is glorious.
Love Wins Again will be out on April 8 via Fathead/Blue Élan Records.
Tour Dates:
Fri., April 15 SUTTER CREEK, CA SUTTER CREEK THEATRE
Sat., April 16 SAN FRANCISCO, CA Biscuits & Blues
Tue.-Wed., April 19-20 SEATTLE, WA Jazz Alley
Fri., Sat. April 22-23 PORT WASHINGTON, WA Upstage
Wed., April 27 SELLERSVILLE, PA Sellersville Theater
Thur., April 28 SHIRLEY, MA Bull Run
Fri., April 29 FALL RIVER, MA Narrow Center for Performing Arts
Sat., April 30 MANHATTAN, NY The Cutting Room
Sun., May 1 WARRENDALE, PA Jergel's
Tue., May 3 WASHINGTON, DC The Hamilton
Sat., May 7 – MEMPHIS, TN – Rum Boogie