Published on April 5th, 2016 in: Music, Music Reviews, Punk, Reviews |
By Brian Baker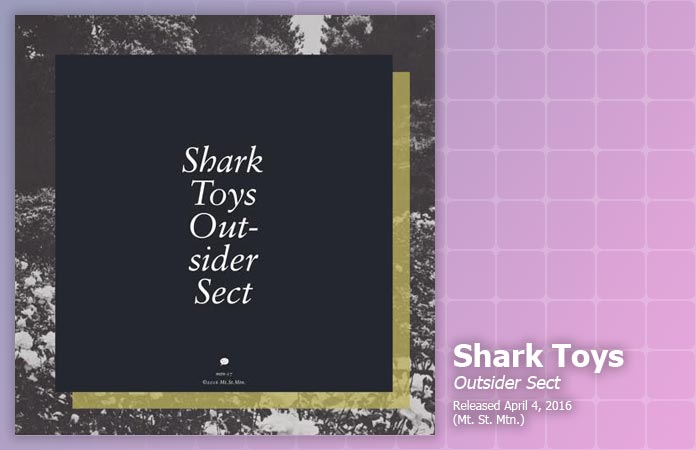 I don't know who you are, but I know I can cruise with your surfer punk rhythms like Johnny Fain carving the California coast, Shark Toys.
From the opening lines of Daniel Clodfelter's vocals in "Something Something Else" comes that declaration of a knowledge gap, but really, it's a declaration of the meandering licks and adventurous undertows that the band's LP release, Outsider Sect, will take you on.
The L.A. based punk quartet—comprised of Clodfelter, keyboardist Rina Clodfelter, bassist Emanuel Farias, and Bill Gray on drums—is rife with lo-fi vocals and barrel-riding guitar riffs that blend well with the surfer hordes. It certainly smacks of vintage Agent Orange, but with a subtle seaspray of the poppier punk anthems of the late 1980s.
In short, it's a fun album.
It's a riding of the waves like "Talk and Talk." The snare on that track keeps the blood flowing from the first chord, though there's not a lot to be said about the apathy saturating the lyrics. Oftentimes the murmurings of Clodfelter are lost in the radiance of the percussion and strings. But credit should be given to the simplicity of the words that do permeate the instruments. They can catch you off guard, particularly the line "I don't want to be a stain on your dress" on the album's title track.
Shark Toys dangerously falls into a riptide, however, with the repetitive guitar chords by the album's midsection. Too much snare, and too much six-string, and both eventually get lost in the static. "Puzzle" and "Doesn't Work" break out the rapid-fire chords and are lost in the wave's kick out. Don't be fooled: they're great tracks, but it's as if their apathy got the better of them.
What does whip me back to attention is the excellent march of drums in "Where Were You (Mekons)." It works well with the playful bass riff. It's a charming ditty about finding that right girl who wants to be our protagonist's wife.
For the length of the album, save for the last six and half minutes, it's quick hits of traditional punk licks. I won't say they're pedestrian, but they're certainly not re-inventing "Blitzkrieg Bop." However, there's a great bass riff on "Eyes" and it fades rather fabulously into a somnambulant haze.
But let us return to the vocals, shall we? Perhaps it's the lo-fi production, but I'm finding them missing that Venice Beach energy of pumping weights and excessive roller skating. Still, there are some effective harmonies, especially on the song "Outsider Sect."
The coda, "Don't Know What To Do" is where the troupe really experiments, though I'm not quite certain it was worthy of a six and a half minute long ride. The wave really gave out after four minutes.
Above all, the varying tempos, riffs and vocals keep this album from having a narcoleptic effect on the listener.
Not to bail on this total wave, this is an album can be totally tubular. Or in the words of Jeff Spicoli, "All I need are some tasty waves, a cool buzz, and I'm fine." Shark Toys provides enough of a buzz.
Outsider Sect was released April 4 by Mt. St. Mtn. 
Tour Dates:
4/15 – Seattle, WA @ Victory Lounge w/ Bent Shapes
4/16 – Olympia, WA @ Obsidian w/ Bent Shapes
4/17 – Portland, OR @ Twilight Lounge w/ Bent Shapes
4/18 – Davis, CA @ Third Space w/ Bent Shapes, Klam God [FB Invite]
4/19 – Oakland, CA @ 1-2-3-4 Go w/ Bent Shapes [FB Invite]
4/20 – San Francisco, CA @ The Knockout w/ Bent Shapes, Landlines, Cruel Summer [FB Invite]
4/21 – Los Angeles, CA @ The Bootleg Theater w/ Bent Shapes
4/22 – San Diego, CA @ The Whistle Stop w/ Bent Shapes
4/23 – Phoenix, AZ @ tbd w/ Bent Shapes