Published on April 5th, 2016 in: Current Faves, Metal, Music, Music Reviews, Reviews |
By Tim Murr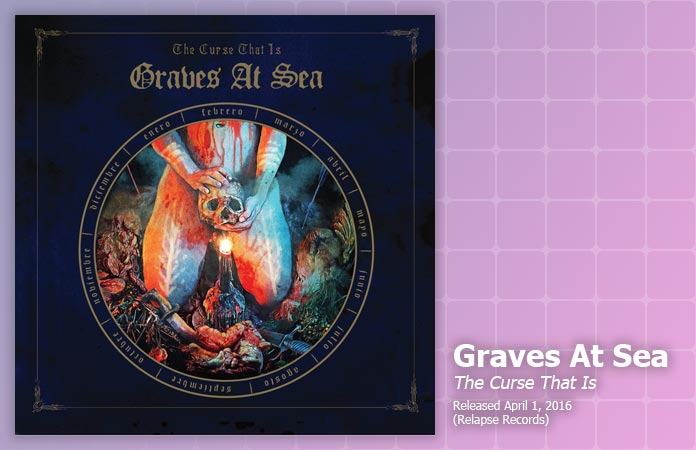 There was a photo that accompanied the press release of Graves At Sea's debut full-length album, The Curse That Is, and I love it. The picture of the four members (Nathan Misterek on vocals, Nick Phit on guitar, Bryan Sours on drums, and Sketchy Jeff on bass) shows a group of guys who won't be having any of your shit. Not now, not later. These are some tough-looking, sick-of-it-all dudes and their faces match the music perfectly.
The Curse That Is trudges forward like a tank on a slow ride to oblivion, laying waste to anything that gets in its way. The pulverizing opening title track and "Dead Eyes" rock and howl and set a tone for the other six tracks that stretch out to 70 minutes of high-quality doom metal.
The tempo picks up slightly with the third track, "Tempest," where Misterek's vocals are a force of nature. That song kind of reminds me of Mortals. "The Ashes Made Her Beautiful," a blistering 15-minute track, has an oddly beautiful sadness to it. Epic in scope and an emotional bottomless pit, it may be the heart of the album and an example of what makes doom metal so good. "This Mental Sentence" and "Waco 177" are tight mosh-pit battle songs. Then we get the haunting and pretty "Luna Lupus Venator," which serves as a breather before Graves At Sea plunges us into the blackened Black Sabbath-esque epic closer "Minimum Slave."
I've listened to more than my share of doom/sludge bands that just sound like a wall of rage. With The Curse That Is, Graves At Sea achieve that wall of rage sound as well, but manage to write solid songs in the process. The album's cover and packaging is gorgeous and haunting and there are different colored vinyls available through the Relapse Records website. If you get the chance, check them out live, too.
The Curse That Is was released April 1 from Relapse Records.
Tour Dates:
Apr 11 Atlanta, GA The Bad Earl
Apr 12 Asheville, NC Mothlight
Apr 13 Savannah, GA The Jinx 912
Apr 14 Richmond, VA Strange Matter
Apr 15 Baltimore, MD Metro Gallery
Apr 16 Philadelphia, PA Kung Fu Necktie (Early Show)
Apr 17 Brooklyn, NY Saint Vitus
Apr 18 Boston, MA Middle East
Apr 19 Pittsburgh, PA Spirit
Apr 20 Columbus, OH Ace of Cups
Apr 21 Detroit, MI Sanctuary
Apr 22 Madison, WI Mickey's Tavern
Apr 23 Rock Island, IL Rock Island Brewing Co.
Apr 24 Chicago, IL Reggie's Live