Published on April 4th, 2016 in: Comedy, Current Faves, Feminism, Reviews, TV, TV Reviews |
"In da klerb, we all fam!"
"What?"
"In. Da. Klerb. We. All. Fam"
"I..I don't…"
"In the club, we're all family. What, are you racist?"
Ah, to be back in New York, warts and all. Broad City brings us back to an urban setting in "B&B-NYC" with a story so uniquely tailored to a big city it's almost like the producers heard my petulant wails last week.
Abbi and Ilana have a revelation while on the phone together, mid-poop. Both of their roommates are away for the weekend, so they can make a ton of cash by renting out their apartments as an AirBN…er, B&B-NYC. Both manage to find renters shockingly easily and instantly, even at an exorbitant rate that's close to a month's rent. Ilana gets a worried-looking Japanese couple, to whom she offers a selection of "the finest dank" as a welcome gift, while Abbi's renter is an unsettlingly charming Frenchman who Abbi immediately thinks is flirting with her, as he texts her multiple times asking for her birthday and other personal information.
While their apartments are occupied, Abbi and Ilana decide to camp on Ilana's roof, bringing Abbi back to her Phish concert and rock festival roots (Ilana does a hilarious impression of String Cheese Incident-era Abbi that's one of the highlights of this episode). This, predictably, ends in disaster as the tent blows away and causes a multiple-car pileup.
Abbi gets the idea to just stay out all night until the renters leave in the morning and, after using an overheard name on a guestlist, they hit the club. It's here that both girls realize how horny they are and proceed to get them some. Abbi goes home to her French renter, while Ilana randomly meets and takes home Blake Griffin, of "being in the NBA" fame, in our weekly celebrity cameo.
Ilana's sex scene with Griffin, if you can call it that, is wall-to-wall batshittery of the sort that only Broad City can provide. When Ilana breaks it to the 6 foot 9 giant that he's too well-endowed for her to "receive him," they have to resort to, well, more creative activities that must have made for a truly bizarre day of shooting, even for a show as off-the-wall as this.
In a twist that everyone but Abbi sees coming, her renter has used the personal information from her texts to steal her identity and has also robbed her apartment. Some unhelpful policemen taking Abbi's report provide an unwasted opportunity to not only mock the police's treatment of women who file complaints ("boys are the worst"), but also racial profiling as they rush off to investigate an "unidentified black male pretending to read a book on a bench."
Not wanting to stay alone (and with Ilana occupied with her NBA-style debauchery), Abbi calls Trey. Armed with a baseball bat and a stack of pirated DVDs of classics like The Hangover 3 ("it's the best one!") and Ratatoullie, Trey comes to her rescue and "clears" the apartment. As he crashes on the couch, Abbi/Trey slash fiction writers saw the Dorito-stained pages of their work spring to life as the pair finally do the deed. As Trey says in as cornball a fashion as possible, "bazinga."
The next morning, Abbi and Ilana regroup to dish about their evenings when Ilana finds Trey's used condom, thinking it belongs to the French renter. After creepily and accurately surmising that the condom's exactly six and a half hours old, she suggests that they somehow use it to track him down. Abbi quashes this idea and chooses not to tell Ilana about the encounter with Trey.
Something that sticks out for me is that Abbi's lie may be the biggest transgression to her friendship with Ilana in all the time we've spent with the pair so far. It outwardly seems like the beginning of something serious, at least as serious as Broad City will allow, like a dramatic confrontation between the BFF's at some point down the line. On any other show this would be a given, but Broad City has a way of turning these potentially heavy scenes into the precise opposite, like Lincoln's confession of infidelity earlier this season that ended with Ilana being cool with it and then humping a tree. There's probably a point where this Simpsons-like mocking of traditional character development would start to get old, but the show hasn't gotten there for me even if they occasionally run the risk of crossing a line.
Oh, and Ilana's roommate Jaime comes back to find out that the Japanese renters using his room are now total potheads.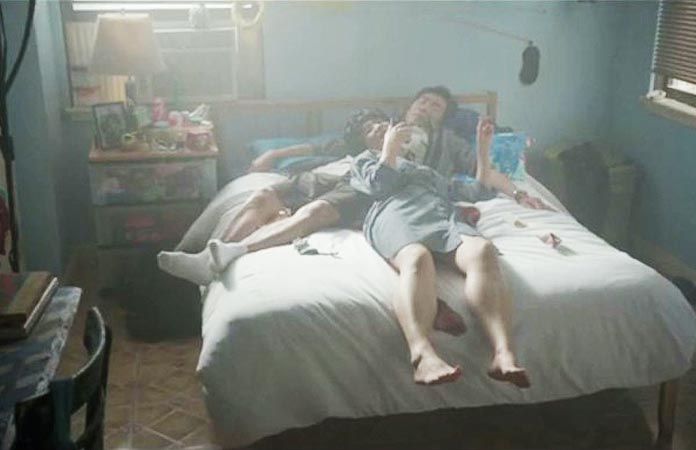 "B&B-NYC" is everything "Philadelphia" wasn't. It's a faster-paced adventure through the city that packs a lot into a single episode, while still allowing Abbi's plot to have some gravity and longer-reaching implications for the show. Whether or not it's planting seeds for a rift between Abbi and Ilana, this is the consummation of a relationship between Abbi and Trey that's been developing so gradually and naturally since the beginning of the series. In and of itself, that's a development for Broad City that's at least as huge as Blake Griffin's wang. Or so we've heard.
(GIFs courtesy of Binge Whale)