Published on March 31st, 2016 in: Americana, Music, Music Reviews, Reviews, Upcoming Releases |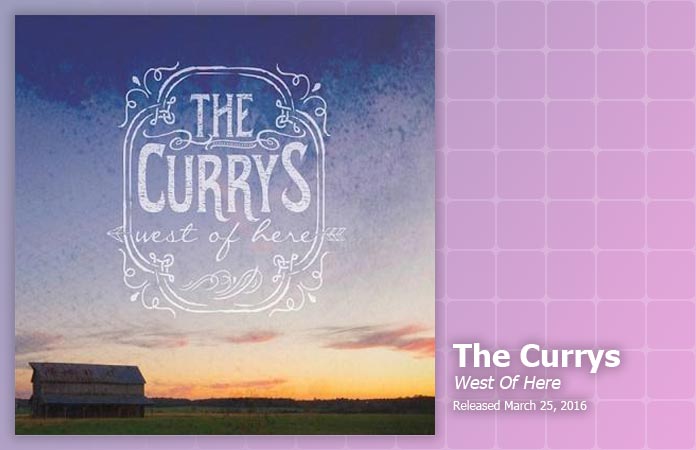 The Currys' sophomore effort, West Of Here, is, as always, a family affair. The Currys are brothers Jimmy and Tommy Curry, and their cousin Galen. Together, they make easy, harmony-laden folky Americana. Their harmonies are incredibly lovely, close and fluid, and are a focal point for the group.
West Of Here is a very mellow, quiet album. It's soothing, a Sunday morning kind of album that bathes the listener in sweet harmonies and thoughtful songcraft. It's impossible to write about The Currys without raving about those harmonies. The warm opener, "Hold Me Here," has gorgeous, liquid harmonies over somber piano and gently picked acoustic guitar. The harmonies of "Restless" are delicious and lilting on the gentle lope of a song. "Restless" is in no real hurry as it unspools leisurely. The velvety harmonies of "Novelty" are stunning. Tommy Curry's mandolin playing is delicate filigree, and when married to a weeping pedal steel, the track feels melancholy despite being melodically upbeat.
The burst of harmony in "If I Find It" is inviting and glorious. The mandolin bubbles along as a counterpoint to a frankly poppy tune. It's like Steely Dan-ish sophistipop filtered through Americana trappings. The ending soars with many disparate vocal lines coming together in a most triumphant way. "Cream And Crimson" is, perhaps then, the opposite of "If I Find It." The quiet mandolin percolates, and the vocals are simple, plainspoken. It's a spare and extremely effective, wrenching track. The other instruments join—a piano chord, a thunder roll of drums—and it works very well.
The Currys take turns sharing lead vocal duties. There's a strange nasalness to one of the vocalists' singing (though it was difficult to figure out just which Curry that is). He's the one that sings "Bone And Blood," though the song is elevated by a magnificent fluidity to the guitar part and the, of course, wonderful harmonies. "All It Takes" sounds like an Explosions In The Sky song with soulful vocals and reverby guitar. It doesn't sound like anything else on West Of Here.
The same Curry sings "Do It Again" with his pleasantly husky voice. The sweet love song has a lived in hominess, with honeyed turns of phrase. It soars, but quietly. The closer, "May The Road Get Wider" is a majestic send off to a relatively sedate album.
West Of Here is a calm, chill album. It's not challenging, but certainly not every album needs to be. The selling point is The Currys' fine, familial harmonies. They are toothsome and satisfying.
West of Here was released on March 25 and is available on iTunes.
Tour Dates:
4/2: Washington, DC @ Hill Country BBQ
4/7: Apalachicola, FL @ Bowery Station
4/8: Gainesville, FL @ Sandhill Stage
4/9: Tallahassee, FL @ Word of South Festival
4/10: Tallahassee, FL @ Junction @ Monroe
4/14: Boston, MA @ Middle East
4/29: Duluth, GA @ Red Clay Theater