Published on March 28th, 2016 in: Comics, Current Faves, Netflix Reviews, Reviews, TV, TV Reviews |
By Tim Murr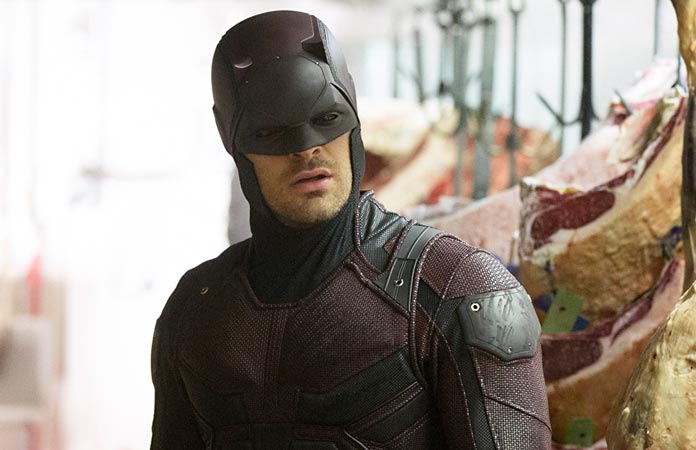 As a fan of Daredevil since 1987, I've been a very happy boy this week watching Marvel's Daredevil Season 2 on Netflix. While Season 1 was a solid show that honored the source material, this season uses the momentum of the first (as well as, in a roundabout way, the momentum of Jessica Jones and the Marvel Cinematic Universe) to propel our protagonists' stories into a deeper, more dangerous, and ultimately weirder world.
WARNING: SPOILERS
We've seen costumed heroes (Avengers, Captain America), aliens (Avengers, Guardians Of The Galaxy), self-aware robots (Age Of Ultron), and super strength and unbreakable skin (Jessica Jones), so the path to an ancient ninja cult that has overcome death doesn't require that much suspension of disbelief if you're already immersed in this universe. This also doesn't take an enormous amount of exposition, so Season 2 is able to move very quickly into the good parts.
Season 2 picks up with Matt Murdoch (Charlie Cox), Foggy Nelson (Elden Henson), and Karen Page (Deborah Ann Woll) still riding high from their win over the Kingpin, Wilson Fisk (Vincent D'Onofrio). They are still not making much money, but things are going well. If you know anything about Daredevil you already know this is just the calm before the storm. And storms for Daredevil generally arrive as super-hurricanes of cluster fucks.
This is an antagonist-heavy season and the first one we meet is the Punisher, played by The Walking Dead's Jon Bernthal.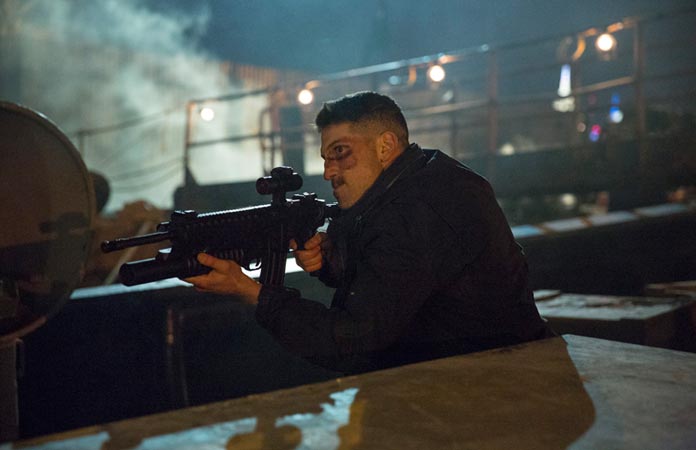 I don't think anyone had set a particularly high bar for Bernthal being the fourth actor to take on the role of The Punisher, a.k.a. Frank Castle: he's an ex-Marine and decorated war hero who loses his family in a gang shoot out. Dolph Lundgren played the role first in 1989, in a film directed by Mark Goldblatt, who didn't want to make a superhero movie and therefore refused to put Lundgren in a skull shirt. The result is a slightly above average 1980s action film that's better than its reputation, but gets hobbled by some dumb comedy relief.
Thomas Jane stepped up next in 2004's The Punisher, which was hobbled by comic relief that wasn't funny, a bright and sunny Florida location, and the simple fact that Jane, an actor I like a lot, just naturally exudes an energy that is simply not that of Frank Castle.
Ray Stevenson fared much better in the gory and superior 2008 Punisher War Zone, directed by Lexi Alexander and co-starring Dominick West as longtime Punisher adversary Jigsaw. As good as that version was, it still had problems; once again, the comic relief missed the mark.
Bernthal's version succeeds on the small screen for two reasons: one, because he has the physical presence, dripping threat and rage every time he appears; and two, because he is a side character who plays off of Daredevil. This is another thing that hampers the three films and the same thing that hurts the comics: The Punisher needs heroes to play against. This is what made Punisher so fascinating when he appeared in those 1970s Spider-Man comics and squared off against Captain America, Wolverine, and Daredevil in the '80s. He's a nightmare version of those heroes, or Bernthal says to Cox's Daredevil, "You're one bad day from being me."
The Punisher sets the tone for a darker season of Daredevil than the first and though he takes a backseat to the action half way through the season, his shadow still looms large. In Season 2 we are introduced to Elektra, played by Elodie Yung. Although Yung is not Greek she still looks and behaves more like Elektra than the woefully miscast Jennifer Garner did in the film version of Daredevil and its pseudo-sequel Elektra.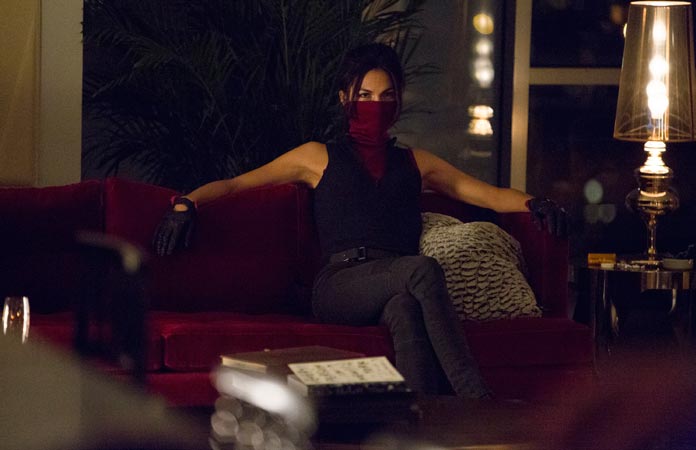 Yung is fantastic as the assassin love interest of Murdoch's past. She's truly a joy to watch and while people are already clamoring for a Netflix Punisher series, Elektra deserves first dibs. Aside from the costume (does anyone really want to see the bathing suit in live action?) Yung nails the character and brings out the best in Cox in all their scenes together.
Also returning is the legendary Scott Glenn as Stick, mentor to Murdoch and Elektra. His presence furthers the little glimpse of a story we got in Season 1. This story consumes the back half of the season, as Nobu (Peter Shinkoda) returns from his apparent death in Season 1 with the aforementioned ninja cult The Hand. Glenn's Stick is perfect. It's like he was literally brought to life from the comics and he steals scenes left and right.
As Wilson Fisk, Vincent D'Onofrio was amazing: anxious and fidgety from all the violence threatening to boil over in his soul and when it finally did, D'Onofrio looked like a giant demented baby—exactly like Fisk does in the comics. This time out, D'Onofrio outdoes himself and while he's not a major part of the show, his presence is felt as he has a major impact on events outside of his current home in prison, thus setting the stage for some brilliant TV.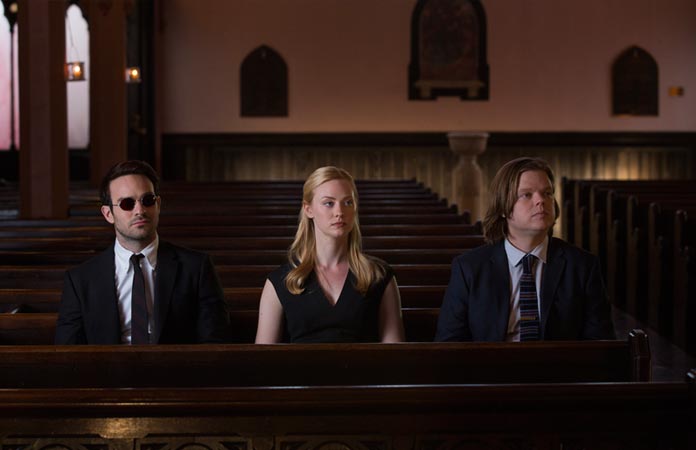 Henson and Woll's Foggy and Karen provide many wonderful moments throughout the 13 episodes, somehow not ever allowing themselves to be shoved out of the spotlight despite so many big personalities chewing scenery. It's hard to imagine better casting for their characters; Henson is steadfast and funny in the face of danger and Woll is incredibly lovely and tough, driving her own fair share of the action and having a humanizing effect on the Punisher.
For me, my favorite character of both seasons and the one I'm really looking forward to fully emerging in his comic book form is Melvin Potter (Matt Gerald), the man who built Daredevil's suit in Season 1 and returns to help keep DD tooled up in 2. Comic fans will recall that Potter is the DD villain known as the Gladiator, who debuted in Daredevil #18 back in 1966. Eventually, Potter becomes the character we see on the TV show, so it'll be interesting to see how the writers work that relationship backwards to make him become an enemy. The Gladiator is no joke. He's a hell of a good villain and Gerald plays him very well.
Daredevil Season 2 doesn't just surpass Season 1, but it also surpasses its sister show Jessica Jones, which surpassed Daredevil S1. In fact, Season 2 leaves most of the Marvel Cinematic Universe in the dust, including both Avengers films. Only Captain America: The Winter Soldier and the first Iron Man film are truly comparable to the quality of storytelling and depth and breadth of character development on display here.
Hopefully this level of craft will be on display again in September when Luke Cage Season 1 debuts on Netflix. Between Daredevil, Jessica Jones, and the inevitable The Defenders series (which will bring together Daredevil, Jones, Cage, and the as yet unseen Iron Fist), this universe is shaping up to be the live action comic book adaptation to beat.