Published on March 23rd, 2016 in: Current Faves, Music, New Video |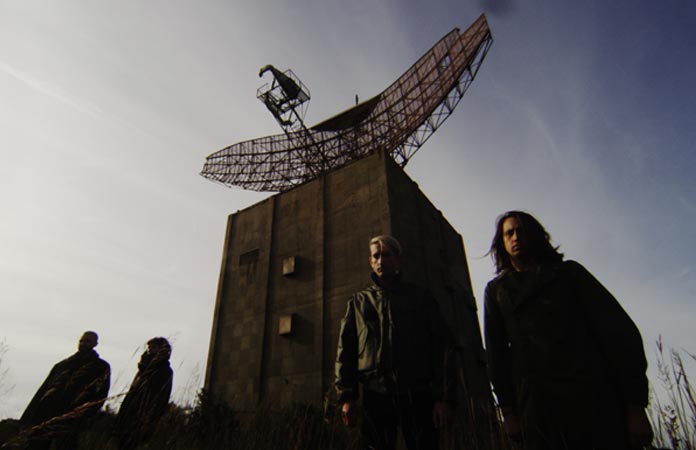 On first blush, Pop. 1280s album Paradise feels like some sort of quasi-industrial throwback to 1984, but it's something else entirely. Sure, there are drum machines and samples, but frequent touches of echoing piano, spidery Goth guitar, and sitars give the songs a surprising sense of depth and breadth.
Singer Chris Burg's pronounced growl provides gravitas to lyrics that would sound at home in a Philip K. Dick novel: gritty science fiction that's dirty and uncomfortable.
The band's latest video, for the surly and sensational "Phantom Freighter," captures this vibe visually with an aesthetic that pays homage to early David Cronenberg and George A. Romero. And what is that green stuff?
Paradise was released by Sacred Bones on January 22. Be sure to check out the band on their upcoming European tour.
European Tour Dates:
04/15/16 – Hamburg, Germany @ Hafenklang
04/16/16 – Berlin, Germany @ ACUD
04/17/16 – Halle, Germany @ Chaiselongue
04/19/16 – Amsterdam, Netherlands @ De School
04/20/16 – Utrecht, Netherlands @ ACU
04/21/16 – Tournai, Belgium @ Water Moulin
04/22/16 – Bruxelles, Belgium @ Magasin 4
04/23/16 – London, United Kingdom @ The Shacklewell Arms
04/24/16 – Leeds, United Kingdom @ Headrow House
04/25/16 – Paris, France @ Batofar
04/26/16 – Rennes, France @ BAR'Hic
04/28/16 – Madrid, Spain @ Siroco
04/29/16 – Zaragoza, Spain @ Las Armas
04/30/16 – San Sebastian, Spain @ Le Bukowski
05/01/16 – Gigor, France @ Gigor Electric
05/02/16 – Clermont Ferrand, France @ Raymond Bar
05/04/16 – Milano, Italy @ Ligera
05/06/16 – Pordenone, Italy @ Pn Box
05/07/16 – Marina di Ravenna, Italy – Hana-Bi
05/08/16 – Verona, Italy @ Centro Avanzi
05/09/16 – Zagreb, Croatia @ AKC Attack
05/10/16 – Wien, Austria @ FLUC
05/11/16 – Budapest, Hungary @ Müszi
05/12/16 – Prague, Czech Republic @ 007