Published on March 22nd, 2016 in: Metal, Music, Music Reviews, Retrovirus, Reviews |
By Tim Murr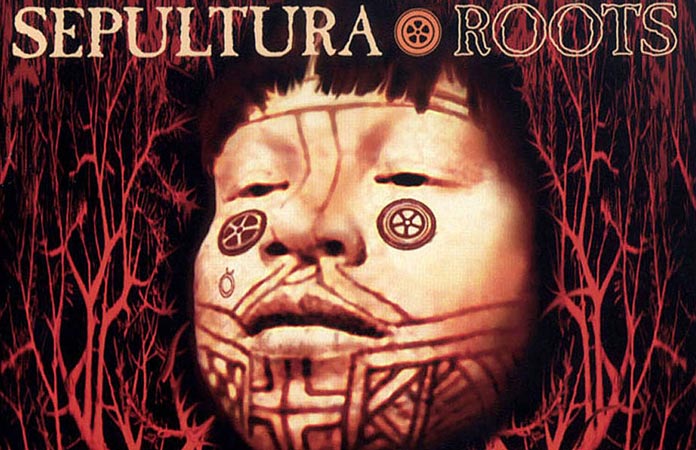 By the 1990s Sepultura had built quite a reputation for themselves. Formed in 1984 by Max and Igor Cavalera after hearing Black Sabbath's Volume 4, they soon made a name for themselves playing black metal inspired by bands like Venom and Celtic Frost and in 1985 recorded their debut Bestial Devastation, a split EP with Overdose, followed by the full-length Morbid Visions in 1986. Sepultura hailed from Brazil and their reputation made their albums sought after items in both America and Europe.
1991's Arise was one of the year's best thrash albums, cracking the Billboard Top 200. The follow up, '93's Chaos A.D., saw the band evolving their sound, adding industrial elements. It was in 1996, though, when the classic lineup recorded their best album, Roots.
With this album, Sepultura shed their thrash origins once and for all and embraced a more groove-oriented brand of metal, closer to Texas's Pantera. Sepultura also embraced their literal roots, adding elements of traditional music from their native Brazil.
Despite the tribal aspect to the music, Roots was still heavily influential on the then-current music scene, in what would come to be known as nu-metal. Nu-metal has become quite a dirty word, and young traditionalist metal bands rushed forward in the wake of bands like Limp Bizkit to restore metal to a more respectable position. Roots, though, doesn't carry any of the stink of nu-metal, and in fact, remains a heavy testament to metal's elasticity and adaptability.
The album's opener, "Roots Bloody Roots," is a massive, doom-laden slab of rock, integral to the history of metal. The band didn't just add Brazil's traditional rhythms, but also recorded "Itsari" with members of the Xavante tribe and other songs, like "Ratamahatta," with local star Carlinhos Brown. Sepultura also got help from outside of their native country through Mike Patton (Faith No More) and Jonathan Davis (Korn), who wrote the lyrics to "Lookaway."
On the whole, Roots blows away most of the metal albums from the '90s, whether from veterans or newcomers. Twenty years later, set beside a new crop of metal bands–groups who have pioneered new soundscapes, redfined heavy, and brought a new integrity to heavy metal–Roots still stands tall, a high water mark for metal.
Unfortunately this marked the end of the line for Max Cavalera who left the group after a very heated personal dispute, but he took sound of Roots to carry on with his next group, Soulfly, who recorded a string of very strong albums that outshined the Sepultura that carried on without him.