Published on March 22nd, 2016 in: Country Music, Current Faves, Feminism, Music, Music Reviews, Reviews |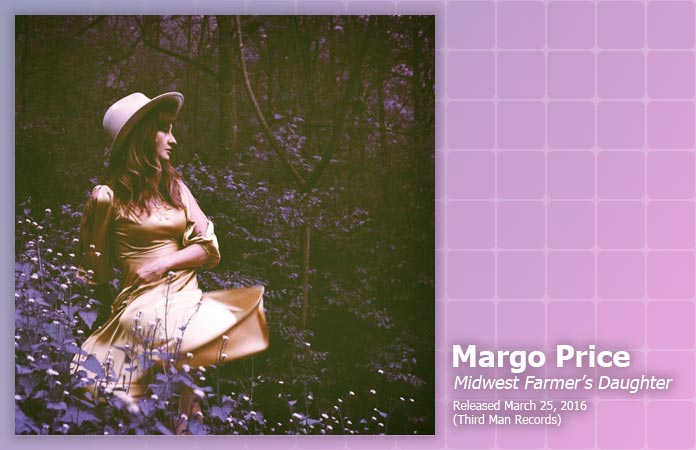 Margo Price makes proper country music. Not bro-country, but honest to god, real live country music. She takes up the mantle of brilliant female singers: Loretta, Dolly, Tammy. Her debut album for Third Man Records, Midwest Farmer's Daughter, is throwback country on the surface, but her lyrics and sensibilities are completely modern. It's an incredibly solid album, the kind of album that has staying power in your brain.
Listening to Midwest Farmer's Daughter fills me with hope and excitement. It reminds me of the first time I heard Nikki Lane. Thank heavens someone is making music like this. Margo Price is a fine storyteller with an honest voice (and a killer range).
The opening track, "Hands Of Time" is just shattering. She's leaving home on an unpaved road, she wants to get her daddy's farm back, she's fallen in with the wrong people from time to time. It's real and it's crushing. The subtle, judicious use of strings on "Hands Of Time" is effective, as is Price's enormously likable voice. She's not showy, but she has serious chops.
Margo Price has a way with lyrics. "This Town Gets Around" is incredibly frank. She's not going to compromise or sleep around to get ahead in the music business and she boldly pulls back the curtain on the casting couch nature of some of the seedier practices. It kicks ass. "About To Find Out" has thoroughly modern, witty sentiments cloaked in steel guitar that are feminist through and through. "Tennessee Song" is a back-to-the-land song, a clarion call of "Let's go back to Tennessee" because "city life's a poison pill" and the "future ain't what it used to be." Her vocals are both gutsy and gorgeous.
The trappings of old school country music are all over Midwest Farmer's Daughter. Booze flows in the opening salvo of a single, "Hurtin' (On The Bottle)". There's a stint in the Davidson County Jail in "Weekender," a vividly drawn song about a woman who has to spend her weekends in jail. It's a charming honky-tonk swinger, and Price's backing band is amazing. Luke Schneider's omnipresent pedal steel is fantastic, as is Jeremy Ivey's lively bass playing.
Midwest Farmer's Daughter is a fully-realized, major label debut. From the achingly lovely, acoustic "World's Greatest Loser" to the girl group flavor of "How The Mighty Have Fallen," there's not a lackadaisical track on Margo Price's album. It's the kind of assured album that artists hope to make. Do not miss this one.
Midwest Farmer's Daughter will be released by Third Man Records on March 25.