Published on March 22nd, 2016 in: Current Faves, Music, Music Reviews, New Music, Reviews |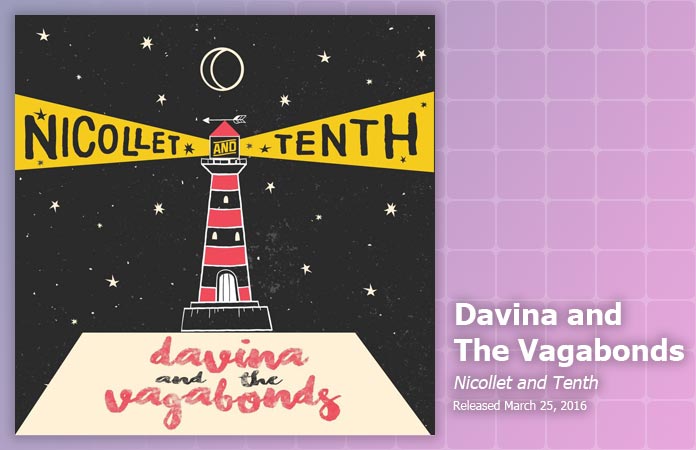 Davina and the Vagabonds are well-known for their live shows, blending jazz, soul, brilliant stage presence, and top-notch musicianship. Attendees walk away converts. It stands to reason then, that Davina and the Vagabonds would at some point put out a live album. So they did.
Nicollet And Tenth was recorded at the Dakota, a jazz club at Nicollet and Tenth in Minneapolis. As an introduction to a band, a live album isn't always the best choice, but with Davina and the Vagabonds, it works quite nicely. It's a delightful inauguration to Davina Sowers's towering vocal chops (and magnificent keyboard work) and the astoundingly tight, sharp band of Vagabonds. The crowd at the Dakota is appreciative, but not intrusive.
Davina and the Vagabonds hit that sweet spot of all kinds of things that are incredibly likable: Memphis soul, New Orleans jazz, a serious hit of sass, a powerhouse female vocalist. On top of that, Davina and the Vagabonds' choice of covers is fantastic: Kid Ory, Fats Waller, Billie Holiday (Sowers does a an impressive homage to her on "Travelin' All Alone," exquisitely capturing those specific Holiday nuances), and Etta James.
The band is a finely tuned machine. "You Must Be Losing Your Mind" gives each member a solo. Each is politely restrained, but also incredible. There's not a moment that's too much (you know those times, when soloing becomes ridiculous and cringe inducing). It's slinky jazz for singing on a street corner, with Greg Byers's walking bass line married to Sowers's nimble piano work. The horn section–Ben Link on trombone and Dan Eikmeier on trumpet–is bright and inventive. Their lovely warmth on the transporting "Louisiana Fairytale" is impressive. Link's woozy, muted playing is a smart counterpoint to the crispness of Eikmeier's tone.
Drummer Connor McRae Hammergren, too, is extraordinary. His playing on "Shake That Thing," their take on the Kid Ory classic, is amazing. The track, a delightful call and response, is utterly fun. "Pocket" is the perfect combination of the stellar horn section and crackerjack drumming. Sowers's vocals are blistering and testifying on this soulful, funky number.
The covers are inspired. "Knock Me A Kiss" is loose and sassy. Sowers's piano is electrifying on the appropriately swinging "Ain't That A Shame." The 1920s chestnut "5 ft 2" is incredible and again gives the band members each a moment in the spotlight. Greg Byers's bass solo is particularly wonderful. The rave up version of "St. James Infirmary" (titled here "St. James") is lively and exciting, changing the lyrics a bit, and tweaking them to, at least initially, be about the Dakota Jazz Club. "I Would Rather Go Blind" is killing. Sowers's vocals are soulful and impressionistic. You can't help but believe what she's singing. She completely sells it.
Listening to Nicollet And Tenth is like being at a delightful party that you hope never ends. It's a bit boozy, and it's utterly fun. Davina and the Vagabonds are one hell of a good time.
Nicollet and Tenth will be released on March 25.
Tour Dates:
3/29: Seattle, WA / Jazz Alley
3/30: Seattle, WA / Jazz Alley
3/31: Portland, OR / Jimmy Mak's
4/02: Eureka, CA / Redwood Coast Music Festival
4/03: Eugene, OR / John G. Shedd Institute For The Arts
4/08: Minneapolis, MN / Eagles Club
4/20: Duluth, MN / Red Herring Lounge
4/21: Minneapolis, MN / Dakota
4/22: Minneapolis, MN / Dakota
4/23: Zumbrota, MN / Crossings
4/24: Minneapolis, MN / Dakota
4/29: Lincoln, NE / Zoo Bar
5/03: Hopkins, MN / Hopkins Center For The Arts
5/07: Minneapolis, MN / Famous Dave's
5/13: Minneapolis, MN / Wilebski Blues Saloon
5/20: Minneapolis, MN / Dakota
5/21: Minneapolis, MN / Dakota
5/29: Minneapolis, MN / Memory Lanes Block Party
6/03: Evanston, IL / SPACE
6/08: San Francisco, CA / San Francisco Jazz Festival
6/09: San Francisco, CA / San Francisco Jazz Festival
6/10: Santa Cruz, CA / Kuumbwa Jazz Center
6/18: Arlington, VA / Columbia Pike
6/24: Rochester, NY / Rochester International Jazz Festival
6/25: Pittsburgh, PA / Pittsburgh JazzLive International Festival
7/09: Brooklyn, NY / On Stage At Kingsborough
8/04: Omaha, NE / Midtown Crossing
8/13: St. Cloud, MN / Paramount Theatre and Visual Arts Center
8/19: Norwich, NY 24th / Chenango Blues Fest
8/20: N. Thornton, NH / White Mountain Blues & Boogie
9/09: Urbana, IL / Krannert Center For The Performing Arts