Published on March 21st, 2016 in: Comedy, Current Faves, Feminism, Reviews, TV, TV Reviews |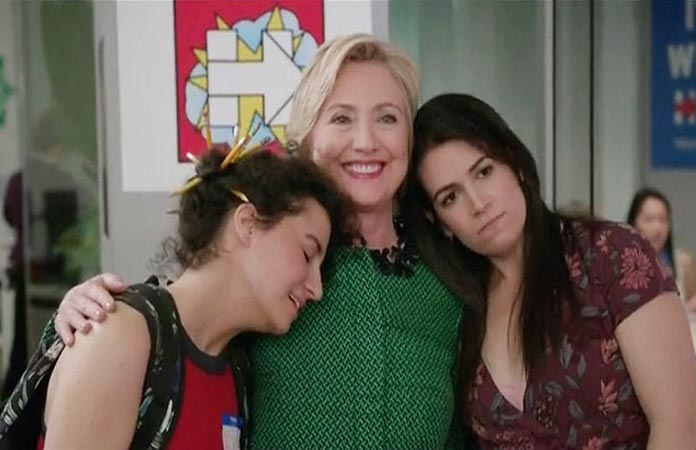 "Abbi. Hello. Proud Demo-crat. College. Aquarius. I pegged."–Abbi
It's one of the biggest weeks in Broad City's entire run so far, and one that's unlikely to be topped for quite some time. In addition to the announcement that the show will have an entry in the Tribeca Film Festival's TV section, this week's show features their most high-profile guest star yet, even in an episode packed with cameos. All eyes are on our girls, and these kweens won't leave us hanging.
In possibly the biggest promotion in history, Ilana went from slumming it at Deals, Deals, Deals to working for Hillary fucking Clinton in this episode, though it's a short-lived stint. Of course, since this is Broad City we're talking about; there are a few wacky stops along the way as Ilana tries her hand at being a bike messenger, a subway panhandler, and has an unsettling encounter with her hopeless temp recruiter (adding yet another scene-stealing character role to SNL alumni Rachel Dratch's resume).
Hillary isn't shown in the episode at all until the last scene and, truth be told, what little there is of her barely registers outside of the images I've posted here. The coordinator of Hillary's campaign office, played by Cynthia Nixon of Sex and the City fame, acts as a stand-in of sorts for the presidential candidate instead. You'd think this would, at least, be a mild disappointment since Clinton is the big draw for this week, but Nixon knocks it out of the park.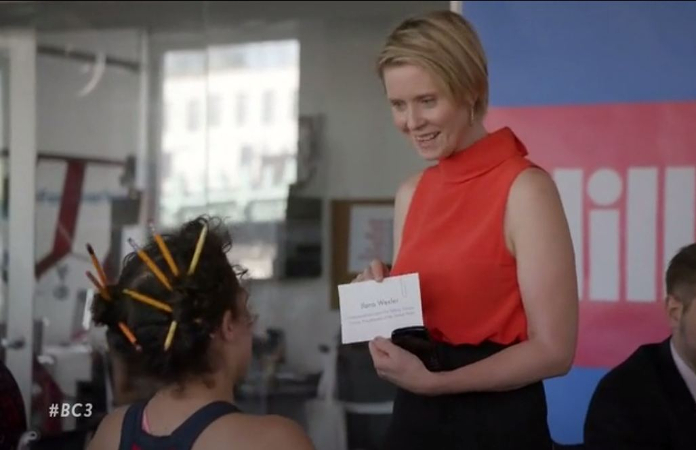 When a new character like Nixon's is introduced to Broad City, one of the things I look forward to most is their reactions to Ilana's crazy behavior, and I wasn't let down at all. She shuts down Ilana's "YAS YAS YAS" right away, but is clearly charmed by her enthusiasm for Hillary and is even cautiously receptive to Ilana's non-traditional cold-calling techniques ("bitch, you'd better vote. Text me when you do"). One of the best jokes in this episode is Nixon's increasingly-enraged reaction to the insane questions she gets about Hillary: she can, indeed, read a map; is not a witch; and will not enact forced male pregnancy (which, she points out, "is not a thing").
Unfortunately, Ilana discovers that the job she applied for and got on the spot is not, in fact, a paid gig. Since she's not about to work for free, no matter how much she idolizes her boss, her brief tenure at the campaign office is over. Has she learned anything from this experience? I sure hope not, because I'm not ready to let go of workplace-disrupting Ilana just yet.
Abbi's storyline in "2016" is as sitcom-tropey as it gets, when she visits the DMV to renew her license. This is no by-the-numbers episode of Fraser or Friends, however. Even though the main joke of this story is that the DMV is a hellish experience that turns patrons into feral creatures, by exaggerating the waiting room into something out of Children of Men, Broad City turns even this on its head.
Abbi deeply wants her new license photo to be a good one, because she's never had a decent photo taken. When she goes to her hair stylist and attempts to use a Deals, Deals, Deals coupon for a discount, though, the irritated hairdresser throws out Abbi's neck, creating lots of opportunities for Abbi to flex her physical comedy chops for the rest of the episode. Her strained movements as she drops and attempts to pick up her purse are as sad as they are hilarious.
Enter Alan Alda's Dr. Heller, Abbi's grandfatherly chiropractor. He immediately solves every one of Abbi's problems: her neck, her DMV issue (by making her an appointment online), and even touching up her haircut. His interaction with Abbi is adorable, and this is Alda at his most subtle and likeable. He's got that ability to do stuff like this without it ever seeming offside or creepy, and you can't help but smile when you see how he's brightened Abbi's day.
When Abbi returns to the DMV, her pre-registered appointment grants her access to a room full of chocolate and every other amenity you could ask for, including a sycophantic, roller-skating concierge. She has her photo taken by a professional and we've seen, as the concierge would describe it, "the DMV, as it could be." This second visit to the DMV is how Broad City upends the conventional "stuck in a waiting room" formula that almost every sitcom's used. It's weird and charming, just the way we like it.
When the girls finally meet Hillary at the end of the day, they're predictably awestruck and fawning, something that, based on an ill-advised reading of the comments section on an article about this episode, seems to have turned a lot of people off. Ignoring the usual comments section grossness, I can dig the more constructive criticism of Hillary's cameo, because there's no Broad City-esque moment where Hillary laughs at herself in the way that Kelly Ripa and others have been able to do. Instead, a lot of the episode is mythologizing Clinton, assuring us she's not a demon, and also trying very hard to let us know that she's fun. Speaking with no political bias whatsoever here (I'm Canadian anyway), I feel like it's a missed opportunity but nothing that spoiled my enjoyment of the show in any way.
"2016" is a weird episode because the thing that's supposed to be the payoff (Hillary's appearance), is probably the least interesting thing about it. The fact that Clinton was on a show this off-the-wall and boundary-pushing at all is pretty brave, I guess, but she's not even as self-aware as she has been on Saturday Night Live in the past few years. That said, everything else in the episode, including the non-Hillary portion of Ilana's storyline, is Broad City killing it like they do every other week. Since we know that Ilana's job search continues, I can't wait to see where she ends up next.
Animated GIFs courtesy of Bingewhale