Published on March 18th, 2016 in: Film Festivals, Horror, Movie Reviews, Movies, Reviews |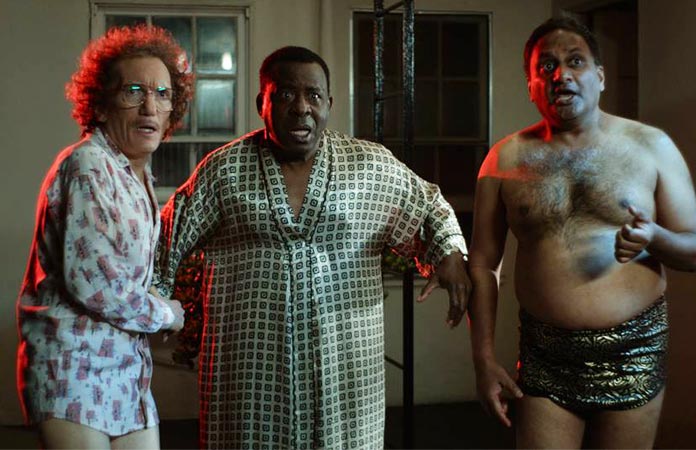 If Tim and Eric made an R-rated Napoleon Dynamite-esque movie, that's exactly what The Greasy Strangler would be.
Sometimes it feels that The Greasy Strangler isn't even a movie, but an overall test of what one person can endure. It also feels like this would be a good social experiment to show your friends and see if they remain friends with you afterwards. That said, The Greasy Strangler is hilarious, sleazy, slimy, and just a fucking weird comedy that actually exists in this world and it's perfect.
Within minutes, The Greasy Strangler has no problem showing its roots and you know what you're going to get for the next hour and a half. Everything within the film is unappealing; the characters, the food (everything is covered in grease), the clothes, and the special effects will gross anyone out, even if they have a strong stomach. If the viewer doesn't cringe at least once, then they should consider being a surgeon. Hell, surgeons will even cringe.
The Greasy Strangler is about Ronnie and Brayden, a father and son duo that run a disco tour where they show people places where great disco artists lived or created a song. On one of their tours, Brayden meets a girl who sweeps him off his feet, but Ronnie doesn't want that to happen. He guilt trips Brayden and makes him feel like this girl is jerking him around. It becomes a competition for Brayden because he feels his father might put the moves on his new found love and steal her away. That sounds simple enough, but it isn't even close to what this film has in store. Along with that small storyline, there is someone known as The Greasy Strangler who is killing people in the town by strangling them while he is covered in grease from head to toe.
It will be interesting to see once this film hits Netflix, when people are at home on a date night and stumble across this batshit crazy movie. Man, I can only hope they are eating pizza or something when they watch this because regurgitation may happen on their plate. Eating during the film should be prohibited.
For people that love the weirdness of Adam Rifkin and the absurdism of Tim & Eric, then The Greasy Strangler is right for you. If not, you're in for a major treat. To sum it up, John Waters will be proud.