Published on March 7th, 2016 in: Canadian Content, Current Faves, Metal, Music, Music Reviews, Reviews |
By Tim Murr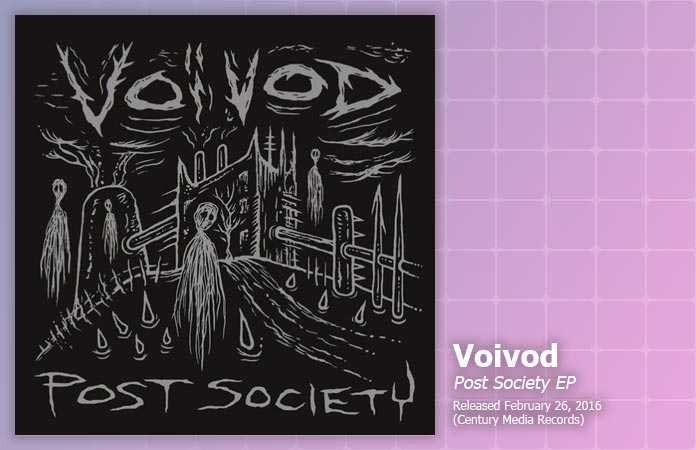 Formed in Quebec in 1983, the prog-metal masters Voivod have shifted and mutated, thrilling fans across 13 studio albums. Their 1984 debut album, War and Pain, was a paint-peeling thrash classic. It was to metal what The Road Warrior was to cinema; a line in the sand for others to dash across. With each album up to Angel Rat, when the band started to splinter, Voivod progressed and evolved their sci-fi Rush-meets-Motorhead approach.
We can't expect any band to stick around 30 plus years with albums like Dimension Hatröss, Rrröööaaarrr, and Nothing Face and still make vital, exciting music right? I mean, that's unreasonable and unrealistic. And yet, Voivod's new EP, Post Society, is a mother fucker of a five-song rager!
Right out of the gate, the title track rocks like time has stood still for the last three decades. "Forever Mountain" chugs along into the more spaced-out territories of the middle era albums, while retaining an aggressive, but focused edge. "Fall" takes the listener even deeper into the cosmic areas. "We Are Connected" roars back with the album's longest track and showcases the band's virtuosity. Post Society wraps up with a bad ass cover of Hawkwind's "Silver Machine," a song from the Lemmy era! As a cover, it salutes Voivod's roots while complimenting and building on not just their legacy, but their present.
Voivod are currently touring with a young metal band really making a name for themselves, Black Fast, and will soon be joined by Australia's amazing King Parrot and Detroit's Child Bite.
Voivod's Post Society was released February 26 by Century Media Records. 
Tour Dates:
2016.03.03 – Masonic Temple, Detroit, MI
2016.03.04 – Mod Club, Toronto, ON
2016.03.05 – This Ain't Hollywood, Hamilton, ON
VOIVOD, King Parrot & Child Bite – North American Tour 2016:
2016.05.26 – Marquis Theatre, Denver CO
2016.05.28 – Vinyl / Hard Rock Cafe, Las Vegas, NV
2016.06.02 – The Whiskey, Los Angeles, CA
2016.06.11 – El Corazon, Seattle, WA
2016.06.13 – Rickshaw Theatre, Vancouver, BC
2016.06.16 – Starlight Room, Edmonton, AB
VOIVOD – Live Festivals 2016:
2016.07.23 – Hell & Heaven Fest, Mexico City (Mexico)
2016.08.12 – Brutal Assault, Jaromer (Czech Republic) 
2016.08.13 – Into The Grave Festival, Leeuwarden (The Netherlands)
RELATED ARTICLES: