Published on March 4th, 2016 in: Comedy, Current Faves, Netflix Reviews, Reviews, TV, TV Reviews |
By Tyler Hodg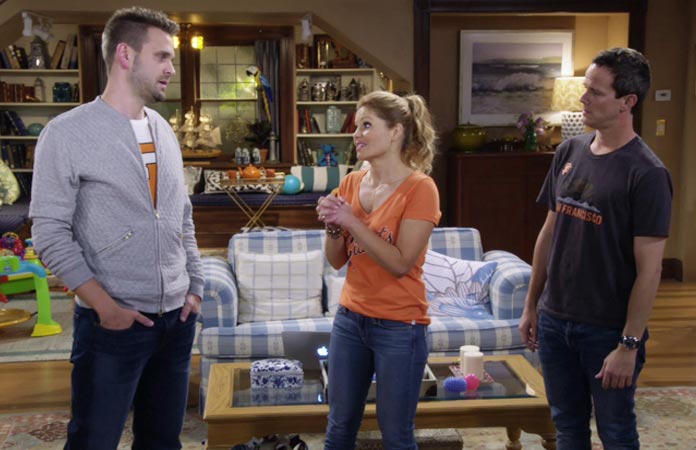 Fuller House comes out swinging in the tenth episode, which is appropriately titled "A Giant Leap". Guest starring San Fransisco Giants hitter and right fielder Hunter Pence as Stephanie's boyfriend, the entire gang head to one of his games, and watch the middle Tanner offspring sing during the seventh inning stretch.
While at the baseball stadium, D.J. and Matt get caught on the JumboTron kiss cam and eventually give into the pressure put on them by all in attendance. Well, all except one person: Steve. The hopeless lover witnesses who he believes to be his girlfriend lock lips with another man, and confronts both parties.
Aside from the evolution of the family dynamic, the main storyline revolves around D.J. and her struggles of being stuck in a love triangle with Matt and Steve. Issues with how quickly she got over the death of her husband aside, the interactions between all of the characters involved in the conundrum certainly feels authentic and entertaining.
Jackson and Lola's romance also blossoms at the game. It's nice to see a secondary arc playing out with one of the supporting characters, considering not a lot happens with them. Jackson is easily the most interesting of the four children, and seeing his shy but ambitious character develop gives hope that the others may soon follow.
Stephanie's role in "A Giant Leap" is more out front than in most episodes, but still doesn't mean anything in any of the ongoing stories. There is so much left to explore with the character–like her inability to have children, struggles to promote herself as a singer, and the fact she has little of her life together–but she is subject to the background in nearly every episode.
"A Giant Leap" is the most ambitious that Fuller House has gotten so far; the production value is obviously higher than most episodes considering scenes were shot on location at the AT&T Park, and the love triangle between D.J., Matt, and Steve progresses to an almost-climax There is still room to play around with in the last three instalments, but "A Giant Leap" did a decent job of starting to wrap-up storylines in a satisfactory manner.
RELATED ARTICLES: