Published on March 4th, 2016 in: Current Faves, Music, Music Reviews, Radio |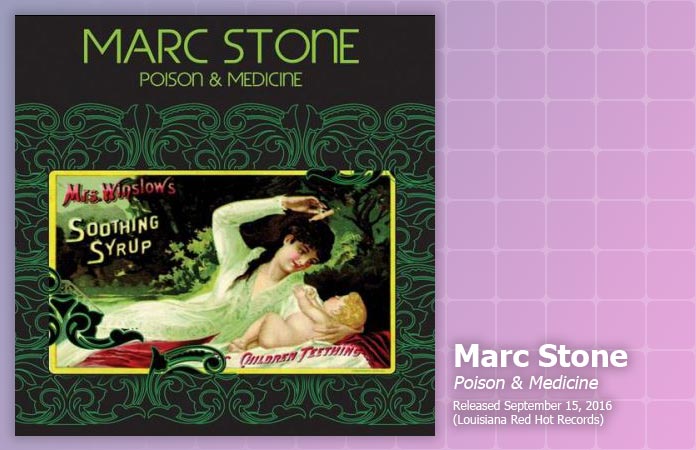 Though he was born in New York, Marc Stone's adopted home of New Orleans is an undeniable presence in his album, Poison & Medicine. It's there in the swampy groove of the opener, "I Tried." It's there in the killer horns of "When You're Bad." It's there in Stone's wondrous slide guitar work. It certainly doesn't hurt that for the past two decades, Marc Stone has been backing a who's who of seminal NOLA artists like Ernie K-Doe, Marcia Ball, Rockin' Dopsie, and Terrance Simien, as well as hosting WWOZ's "Soul Serenade" (incidentally, you can listen to WWOZ streaming on the Internet, and you should. All the time. And send them money at pledge drive time).
Poison & Medicine is, above all, a blues album. The characters in Marc Stone's songs have… the blues. The protagonist of the sinuous opener "I Tried" has problems: too many kids, too many bills, he made a bad bet. There's desperation, but there's also Stone's electrifying slide guitar and surprisingly stunning bongo playing. The closing track, "The Well" starts out with this: "Sometimes I get thirsty / for hard brown liquor / to ease my pain." You know that's not a happy fella. There's a spareness to "The Well" that sounds quite smart. It's wonderfully produced, with Stone's guitar delicately mimicking water droplets and fine organ playing.
Of course, being a New Orleans based bluesman, you could use some horns. The brass work from the Boneorama Horns on the slinky "When You're Bad" is brilliant. "7th Ave. (Oh She Was Pretty)" has a delightful throwback feel, with tinkling ivories and bright horns. Stone sings of pretty girls with transistor radios, but, as always, there's a hitch. He fooled around. He lost his baby. The song does a great job of establishing a vibrant scene.
"Lost Love Lounge" is a curiosity. It begins as rather pedestrian blues (though the timbre of Stone's voice here is especially appealing). But then, little dashes of brilliance are added in, like the glittering organ line, and the song steadily grows into a finely drawn, evocative track. There's a riff in "Restless Heart" that sounds like the Monkees' "Pleasant Valley Sunday" through a smoky haze. "Restless Heart" struts with shiny horns and a fine back-up chorus of soulful ladies (including Lillian Boutte and Tanya Boutte).
While Poison & Medicine sometimes lyrically falls into blues clichés, Marc Stone's incredible playing and his impressive backing players elevate the album beyond mere blues. There's much to dig here, from the Stones-like "Come To Me" to the intriguing bass line and vibraphone of "Whatever You Do." Marc Stone has the goods, and Poison & Medicine is all kinds of entertaining.
Poison & Medicine was released September 18, 2015 by Louisiana Red Hot Records.
RELATED ARTICLES: