Published on March 4th, 2016 in: Action Movies, Blu-Ray, DVD/Blu-Ray Reviews, Movie Reviews, Movies, Reissues, Retrovirus, Reviews |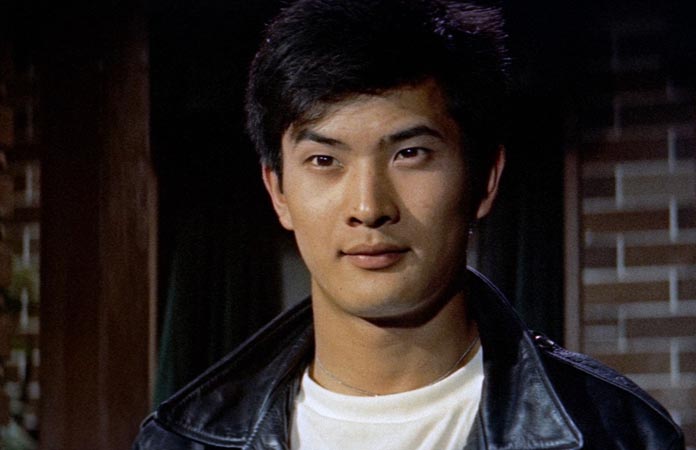 The recent Arrow Video compilation, Nikkatsu Diamond Guys Vol. 1, highlights the kind of films we don't often think of when it comes to Japanese cinema. These aren't cheesy monster movies with guys in rubber suits, nor are they fantastic period dramas about dynastic politics and great wars. These three movies are star vehicles, melodramatic potboilers with handsome leading men and damsels in distress.
The term "Diamond Guys" refers to the male stars that Nikkatsu, the studio that produced the films in this collection, relied on to keep audiences pouring into theaters and filling their coffers with money. I can't attest as to whether the films in this collection represent their best work, but Arrow rarely steers the consumer wrong.
Voice Without A Shadow stars Hideaki Nitani as a journalist helping a housewife solve a mystery. Three years before, while working as a switchboard operator, she heard the voice of a killer. No, really. He was talking about killing people and laughing maniacally. Now, while her husband runs illicit mah-jongg games, she hears the voice again in her own home. The next thing you know, there are bodies everywhere and her husband is the prime suspect. It's up to Nitani to clear his name and find the real killer.
Red Pier is a waterfront mystery starring Yujiro Ishihara. Things are never on the up and up at the waterfront, and Ishihara discovers that the death of a crane worker is a cover-up for an insidious plot.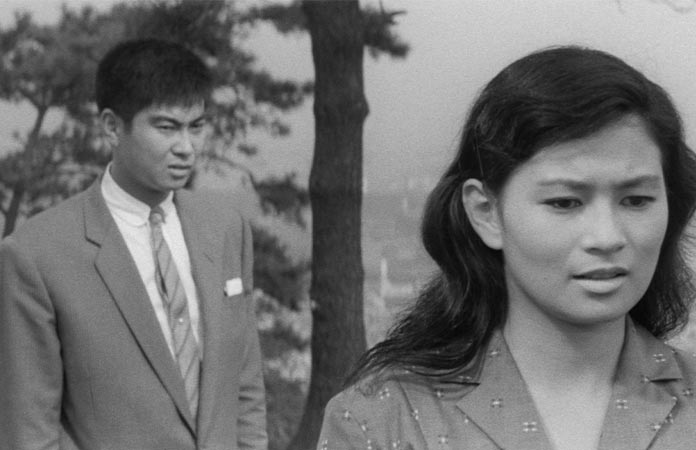 Akira Kobayashi plays the title role in The Rambling Guitarist. He's a drifter, moving from town to town, when he finds himself in the middle of a group of mobsters who are trying to get the owners of a fishery to abandon the plant so they can build an amusement park. That's kind of a weird thing for mobsters to do, but whatever. Kobayashi finds himself wanting to protect the people of the fishery, and goes to war against the mob.
These all sound like movies Walter Hill would slap his name on. They play out that way, too, like overblown drive-in movies with plenty of songs and action. It's interesting just how Western these three films are. You could take any of these films, dub them into English, and release them in the US for a decent arthouse run.
The Rambling Guitarist is the best of the three movies offered here. It's the only color film of the trio, and the transfer is nothing short of amazing. There are some boat scenes where the ocean is roiling, and the varying shades of blue, green, and white are beautiful to look at.
It's also the most fun movie offered here. There are scarred mobsters, beautiful women, and men with shadowy pasts. There are elements of Yojimbo here, but played out against a cool suede backdrop. You get that late Sixties aesthetic while still having a hero who exhibits shades of Fifties Elvis.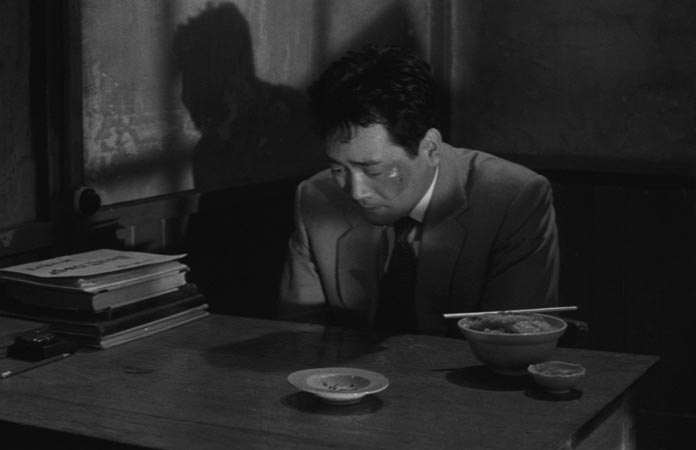 The other two films feel like programmers, which isn't a real surprise, given the fact that Nikkatsu was cranking out over 150 movies a year at the time. While Voice Without a Shadow has the most interesting plot of the three, it also has a strange structure, employing odd point-of-view shots and a disjointed timeline. Forget Walter Hill; this is more of a Sam Fuller film.
Red Pier is a paint-by-the-numbers mob film. The performances are decent, but it is the weakest entry in this series.
It doesn't help that two of the films are black and white, yet Arrow decided to employ white subtitles. Some scenes are impossible to read, as the white text blends in perfectly with the white background. Usually, we worry about things getting lost in translation; on these movies, even the subtitles don't help because you can't read them.
On an extremely nitpicky note, this set is jam-packed making the case hard to open and close. A box set with individual cases would have been better. It may be a tiny complaint, but I'm afraid of scratching the discs every time I try to watch one of the movies.
Violence is pretty much the same in every culture. Nikkatsu Diamond Guys Vol. 2 promises to deliver some more light-hearted fare and, from a cultural standpoint, those look to be far more interesting than the films in Volume 1.
Nikkatsu Diamond Guys Vol. 1 was released by Arrow Video on January 26.