Published on February 25th, 2016 in: Americana, Current Faves, Music, Music Reviews, Reviews |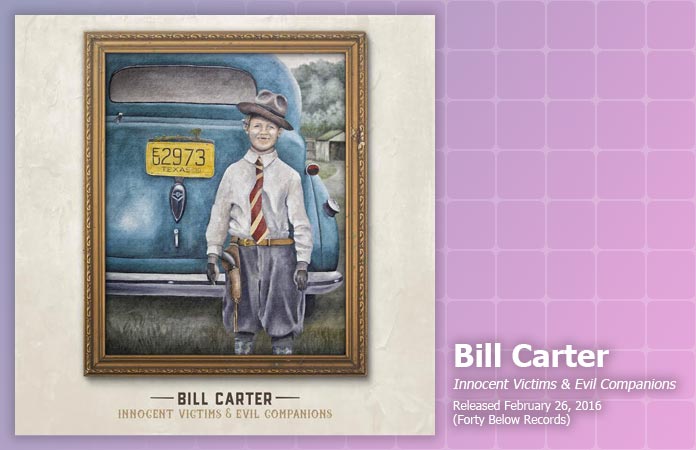 Texas-based Bill Carter may be best known for co-writing Stevie Ray Vaughan's biggest hit, "Crossfire." You may also know him from "Anything Made of Paper," written for the West Memphis Three's Damien Echols, and featured in the documentary West Of Memphis. Or you might know him as a member of the band P, a collaboration with Butthole Surfers' Gibby Haynes, Johnny Depp, and Sal Jenco. With his newest album, Innocent Victims & Evil Companions, you'll know him as a songwriter with poetic lyrics, a singer with a fabulous ragged tenor, and the master of fine tunes.
Bill Carter has amassed a band of some of Austin's greatest musicians: Charlie Sexton, Mike Thompson (who played with the Eagles among others), Denny Freeman (who played with Dylan), Richard Bowden (Austin Lounge Lizards), and the Tosca String Quartet, among a cast of several. There are brilliant touches to Carter's self-produced Innocent Victims & Evil Companions, like John Mills's unexpected flute on "Black Lion." It's a slightly sinister blues track, with trippy, dream-like, evocative lyrics. Carter describes it as "drug-induced paranormal paranoia isolation." Charlie Sexton's electric sitar on the urgent "Missing Guru" is a highlight. The track, about a faux swami in Austin convicted of child molestation, is pointed and angry (like you would), as well as driving and catchy as hell.
Bill Carter's words are poetry, and reading his lyric sheet is mindbending. "Recipe For Disaster" sounds like a song from the Call. Nagging electric guitar wends into an organ line (Mike Thompson does wonderful keyboard work throughout Innocent Victims & Evil Companions). The song has it all, a driving call to arms, a shout out to John Lennon, and this: "Absolute abomination of any faith that did / exist complete contamination of Mother Earth's precious gifts." The beautifully crisp "Lost In A Day" boasts this bit: "I was lying in a strange place gold key in / my hand / a new life to embrace when the / white bird flew from my window I closed / my eyes and faced the unknown" which is just… wow, but the track is salted with subtle strings and it's all quite cinematic.
There's a touch of Beach Boys, a bit of bluegrass, and a hit of 1960s garage organ in the off-kilter "Moscow Girl" about a girl from Moscow who wants to go to the states. It works remarkably well. "Solar Powered Radio" is another quirky treat, curious and spare, space-age but retro, and inspired by an Austin radio station. "Bughouse In Pasadena" sounds like the bastard child of Warren Zevon and David Byrne. With vivid imagery that's both funny and horrifying, it's propulsive and catchy with a burst of horns and organ. It's definitely a standout track. The bluesy throwback "Fisherman's Daughter" is delightfully loose and rootsy. Carter's harmonica playing is virtuosic.
Innocent Victims & Evil Companions is just as intriguing and entertaining as its title would suggest. Bill Carter's song craft is impressive and the production is pure. The lyric sheet alone is worth the price of the album (go read the lyrics for "Bughouse In Pasadena." Amazing).
Innocent Victims & Evil Companions will be released on February 26 by Forty Below Records.