Published on February 24th, 2016 in: Current Faves, Reviews, Teh Sex, TV, TV Reviews |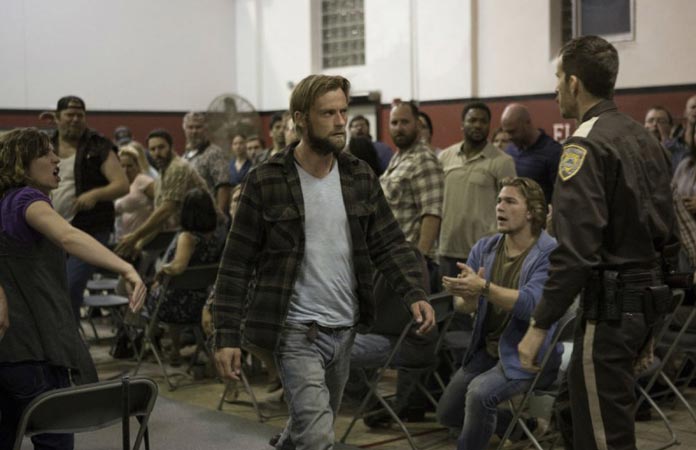 The third installment of Outsiders very much feels like a filler episode, I'm not going to lie to you. But as is common in television, there are times when these kinds of episodes are necessary to build plot, and it's important to remember that episodes like these are what set up a bigger story later on.
There's still no change in Lady Rae's condition, except a slight twitch when Big Foster pretends for face value to give a damn about her, telling her everyone loves her. I wouldn't count her out just yet. The love triangle between Asa, Gwin, and Little Foster takes on a new direction, with what Little Foster refers to as "Dusting his broom."
Thanks to a town hall meeting, it becomes very apparent just how dire the situation is in the town. Wade's sister Ledda speaks against the mining company, emphasizing the damage it would cause and urging that the Farrells be left alone. Her husband Breece argues in favor of the mining company; he hasn't worked in three years. It's clear that the lack of job availability has really taken a toll on him and the opportunities the mining would provide would go a long way towards returning his self-esteem.
The shining moment of the entire episode occurs when Asa takes the stage, delivering a parody version of the Star Spangled Banner, along with a warning for everyone to stay off that mountain. The townsfolk of course take exception, and later Asa is attacked by three men, one of whom is wielding a tire iron. He quickly turns it around on them, leaving one man on the ground as he makes his escape.
Little Foster's relationship with Big Foster is clearly on the fritz after the pitfight, with Big Foster effectively saying Little Foster can redeem himself if he does something to prove himself. Foster the junior is later seen breaking into the home of the man who killed Elon, but he's caught. The two men tussle, causing the old man to have a heart attack. Little Foster takes the old man's gun and a photograph, leaving both on his father's coffee table.
Asa returns home, and goes to see Gwin, to tell her he tried to do the right thing, to end things peacefully. Just as she's about to tend to his bruised ribs, they begin kissing and end up having sex instead. Later, as Little Foster returns to his own house, Gwin is fake-sleeping, turned away from Foster the junior with this look on her face like she's feeling guilty and worried Little Foster will smell Asa on her.
The plotline surrounding Wade doesn't advance much in this episode. Caleb has started sleepwalking in the woods. It's revealed that three people died in the previous altercation with the Farrells, one of whom I presume to have been Wade and Ledda's father. Breece states that the Farrells didn't kill her father, booze and pills did, just like it's killing her brother. Wade is called to the station when Hasil is tasered and arrested for being a belligerent scary hillbilly–right in front of Sally Ann–and he rushes to the station, covering up the whole incident and letting Hasil go.
All in all, it wasn't a bad episode, if you like the kinds of episodes where there's more plot and story than character development, action sequences, or carefully placed humor in tense moments. I'm personally willing to tolerate one or two here and there, but I desperately hope things will pick up soon, as this episode makes it feel like waiting for water to boil.