Published on February 23rd, 2016 in: Music, Music Reviews, Reviews |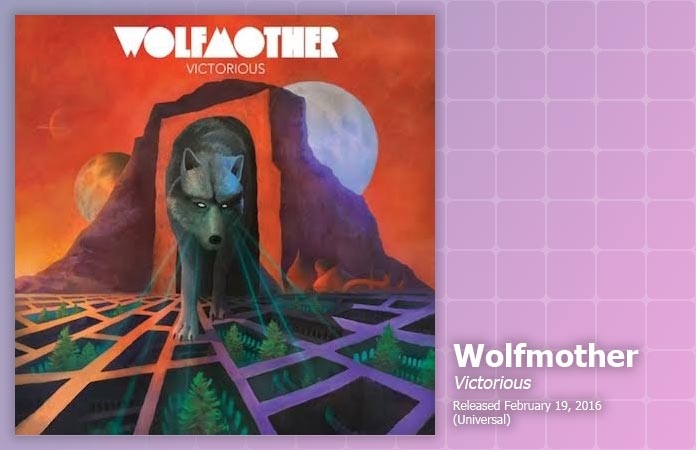 Since taking the rock world by storm in 2005 with their debut self-titled album, Wolfmother has been subject to some major changes, including a plethora of band members coming in and out of the lineup. One aspect that has remained intact over the last decade is the general sound of the band, and the latest release from the Australian group, Victorious, is yet another addition to their cohesive catalogue.
Those looking for something new from Wolfmother will probably be disappointed. Frontman Andrew Stockdale is a talented songwriter, but a lack of ambition is without a doubt his greatest musical downfall. There is not a poorly written track on Victorious, but out of the ten included on the album, only "Baroness" stands out as unique.
One aspect to Wolfmother that needs to be understood that is that the band is less about reinventing the wheel, and more about celebrating the past. The throwback style of the band is as prevalent as ever on the latest album, with tracks like "Simple Life," "Happy Face," and "Gypsy Caravan" feeling like Black Sabbath B-sides.
Displaying influence on your sleeve is one thing, but Stockdale takes it to the next level and seemingly refuses to evolve the rock genre in any way. This isn't necessarily negative until listeners become tired of the over-played sounds.
The album borders on a cliché rock sound, but never tips over into that category like the band has in the past; perhaps it's the diminished amount of eyes on the band that makes their style feel slightly more rogue.
Victorious is a solid, well-written album void of any ambition. Wolfmother fans will be pleased with the band's latest release, but won't marvel at its non-existent uniqueness. Throwing it on in the background and continuing with the day's activities is an acceptable practice when it comes to Victorious, as it doesn't take much concentration or examination. Wolfmother appears to be in decent shape moving forward, but if this album is an indication, don't expect to be blown away with their next effort.
Victorious was released on February 19 by Universal and is available wherever fine music is sold. 
RELATED ARTICLES: